Bandu my friend, a gem too valuable to loose
cricket
View(s):
My very close association with Bandu – fondly called by his vast circle of friends and associates – goes back to as far as 1965. He came over to Nalanda from St. Peter's, during the school's takeover by the government. More than being contemporaries at school, it was cricket that paved the way for Bandu and myself to build up a close rapport even as schoolboys, as we both played in tandem for Nalanda Under-14, 16, and first XI respectively.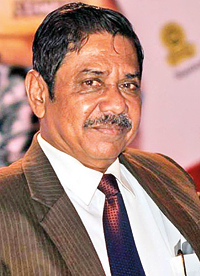 During his very promising school cricket career, his performances had been truly remarkable in addition to his excellent leadership qualities which were cut above the rest. So much so, he was the unanimous choice for the captaincy of the All-Island Schools' cricket team that toured India in 1970. I too had the good fortune to play under him on this tour. In 1971, he skillfully led the Nalanda first XI and at the traditional big match against Ananda, Bandu scored a record-breaking 118 runs which superseded the long-standing record of 111 not out held by P.M. Jayathilake- yet another Nalandian. Also, in the annals of Ananda vs Nalanda cricket series the names of Warnapuras take a pride of place and in fact still stands as a unique record with his two sons viz. Madura in 2004, and Madawa in 2008 followed in their father's footsteps to lead Nalanda in the big matches.
It would be pertinent to mention here that previously it was held by my late father G.W.G. Seneviratne and elder brother Palitha Seneviratne. Incidentally, both Madawa and Madura achieved this rare feat during my tenure as the cricket coach of Nalanda.
Bandu was such talented even during his school days, he was selected Bloomfield during school off-season.
Moreover, it was rather amazing to note his interest and intent to get involved in other sports such as football, basketball, badminton and athletics.
Whatever Bandu did, he did with a purpose of course. Since leaving school, he continued playing for Bloomfield – only club he represented throughout and was a force to reckon with specially among leading club players. Under his stewardship coupled with his tactical acumen, we became champs of the prestigious P. Sara Trophy and later clinched the Honda Trophy as well in 1981. He steered Bloomfield cricket to great heights, having led the club side from 1976 to 1978 and in 1981.
Bandula, in the meantime was an automatic choice for the national side. Bandu reached the pinnacle of his cricket career when he was appointed to lead Sri Lanka in 1982 against England in the inaugural Test match. Since then, the many firsts he achieved in Test and World Cup cricket are too numerous to elaborate.
It was rather unfortunate and sad that this illustrious cricketer was forced out of the reckoning along with some other promising cricketers of that era due to their participation in a controversial rebel tour of South Africa in late 1982. The unholy ban of 25 years from all levels of cricket made a bad situation worse for Bandu and them. Not to be out done, he made use of his marketing skills gained at Ceylon Tobacco where he was employed, to good use by forming his own company, 'Warnapura Enterprices', and more importantly taking under his wing the much younger players who toured with him to guide and direct them to make their lives comfortable and meaningful.
Such was his care and concern for his colleagues at all times. Well, it was only after nine years that saner counsel prevailed among cricket authorities and the said ban was lifted in 1991. It was during this interim period that indefatigable Bandu got through the umpires' examination and later became the President of the Cricket Umpires Association too.
He also made use of this time, to show gratitude to his alma mater by getting involved fully and spared no pains to construct the much needed turf wickets for the Nalanda cricketers, many of whom later represented the national team with distinction. Moreover, up to the time of his sudden demise, Bandu served as a consultant for the maintenance of college grounds on behalf of the Old Nalandians Sports Club in which he was a patron having served as its president from 1993 to 2000.
In fact, it was only in May this year that he readily consented to my request to deliver a felicitation speech on behalf of the Old Nalandians SC to celebrate a legendary cricketer Stanley Jayasinghe reaching nonagenarian status.
The rescinding of the ban, in hindsight, was a blessing in general for the greater good of the game and for Bandu in particular as his multifaceted talents, hitherto untapped, blossomed into full cry. The cricket board wasted no time in harnessing his services into very significant areas under their purview and appointed him as manager of the Sri Lanka team, Director Coaching, Director Operations.
Further, he was a much respected and lively cricket commentator who became a household name, over radio listeners and TV viewers. As often it happens and unfortunately so, his forthright approach and dealings were anathema for some, which forced Bandu to take up, yet another challenging task as Director Cricket Development of Asian Cricket Council, based in Malaysia.
Since his retirement recently, we at Bloomfield, were quite fortunate when he consented for the club presidency and was elected uncontested. Until his brief illness, he was actively involved in his pursuance to develop the club and its cricket.
We surely will miss his timely wit and lovely camaraderie which were hallmark of Bandu. I for one, who has had a very long, memorable and valuable friendship – spanning over five decades – with Bandu, could not believe my ears when the news reached me about his sudden demise, while I was under quarantine in Kandy with the Sri Lanka 'A' team. It still pains me a lot that this situation prevented me from paying my last respects to Bandu who had always, in both good and bad times, been a sincere friend indeed. So he was to many others.
We all will remember him with much love and respect not only for his invaluable contribution towards cricket but also, for the rare human qualities that he always displayed.
May he attain the supreme bliss of Nirvana
Jayantha Seneviratne