COVID-19 & flu — get to know the subtle difference
By Kumudini Hettiarachchi and Ruqyyaha Deane
Same precautions will keep both viruses at bay -- Dr. Narangoda
View(s):
With heavy rains lashing the country not only leaving a trail of death and homelessness but also disease, many health experts stressed the need to keep people armed with the right knowledge.
There is now COVID-19, influenza (flu) and dengue, they pointed out, cautioning that one should not be allowed to overshadow the other. (See box for dengue)
Data show a rise in the number of COVID-19 patients this week. More than 700 were reported on November 9 (718) and November 11 (715). The death toll also rose on and off in the early part of the week, ranging between 16 and 19.
With there being a chill in the air and heavy rains and people moving around after the easing of travel restrictions, the Sunday Times asked Consultant Physician Dr. Eranga Narangoda to compare and contrast the twin upper respiratory diseases of COVID-19 and influenza and provide guidance on how to ensure protection against them.
It is usually difficult to differentiate between COVID-19 and influenza, said Dr. Narangoda who is attached to the Homagama Base Hospital, pointing out that they are caused by viruses, even though these viruses come from two different families.
COVID-19 is caused by the new coronavirus and influenza by influenza viruses. Both these diseases affect the nose, throat and lungs and their spread is "almost" equal, while COVID-19 is more contagious (spreads faster) than influenza. Influenza could be 'A' or 'B' with 'A' being not only commoner but also causing more severe disease than 'B', he says.
Those who are afflicted either by COVID-19 or influenza may be asymptomatic (without symptoms) or symptomatic. Several symptoms such as fever, headache, muscle-ache, sneezing and coughing are common to both.
But, points out Dr. Narangoda, the loss of taste and smell and diarrhoea are COVID-19 "exclusive". This is while the complications of pneumonia and blood clots are also not seen in influenza, only in COVID-19.
He says that the only way to differentiate between COVID-19 and influenza is to perform testing – there is rapid antigen testing for the former and there is rapid testing for the latter, with the samples needed being nasopharyngeal for both.
"The high-risk groups for COVID-19 are the elderly, all those with immune issues and all those with co-morbidities such as diabetes and kidney disease. In the case of influenza, it can be deadly for the elderly and expectant mothers," points out Dr. Narangoda.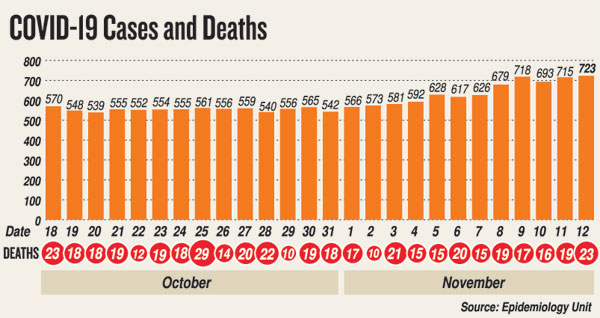 While there is effective anti-viral medication, oseltamivir, for influenza to prevent complications in high-risk groups, for COVID-19 remdesivir is not as effective. It is also not available in Sri Lanka, it is learnt.
The preventive measures for both COVID-19 and influenza are the same.
"Face-mask wearing, hand hygiene and social distancing are the simple measures to keep COVID-19 and influenza at bay," adds Dr. Narangoda.