Acca Sri Lanka Holds 2021 Virtual Financial Hackathon (Finhack) Season 2
View(s):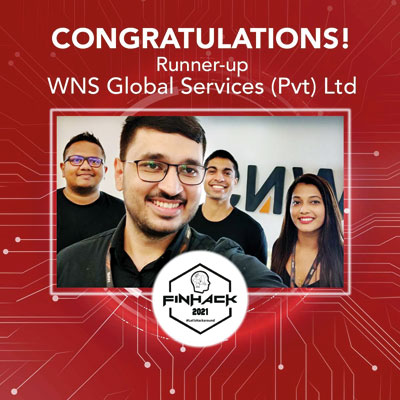 ACCA (the Association of Chartered Certified Accountants) Sri Lanka having been instrumental in holding the first ever financial hackathon in the country in 2018, which due to its tremendous success, was there-after held virtually for the last three consecutive years, recently conducted "virtual FINHACK season 2", for a host of leading corporates.
Held as a virtual platform-based competition, the highlight of season 2 was it's focus on United Nations Sustainable Development Goals.
This entailed in teams from leading corporates working around the clock, to come up with intelligent solutions to a case study on UN SDG's goals and how they could be utilized to achieve a better and more sustainable future for business entities and the society.
The teams then pitched their ideas to a panel of top academics and industry experts, who evaluated the participants on a range of criteria's that comprised of user potential, level of innovation and commercial potential, skills demonstrated in conceptualizing and analyzing the case study, ability to defend a particular position or strategy, practical application and deployment, along with the overall quality of the presentation
The Panel of judges included Mr. Mahen Muttiah, Visiting Lecturer – University of Colombo and Ocean University, Director/ Head of Research at Vanguard Survey (Pvt) Ltd, Dr. Stephan Anthonisz, Lecturer/ Managing Director, Duruk Investments Limited and Nilusha Ranasinghe, Head of South Asia for ACCA.
After some impressive presentations and pitches from all participating teams, the team representing WNS Global Services (Pvt.) Ltd was announced as the runner-up with KPMG Sri Lanka clinching the winning award.
Nilusha Ranasinghe, Head of South Asia for ACCA added, "Our main aim through this event is to foster and harness out of the box thinking and collaboration amongst our youth in a virtual environment and to help them contribute their talents to think of ideas that will revolutionize the way forward for the financial industry that is evolving at a very rapid pace, especially due to the pandemic in force.  It also gave a great opportunity for the participants to be coached by some of the top industry experts, meet new people virtually and learn new skills. Inspiration, innovation and learning in a digital environment was the backbone of ACCA Virtual FINHACK and we hope it gave our participants a deeper understanding of the challenges they will face to stay at the forefront of the finance Industry in the future".
As the world's most forward-thinking professional accountancy body, ACCA believes that accountancy is vital for economies to grow and prosper and works with government and businesses across the world to build the profession and make the industry more ethical and transparent.