'Sri Lanka has improved' – ICC Anti-Corruption chief Alex Marshall
By Champika Fernando in Dubai
cricket
View(s):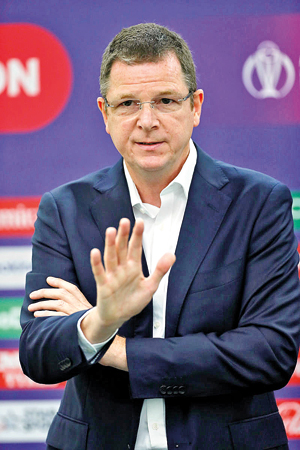 In 2019, Sri Lanka had the highest number of live investigations in cricket-related corruption but this number has now 'tumbled' admits ICC's Anti-Corruption head Alex Marshall.
Speaking to a few Sri Lankan reporters covering the T20 World Cup in the United Arab Emirates (UAE), the former Scotland Yard police officer said, Sri Lanka had 22 live cases at one point—the highest number of investigations among all cricket nations.
"There is a big improvement," Marshall said, responding to questions.
"At one point there were 22 live cases. All I ever said was that this is the highest number of investigations among all the cricket nations. I never said that Sri Lanka is the most corrupt. But that has tumbled. Sri Lanka is not the leading number of investigations by a long way. We have seen a significant difference as we have got through all those cases. Players have got better and better in reporting any sort of suspicions."
The ICC concluded five cases in Sri Lanka involving four former players and one support staff playing various roles in Sri Lanka Cricket (SLC). Four were found guilty while one challenged the charges successfully.
Avishka Gunawardena, who was Sri Lanka's 'A' team coach, was charged by the ICC two years ago in relation to the Abu Dhabi T10 league, but proved his innocence after a protracted battle. He was cleared this year.
"The playing group is a good group," he said of the Sri Lankan cricketers.
"If someone tells them to play badly, they tell us. They have been coming along to the tribunal and giving evidence. This is what they are supposed to do. But across the world, people are quite scared of doing it. They don't like doing it. But in Sri Lanka players have started doing it. 'He said if you do this, I will give you some money', very strong, very powerful evidence. So massive improvement in Sri Lanka."
According to Marshall, it is not Sri Lanka's players that were involved in corruption but people around them, like the support staff, the selectors, ex-players, etc.
"In Sri Lanka, players are very good at spotting and understanding how the corruptors are likely to get at you," he observed.
"Actually, in Sri Lanka, it has been the people around the players who have the opportunity to get to them have the corruptors generally gone for."
"So the corruptor, let's say 'X' [name withheld due to legal reasons]. He's an ex-player and he knows all the players. It is hard for them (corruptors) to get to the players, if they phone them, at the first sniff if they sense something dodgy. But if they go through an ex-player whom they used to get on with and trust, they will get a conversation with them. Last year's LPL is a good example."
Reports emerged last year that a former Sri Lanka spinner [name withheld] had approached a player or several players during the first edition of the LPL to draw them into corrupt activity. He refuted the allegations, claiming they were attempts to defame and slander him.
In March this year, fearing possible arrest, the former player sought anticipatory bail from the Colombo Magistrate Court two days before he was extensively questioned by the Police Special Investigative Unit (SIU) of the Sports Ministry in relation to allegations of match-fixing.
Marshall did not confirm whether an ACU investigation is ongoing into purported incidents during the first edition of LPL but confirmed they are "still looking at it".
SLC together with Innovative Production Group (IPG), a Dubai-based company that owns the event-organising rights of the LPL for a period of five years, managed to pull off a decent show at a difficult time last year. The second edition is scheduled for December this year with several new owners joining the five-team tournament.
"What we do know is, where a franchise tournament goes wrong, it is very often through the franchise owners," the 59-year-old said.
"So if we get the wrong people in charge of the team, you will get corrupt approaches."
The ICC ACU has been working with IPG and SLC, asking them to go through every franchise owner, a process these two entities should follow to keep corruptors away.
Asked whether the ICC ACU gets involved in the process of vetting franchise owners or the event rights holder, he said they would but only "if an event company was of interest to us".
"If you remember the Afghanistan Premier League in 2017 that went badly wrong," he pointed out.
"There was an events company there that came under our suspicions. My report was leaked in Afghanistan. So it's all over in the media. Basically, the company running it was involved in corruption. So we always look at the companies that run these events and we tell the host boards to be really careful about working with these people if they have a bad record."
IPG recently named a new owner for the Jaffna team that won the inaugural championships and also struck a multi-million-dollar deal with Supreme TV, a little-known TV company, as the host broadcaster of the tournament.
After several high profile ex-cricketers were charged and found guilty of corruption by the ICC, the Sri Lanka Government brought in new laws to deter would-be corruptors, introducing hefty fines and jail terms. For Marshall, this was a great initiative.
"Top effort," he said.
"First place in the sub-continent to bring in that legislation. I think that message has gone across to most people. Anyone who is trying to ignore that legislation can go to prison. That is very important."
"In England people have gone to prison for fixing cricket matches," Marshall said.
"In 2010, there was a case. Last year, there was a case. It was a PSL (Pakistan Super League) case in the UAE. But some of the people were from the UK. So they were sent to prison from Manchester Crown Court. In Sri Lanka we have seen a shift. It is regarded as a serious thing with the Police getting involved and the government getting involved."
Marshall's team has been actively involved in training local investigators and will continue to engage with them to facilitate their fight against corruption. Since Marshall took over as the General Manager ICC ACU, they have completed 22 cases, out of which only Gunawardena escaped punishment. Corruptors can operate in the subtlest of ways, identifying weak characters and offering them money, gifts, women, etc, as traps.
"One of the ways to do it is to find out how the corruptors work," he elaborated.
"If they are going to approach you, how are they going to do it? What are your weaknesses? What would you do on social media? Would you like to go to nightclubs? Do you like going to casinos? Will 10,000 USD work or 30,000 USD work? They need to understand within cricket what to look out for. The most common way is that they get a strange social media exchange which goes like, 'I would like to sponsor your bat or we are having an event and you can come along or there is a franchise tournament coming along why don't you come to Dubai and meet the owners'."