Newansa, Prabodhi and Desandhi shine
Sri Lanka Online Chess Championship Cycle 2021 – Women Premier
View(s):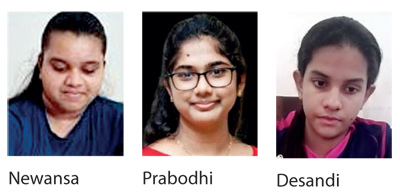 The final three rounds of the Women's Premier segment of the Sri Lanka Online Chess Championship Cycle 2021 were held with Esandi Newansa taking the top title. At the end of the ninth round Newansa of Dharmasoka College, Ambalangoda had performed credibly to secure the gold medal.
Following her at second place was Prabhodi Methma Wijesinghe of Sabaragamuwa University and Desandhi Dhihansa Gamage of Sirimavo Bandaranayake Balika Maha Vidyalaya, who were able to win the silver and bronze medals respectively. Including these top three players, the top 16 players of the event, according to their final
rankings, will qualify for the Online National Chess Championship finals.
At the end of the ninth round, Newansa was able to stay unbeaten with 7.5 points, inclusive of the games she shared against H.M.M.D. Herath, Probodhi Methma, the silver medalist, and Desandhi Dhihansa Gamage in the second, seventh and ninth rounds respectively. Also, she was able to put forward some brilliant moves against the stronger players throughout the tournament.
Meanwhile, Prabhodi Methma had to settle in with the silver medal not because of a difference in the number of points, but due to the disadvantage in the tiebreakers. She was also able to stay unbeaten and the games she were against Tharushi Niklesha, Esandi Newansa, and H.M.M.D. Herath.
Desandhi Dhihansa was able to win 7 points out of the nine games, inclusive of a loss against Sandeepani Tharushi and games shared with Sandula Dahamdi and Newansa, the champion of the event. Sandula Dahamdi was able to win 7 points but tiebreak calculations crossed her way from going for a medal. In the sixth round, she had to respect the first runner-up, Prabhodi, and the games she played in the third and eighth rounds shared between two players.
The Chess Federation of Sri Lanka (CFSL)
organised the comprehensive Online Rapid Chess Championship Cycle for the first time in Sri Lanka. This event will be the selection event for the International Online Rapid Chess Championships to be held later this year, and also help all chess
players to stay at home during the pandemic and to grow their chess strength.
With this, the basic qualification stages of the Novices Division and the Major Divisions are now over. There were seven events each under Open and Women in Novices Division while six events each were held under the Major Division.
All fare play measures were taken during the event and the games after each round were sent to the chess.com and FIDE experts for assessment.