Spreading the beauty of 'bel canto'
Guiding students across the world to sing in the operatic style of the old Italian school of music, bass baritone and vocal coach Carlos Conde-Gonzalez who was here recently for master classes with local singers is optimistic about their prospects
View(s):
On his third visit to Sri Lanka, braving long hours of travel and the prospect of quarantine, Prof. Carlos Conde-Gonzalez is elated by his students' prowess. The Mexico and London-based bass baritone who spent three weeks in October imparting his 'bel canto' (beautiful singing or beautiful song) technique to aspiring classical singers believes there is some serious talent here.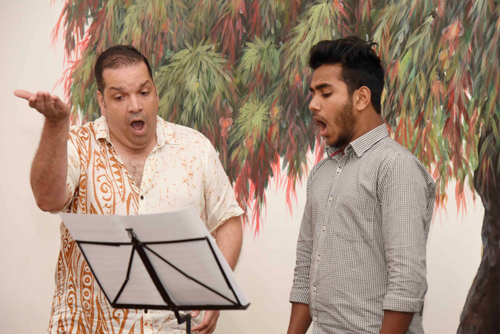 Providentially even before online teaching and Zoom became part of the pandemic lingua franca, he had launched his teaching academy internationally and was guiding students across the world. It is difficult sometimes navigating different time zones, but there are the highs like when he had a Sri Lankan student singing to a Tel-Aviv based soprano.
COVID actually opened the window for team teaching, he says, referring to his ongoing collaboration with British opera singer Barbara Segal who has made her home in Sri Lanka these past 18 years. They have been helping each other with their students and seated alongside, Barbara agrees it has been a mutually beneficial effort.
Teaching has taken Prof. Carlos to some 24 countries across the globe, most recently Hong Kong and Botswana and the immensity of raw talent he encounters is prompting him to now set up a Foundation in New York to provide access and opportunities to these young singers to pursue their dreams. We are trying to make the world smaller, he says earnestly and it is clear this has become a driving ambition for him. He has students in different stages – some just starting out, others performing in Glyndebourne, others in Covent Garden, and in Opera Stuttgart. It's nice to see where the teaching is leading, he says. "It gives me great joy."
Born in Puerto Rico, Carlos moved to New York and after graduating from the renowned Juilliard School enjoyed a successful career as a bass baritone. He made his debut with the New York Philharmonic under the baton of Sir Colin Davis in the role of Somarone in Béatrice et Benedict at Lincoln Center,  going on to perform in the United States, Europe and West Asia in a career spanning some 30 years. Known for his interpretations of Italian roles; his favourite Bartolo in The Barber of Seville (a role he has performed more than 200 times in 30 different productions and will take on again next year), he is also a stage director, having directed opera productions in Italy, Tel Aviv, Puerto Rico, and throughout the United States.
A doctorate in Musical Arts, from the State University of New York at Stony Brook, saw him sensing gaps in the training of young singers for the big stage. Universities have developed these performing programmes with a lot of effort but performing requires something that might not be within that square of assessment and rules, he notes. "A lot of these singers really want to go on stage and they need the training that would lead to that  – training that academia doesn't give."
It is the old Italian school of music  – bel canto that aims for perfection of tone and intonation, elegance of phrasing, purity of sound and technical virtuosity and studying how the teachers of the time prepared the singers to sing the operas of Mozart, Rossini, Donizetti and Bellini that fascinates him.
He is an enthusiastic, engaging and encouraging coach; an exercise that day has seen students speaking in Sinhalese as if they were Italian –just to get the flow of the attitude of the Italian language. There are aspects that perhaps are not present in many singers' native language, he says, so his efforts are aimed at putting them on the Italianate track – then only are their voices capable of approaching the score – ready to start on the interpretation, to overcome any inhibitions to portray the character with elegance and love, as he sees it.
The craft, languages, musicianship, the acting, the discipline, even an understanding of the development of opera – all have to be learned if one hopes to make it to the opera stage. It's hard work that requires supreme dedication but he knows there are students here striving hard.
This musicianship, he questions, is it innate or a result of your background or influence. He talks of a celebrated geneticist and pianist who pondered the question of whether Mozart if born in the Sahara would still be Mozart. Carlos's reply is from his own experience: I go to the Sahara often and I see a lot of Mozarts.
Some of his research has been on going back to the simplicity of old Italian singing with some scientific knowledge to justify how it works. He calls it neuro singing – how the brain interprets this image of sound and decodes it.  "So no longer do we teach 'oh you have to use your diaphragm or open your ribs, lower your larynx….' Instead we are specific on an image of sound and we trust the brain to tell the ribcage and the diaphragm what to do. This image of sound is the Italian sound. With all this research, we can strengthen the style of singing that the old Italian school of music had."
"I tell the singers don't think of the mechanics, think of the sound. I believe their brains codify the sound."
Barbara's students whom she has trained and nurtured over the years, being mentor and 'mother hen' too can look forward to more collaboration with him. Interestingly though Barbara and Carlos had many mutual friends, conductors and even agents, during their time on stage, their paths had never crossed.
"The opera world is very small. I knew of her work, the work she was doing here," Carlos says and so when she first called to ask if he would teach here, he couldn't refuse. Theirs was an instant connection – and with their students ready to launch out to the wider world, they are optimistic of the many acts still to unfold.
Renuka Sadanandan