Much to reflect on and much that leads to constructive discussion on education
View(s):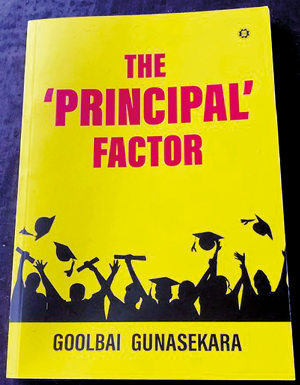 Goolbai Gunasekara's name is instantly recognised in Sri Lanka amongst educationists. Well-known as the highly successful Founder-Principal of the Asian International School, she is also known for her passionate commitment to upgrading education in Sri Lanka and for her forthright comments on areas where reform is needed. So anything she has to say on the subject of education must automatically be considered with great interest.
In the four years leading up to the end of 2018, Dr Gunasekara contributed regularly to the Lanka Monthly Digest (LMD), setting out some of her ideas regarding education, which had resulted from her long years of experience as a teacher and a Principal of a school in Sri Lanka. Although her school was an International School where the medium of instruction was English, and which therefore, did not come under the purview of the Ministry of Education in Sri Lanka, the articles commented on, and invited discussion on, a range of issues of great relevance to all schools in Sri Lanka, their teachers and their students. This book, 'The Principal Factor' is a collection of those articles exactly as they were published in the LMD.
As a one-time school administrator myself and a teacher both at universities and at schools, I think that this book should be compulsory reading for all educationists (principals, teachers and administrators) as well as all those involved in shaping policy relating to education in our country. Teachers and parents and, I daresay, mature students will find it thoroughly worthwhile to reflect on what Dr Gunasekara has written about in this book.
The format of having 55 small chapters, each about 3-4 pages long makes for easy reading, in addition to the fluent writing and the irrepressible streak of humour that runs through the book. The author draws on the length of her involvement with education over the years as well as the breadth of her learning to present her arguments.
She is not reluctant to step in where angels fear to tread, and from the very first chapter she asks whether the systems of education practised across the globe are suited to a world that has moved on from the days when these "systems" were introduced. She questions the assumption that batches of students of the same age across the country should be taught in the same way and at the same pace as advocated by our Ministry of Education; whether separating the members of a class to teach religion in schools results in 'unity flying out of the window'; whether in Sri Lanka we are too often simply perpetuating models from the days of the Empire.
Such thought-provoking questions abound in the book. Should exams be discontinued for small children, especially those of a competitive nature? Is punishment always necessary or whether looking the other way judiciously on occasion is better in some instances? And (perhaps, tongue-in-cheek) should a pass in civics at GCE O-level be a requirement for parliamentarians?
There is much to reflect on in this book and much that leads to constructive discussion. A wide and eclectic choice of topics relating to education is presented, ranging from the need to train school teachers to keep up with the advances in technology that should be incorporated in learning and teaching today, to steps that must be taken to prevent cruelty to students by narrow- minded and poorly-educated teachers and Principals. Dr Gunasekara puts forward her suggestions and ideas on these topics but not in a didactic manner.
In her own words, she is 'open to correction'.
Some of the problems she addresses are long-standing ones that have not yet been resolved adequately. She laments the persistence of ragging in the universities and how the dons have been ineffective in dealing with this issue. Her suggestions about how to deal with this problem, I think, are not practical in today's world, but she is entirely correct in drawing attention to the fact that a solution to this practice must be found, to eradicate the sadistic harassment that has led to terrible mental and physical injury to freshmen and even the suicide of some students.
Other problems discussed are more recent, arising from current changes in the world around us, especially the ubiquitous use of smart phones and the pervasive influence of social media.
Throughout the book Dr Gunasekara provides valuable advice and suggestions for teachers, administrators, parents and students. Sometimes this is done directly, as in the chapter where she provides excellent advice for school leavers going abroad for further studies and also in the chapter titled 'Prowling Principals'. In other instances, the advice is not presented directly but provided through a narrative. She relates techniques that were successful in her own experience – such as the use of a silence bell, an idea she had inherited from her mother, the eminent educationist, Clara Motwani.
Dr Gunasekara is not afraid to put forward controversial ideas. She asks, for instance, whether having prefects in a school is necessary. She dares to suggest that Girl Guiding and Scouting are outdated and not relevant to teenagers of today.
What is obvious as one reads the book, is why Goolbai Gunasekara is respected as an educationist. She is able to see an issue not only from the viewpoint of a Principal but from those of the teachers, the parents and perhaps most importantly, from the perspective of the students. Her experience shines through the pages of this book and throughout the book sound principles in teaching (which are unfortunately not always followed) are referred to, almost in passing. And yet, she is aware that being a good teacher can sometimes involve using unconventional methods. As a Principal, she advises that 'Principals should learn to act outside the box' and cites examples from her own experience.
The chapters of the book include truisms that we often forget, such as the fact that parents often judge the education provided to their children from an outdated viewpoint, based on the way education was delivered to them, a generation before.
When I was first asked to review a book by Dr Goolbai Gunasekara, I was not sure to which genre of her writing this book belonged, her humorous books or her books relating to education. While it became apparent immediately that the book, 'The Principal Factor' comprised an important discussion of issues on education, I enjoyed the vein of humour that ran through the writing even on very serious topics. Some of the chapters were purely anecdotal but the examples were well chosen, to make a valuable point about education. Dr Gunasekara is after all not only an accomplished educationist but also a wonderful storyteller!
The Principal Factor priced at Rs. 400 is available at Sarasavi Bookshops islandwide.
Book facts
The Principal Factor by Goolbai Gunasekara
Reviewed by Dr Janaki Galappatti