Appreciations
View(s):

To those days my friend; from Trinity to Pera and Civil Service

Ahmed Marikar (S.M.L. Marikar)
Seyed Mohamed Lebbe Marikar (1939 – 2021), known as Ahmed to family and Mariks to friends, was a retired Sri Lankan civil servant and diplomat. A former Additional Secretary to  President J. R. Jayewardene, and a respected scholar of Western Classics, he will be remembered for his inimitable personality; a remarkable ability to never take himself too seriously and relate to all generations and people from all walks of life through a quirky sense of humour.

He did not believe that life was a rat race for survival and often quoted from a poem by William Henry Davies: "What is this life if, full of care,/ We have no time to stand and stare." For such a high achiever he remained incredibly humble through life.

He leaves behind sisters, Safiya, Zulaiha and Fareeda and brothers, Abu, Mohideed and Rahman.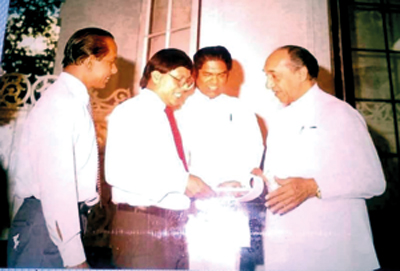 We were classmates at Trinity College, contemporaries at Peradeniya University and colleagues in the Ceylon Civil Service. He was a childhood friend and his departure, as in the famous song of our youth "takes a piece of me with you''.
We were neighbours living in Trincomalee Street in Kandy. My father who was an inveterate litigator would retain Ahamed's father Proctor Marikar for his cases. During that time Kandy had three famous Muslim lawyers Marikar, Muhsin and Mustapha. Though they had luxurious residencies in the city they retained their links with their native villages nearby like Madawela, Talawinna and Akurana. I was in and out of the Marikar residence as in those days our Muslim school friends would take us to their homes for snacks and sugar-laced pink 'Saruvaths'.
Ahamed was an outstanding scholar. Right from junior school he invariably won the class prize and many other prizes besides. In senior school he opted to study Latin and Greek much to the relief of our English teachers like Walter, Eliot and Burrows who found that many of us were taking the soft option of studying Botany instead, under the laid back Sinnatamby, who interspersed his teaching with exciting romps in the nearby Udawattekele to study flowers and plants with his long drawn out descriptions of stamens, calyx, cross pollination and the role of birds and bees.
Five of us – Ahamed, Jayantha Dhanapala, Nihal Perera, Ananda Wickremaratne and I entered Peradeniya University in 1957.We were lodged in different halls of residence on campus. Jayantha went to Jayatilleke and I to Arunachalam while the others were lodged in the cavernous Ramanathan Hall where Ahamed joined another Trinity classics scholar Mithra Jacob who had entered Peradeniya the year before. In Peradeniya Ahamed chose to read Western Classics and everyone knew that he was well on his way to a first class in the final examination.
He headed the first classes of the1961 graduands and was eligible for a scholarship to Oxford. But he preferred to sit for the CCS examination. We all travelled down to Colombo for the exam and were not surprised when he easily topped our batch and sailed into the CCS which was in its death throes. I came second in the list and Trinity College, I am told, celebrated the news with a special assembly. Orloff the principal, himself an ex-CCS, wrote to us conveying the good wishes of the school and staff.
Once in the public service Ahamed preferred to serve in Colombo offices because he could plan to spend most weekends in Kandy. He was a much sought after Assistant Secretary of major ministries and later was an Additional Secretary in the President's Office. He was a favourite of President J.R. Jayewardene who enjoyed his Latin epigrams and 'cheeky' retorts. The bulk of administrative work in the President's Office fell on the senior officials as the Secretary had to attend to political and personal affairs of his boss.
Following his interest in Latin, Ahamed spent a few years in our embassy in Rome. He never sought to exploit his position in the embassy and I found that he would commute to work by public transport. Once after a meeting in Slovenia, in the then Yugoslavia, I spent a few days with him in Rome. I rued the day when he refused official transport because on my way to the embassy in a bus my wallet was stolen. He told me later that this seemed to be a regular occurrence in Rome. I told him that his information came to me too late.
After retirement he moved back to Kandy. He taught Latin and Greek as a visiting lecturer at Peradeniya and at Trinity College. He continued with our old practice of walking in the city – around the lake. He was a man who had silently and modestly made an enormous contribution to the country from 'behind the scenes'. He was a brilliant scholar and an exemplary public servant. He was a great son of Kandy – that beautiful and cosmopolitan city in which all races, religions, classes and castes lived in harmony and friendship.
We will remember SML (Ahamed) Marikkar and cherish his memory.
 Sarath Amunugama
---
A brilliant man he touched many minds and hearts
Ahmed Marikar (S.M.L. Marikar)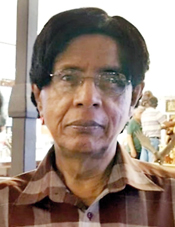 No one took away prizes at Trinity College, Kandy so predictably as Seyadu Mohammed Lebbe Marikar.  No one ceded Marikar that honour and privilege as gladly as we did.  That he headed the Peradeniya University Prize List in 1956 was unsurprising and richly deserved with his First Class in Western Classics.
Seeing three boys outside the Trinity College Headmaster's Room ominously poised for punishment from the highest taskmaster was misleading because these young boys were not summoned for punishment because of unfulfilled tasks in Latin.  S.M.L. Marikar, or Mariks as we knew him, was one of the three.  It was subsequently known that Marikar, the well-known scholar among them, was not poised for punishment but for reward for the highest marks and special commendation.
As a school officer Mariks contributed to the maintenance of discipline easily winning the cooperation of the boys.  He was much respected by them.  Later, as a member of the Ceylon Civil Service, and subsequently the Sri Lanka Administrative Service, he won the respect of his colleagues.  Marikar went on to to be a Secretary of a Ministry.  He would have long philosophical talks with President J.R. Jayewardene who enjoyed his knowledge of the Classics, and the way his mind worked.
Mariks was a very cultured and well-read individual who did not parade his intellectual superiority.  In time he graduated to being someone who was amiable, warm, able to relate interesting stories and reach out to all generations and all walks of life.  He often had an anecdote, a joke and a way of using humour to reach many minds and hearts.  He did this exceptionally well as Chairman of IDEA, an NGO, in Kandy post-retirement.
During his retirement, living in the heart of Kandy town, in his family home, he was a well-known figure who walked indefatigably everywhere including around the Lake for daily exercise.
All of us who knew Mariks are saddened by his passing.
Jayantha Dhanapala
---
A cherished couple remembered with gratitude
Robert and Inez Sourjah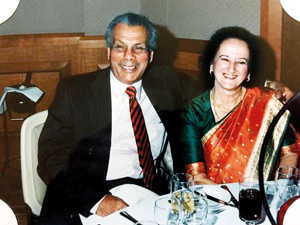 Dr. Robert Grant Sourjah departed to the realms above wrapped in his old Trinity College blazer one year ago on his 95th b'day.
On this same day he had faced the ordeal of a driving test with much trepidation, easily convincing the examiner that he was 95 years young. He got the licence renewed for the year ahead.
Returning home triumphantly, eager to answer the customary avalanche of birthday greetings, he eased himself into a chair by the phone, and to the great dismay of his family, collapsed instantly.
The son of a surgeon, Robert had it all —-a privileged lifestyle, charm and good looks.  He was educated in the "best school of all", performing well both in his studies and in sports. He went down in the annals of Trinity history as the legendary ruggerite who captained the team for the first ever Bradby rugger match played against Royal College.
Medical students of that era recount how heads turned when the dashing young Robert as a Senior Registrar accompanied Prof. P.B Fernando down the corridors of the Colombo General Hospital.
But Robert had eyes only for a girl in Kandy, the tall and beautiful Inez Jackson- -Smale.
Their blissful and harmonious wedded life lasted 65 activity -filled years. Inez's mother was a devout Christian who lived a selfless life of service to others.  Friends with their kith and kin were always welcome to view the annual Kandy Perahera from their home on Ward Street.
Inez's mother's generosity of spirit had rubbed off on her daughter making her the perfect partner for a compassionate and dedicated doctor.
In all those years that Robert served in out-station hospitals and ultimately Colombo, he was loved by his patients, being a patient listener and an excellent physician with a healing touch.
Returning home after a hard day's work Robert would be ready to join in the fun that his lovely wife Inez had organised for the evening. She always entertained in great style – throwing a dinner party for 100 guests was child's play for her. The passage of years did not diminish their enthusiasm for entertaining, even after they migrated "Down Under". Always an excellent cook, she could transform even the humble jak seed to a delectable dish.
Robert never severed his umbilical attachment to his alma mater, Trinity. For long years he served on the school Board of Governors and his abiding interest in Trinity and Trinitians of all ages never waned. He gifted his cubs, Rohan and Lalin to Trinity. They grew into two full-blown sports 'Lions'. Rohan emulated his father and captained the rugger team. After higher studies in the States, Rohan migrated to Sydney, Australia where he set up home with his wife and two children. Robert and Inez joined them after retirement. The younger son built his nest in Texas with his wife and daughter.
In Sydney Robert founded the "Trinity family" with himself as patron. The Trinitians were entertained in style by the Sourjahs in their lovely home in the suburbs. They wined, dined and danced in typical Trinity bonhomie.
Robert and Inez together with the families of Lalin and Rohan, would unfailingly make an annual trek to Sri Lanka, to meet Inez's sister Jeanne in Kandy and their friends. Heavy packages preceded them, laden with clothes and exotic items of food for distribution among their friends. They always acted with sincerity and unbelievable generosity.
Robert's inheritance, the ancestral house and land in Welimada was distributed among landless villagers of the area. This he opted to do while he lived in a rented house—that sums up Robert.
Inez until her sudden demise, would sew literally hundreds of outfits for orphanages here and the shipments would come to Sri Lanka regularly. They were tight lipped about their acts of charity.
Inez passed away peacefully in September this year while watching TV just two days before Robert's first death anniversary.
On a personal note, Robert and Inez were much more than sincere friends to us. Apart from the smart outfits and birthday cakes Inez made for our children they were our anchor in turbulent times. Robert had a solution for all problems. When my son was three years old and asthmatic—-Robert got all school rules bent to admit him to Trinity. His attention was diverted and his daytime attacks of asthma miraculously ceased.
We owe them a huge debt of gratitude.
May Robert and Inez enjoy the eternal peace and happiness that they deserve with their Maker in their celestial abode.
Kamala Wadugodapitiya
---
She was dedicated to the Montessori cause
 Yvonne Mallika Celine Fernando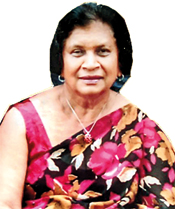 Yvonne Mallika Celine Fernando passed away peacefully on July 31. Her connection with the Montessori method and dedication to its cause began almost five decades ago in the USA and with her strong inclination to disseminate this method, she was instrumental in establishing Montessori schools in the USA, Caribbean and Australia.
Understanding the principles of the Montessori method and its framework, she aspired to the highest standards. The satisfaction came by contributing and working with untiring zeal. She inspired her subordinates with her personality, engaging smile, courtesy and hard work. She had an amazing ability to work side by side with children suffering from learning disabilities, autism etc. and to perceive a child's mind. For her a big part in mentoring a child was instilling confidence.
She was highly adept in communicating with people especially with parents who treated her as a close confidant for guidance, strength and support. Her prudent approach helped in administrative matters. Her aptitude for learning Spanish provided an useful acquisition for children in the Caribbean. She attended several international conferences, seminars, workshops.
She was a simple down to earth person and believed in the famous precept "A man's bounden duty is to serve mankind". She had strong faith in St. Anthony of Padua, the father of the poor and visited the shrine in Padua.
In her lifetime she had met senators, governors, politicians and also popular country and western singers Hank Locklin, Hank Snow, Marty Robbins, Johnny Cash, Tex Ritter, etc.
A past student of Good Shepherd Convent, Aquinas and the University of Tulsa, Oklahoma where she obtained her Master's Degree in Early Childhood Education, her teaching career began at De Mazenod College, Kandana. She lived overseas for 54 years and also worked for the Inner London Education Authority, London during her stay there.
Daughter of the late K.R. N. (Lion Reggie) and Brigette Perera from Kandana, she was married to Sheridan Fernando, a popular Moratuwite musician/ accordionist for 53 years.
Her only son Sherimal, is a qualified Chartered Financial Analyst Banker in Sydney. She was the beloved mother-in-law of Dina Rose and grandmother of Seleste Brigette Dana.
She will be remembered with affection and respect by her family relations, friends and pupils.
Au revoir!
 Geraldine Woodley
---