A hi-tech tour of our heritage
By Shannine Daniel
View(s):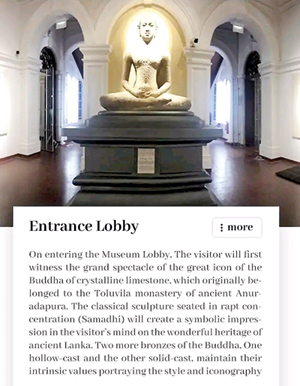 Did you know there are mobile phone apps such as the Sri Lanka Museums app and the e-heritage app that give visitors an instant guide to the country's cultural heritage?
The Information and Communication Technology Agency of Sri Lanka (ICTA) a few years ago launched these two projects to provide easily accessible information about museums and heritage sites.
The development of the Sri Lanka Museums App began in 2015 and the project was conducted jointly with the Department of National Museums. The app is currently available on both the Android and iOS platforms.
It aims to provide visitors a guide to four of the country's national museums; the Colombo National Museum, the Natural History Museum in Colombo, the Magampura Ruhunu Heritage Museum and the Dambana Indigenous Heritage Museum.
The e-heritage app began in 2017 and comprises a heritage application and a heritage content framework for the country.
Navoda Gunaratne, a senior executive at the Technology Diffusion division at ICTA, said the pilot project saw the compiling of content about the ancient sites in the Polonnaruwa district.
The second phase is focused on 400 heritage sites across all districts of the country. Due to the COVID-19 pandemic, the project has been put on hold, but the app can be downloaded from Google Playstore and Apple Appstore.
Navoda said the e-heritage app is being developed by ICTA, the Department of Archaeology, the Buddha Sasana Ministry and the State Ministry of Cultural Heritage, while the Sri Lanka Museums app was a project conducted in partnership with the Department of Museums and the Buddha Sasana Ministry.
The Sri Lanka Museums app includes text and audio content and photos of the artefacts located in the four museums. It also contains information such as opening hours and a floor plan for the buildings.
"Once the Government approves online payment schemes and e-tickets, users will be able to purchase tickets online through the app too," Navoda said.
This function is also available on the e-heritage app as well, along with QR codes and site identification codes for each historical and archaeological site included in the app. The e-heritage app also contains features such as photos, videos and content in English, Sinhala and Tamil, an Augmented Reality (AR) viewer among others.