Taking Sri Lankan talent to the world
View(s):

With trailblazers like Yohani, Chamath Sangeeth, Shan Putha and DJ Mass to Drillteam and Stigmata, Bonfire Distribution can well lay claim to being Sri Lanka's premier music distribution label taking the talent of our nation to the global stratosphere.

Providing an all-encompassing service, Bonfire is a boon to artists of all genres and independent record labels as the first music distributor in Sri Lanka with global reach,  a key factor especially in a post-pandemic world where the entertainment industry has taken a beating.

Sandun Wijemanne Nissanka, CEO and Founder of Serandip Music Group, Serandip Records, Serandip Publishing and Bonfire Distribution recalls that he was mesmerised by the tradition of lighting bonfires at scout camps and so named the company after his childhood experience as a young scout in school. The  collective multi-ethnic celebration with music, food and dance resonated deeply with him.

While the pandemic has disrupted the entertainment industry on many levels it has however opened up opportunities for music creators with more artists releasing music on streaming platforms. Bonfire facilitates a variety of quality services from providing support to musicians, songwriters, solo artists, music creators and industry stakeholders, to advanced rights management, music audio and visual supply chain, playlist pitching and access to over 200 music partners around the globe.

The company is the first music related entity to release meta data which is delivered to key data groups like Billboard, so that Sri Lankan talent now stand a chance to get into international charts. Every band and artist on Bonfire's impressive roster can now release music on the who's who of music platforms in the business from Spotify, Apple Music, Youtube and Pandora etc.

Bonfire's success, Sandun declares, is owed to the team who make the magic happen; Hiyum Rattambige, Chamupa Chenuka, Ransara Wijesundara, Prabodha Lakshan, Uditha Perera and Praneeth Tilan.

The company hopes to expand to Pakistan and Bangladesh in the near future.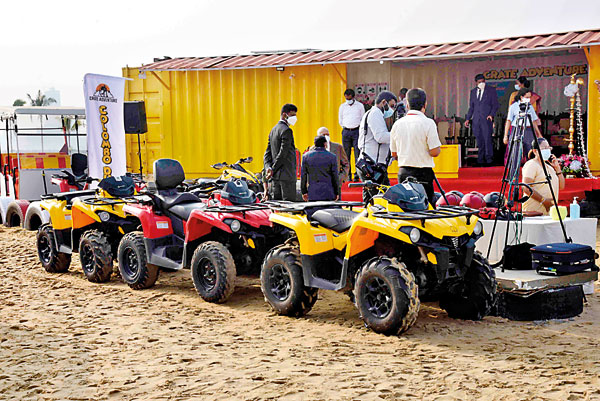 ATVs lind up. Pic by Akila Jayawardana