Fast track to Colombo dunes
By Ruqyyaha Deane
View(s):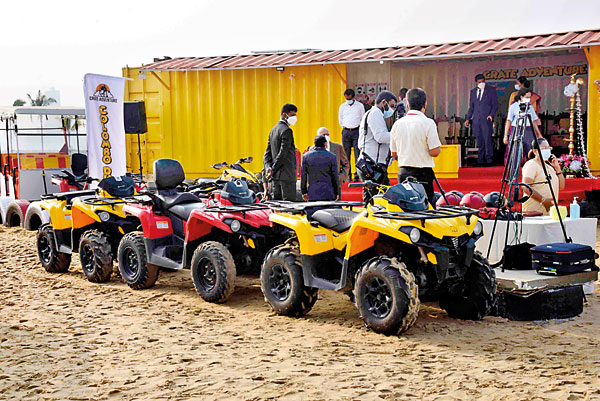 Colombo Dunes by Crate Adventure was officially opened on October 28 with ministers taking all-terrain vehicles (ATVs) out for a spin on the recently built sand dunes within the CHEC Port City, Colombo.
Crate Adventure Pvt Ltd first launched the adventure park, 'Crate Adventure', which stretches across 50 acres of natural forest in Buthpitiya, a little outside of Colombo and have now revved it up by being Sri Lanka's first sand dune ATV adventure centre.
"We are really excited and it feels good that we pulled everything off within this short period having only finalised everything maybe 7-10 days before the launch," said Chairman of Crate Adventure Pvt Ltd, Ranul Thantilage.
Colombo Dunes has been in the works since last August with construction being halted in October due to the pandemic and then resuming in March this year.
Young or old, adventure doesn't have an age limit, he says. "We want people to get in touch with their adventurous side and be out and about. Our slots are all filled up because people are ready to go out there which is great for both their physical and mental health."
Colombo Dunes, which spans an area of five acres, has three tracks with one of them wrapping around Port City and spelling out Port City from an aerial view.  There are five ATVs and a purpose built trailer that can be driven down the artificial beach. Crate Adventure works with a leading ATV manufacturer from North America, Can-Am by BRP.
"I would like to thank Crate Adventures for initiating this and creating an adventure track in Colombo Port City. We want to create more opportunities for entrepreneurs to come and be part of this initiative because the more we open up to investors, the more job opportunities it will create for Sri Lankan youth who are looking for employment. It will not only create more job opportunities but new businesses," said Chief Guest, Sports Minister Namal Rajapaksa at the opening.
By creating more entrepreneurs in our country, especially in the sports sector, a billion dollar industry can be built without the sports economy solely being reliant on support and sponsors from the private sector  and the government.
For more information visit ww.crateadventure.com or call 07177277777.