A state of depression
View(s):

For most of this month of October, I have been in a state of depression.

Before you, my esteemed readers, start worrying about my mental health, I must hasten to add that I am not suffering from a state of medical depression which needs to be treated with antidepressant tablets and therapy by a psychiatrist.

The depression I have been feeling is a deep and profound sense of sadness for our country.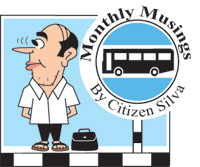 Next year on May 22, 2022 we will mark the 50th anniversary of becoming the republic of Sri Lanka. On February 4, 2022, we will have completed 74 years since we, as the Dominion of Ceylon, got back our independence from the British and so will begin our 75th year of existence independent of the colonial powers that ruled over us for nearly half a millennium.
But what, I ask myself, have we been able to achieve during this time on our own steam as an independent nation and a republic governed by our own people?
Educated and knowledgeable citizens who love and care for our nation are all in agreement today that Sri Lanka is in a major economic mess. Even those in the upper ranks of government and the isolated corridors of power, who until recently hid their heads like ostriches in the sand and camouflaged their ignorance by playing to the gallery with slogans and rhetoric, are beginning to realise this fact. In a few instances, some of them have even started acknowledging this stark fact in public.
Sri Lanka is suffering today from slow economic growth, wasteful expenditure, blatant corruption, inadequate government revenue coupled with inappropriate interest and tax rates, meagre levels of foreign earnings and perilous levels of foreign reserves. And all of this this cannot be blamed on the COVID virus or our rapacious former colonial rulers!
Our country has a wealth of competent professionals – men and women of acumen and integrity who sadly have been sidelined by our political rulers. Worse still, we have had capable and experienced officials — people with the knowledge and background to understand their subjects — who were appointed to positions of importance but then treated with disrespect, their advice ignored and their recommendations over-ruled. Some of these qualified professionals found their positions so untenable that the only way they could maintain their dignity was by resigning.
People like Dr Ananda Wijewickrema, Dr Asoka Guneratne, Prof Neelika Malavige and Prof A Pathmeswaran — eminent medical experts who well know what they are talking about — decided enough was enough and resigned from the various advisory bodies to which they had been appointed when they found their advice was being ignored and countermanded by ignorant functionaries. When these qualified technical experts — as well as other top officials such as Paddy Marketing Board Chairman Dr Jatal Mananapperuma and Consumer Affairs Authority Executive Director Thushan Gunewardena — resign, are we not wrong when we surmise (as Marcellus told Horatio in Shakespeare's Hamlet) that 'something is rotten in the state of Denmark'?
As Thushan Gunewardena himself said when he resigned as Executive Director, the Consumer Affairs Authority has proved to be a failure because "nothing can be done as per the law. Instead, all directives are taken from ministers who do things according to their whims."
Other qualified professionals have stayed on in their positions but remain silent because they realise there is no point in providing the benefit of their knowledge and expertise to political masters who have neither the education nor the common sense to appreciate the value of the advice they are given.
In this sort of environment, the capable men and women of our country will be forced to remain silent, wait on the benches for a call that may never come — or leave our island for places overseas where their expertise is recognised and valued.
We live in a land blessed with human resources and environmental resources. Sadly, both these valuable resources are being mismanaged by those entrusted with managing them for the benefit of the nation's citizens.
Our nation today faces multiple crises. We are unable not only to pay our essential import bills but also unable to settle our foreign debts, we face a looming food shortage following an impulsive and ill-considered ban on artificial fertiliser, and we are still battling a pandemic that has yet to be brought under control.
Did we ever imagine when the British sailed off in 1948 leaving us to manage our own affairs and govern our own country that we would come to this state?
Is it surprising that I am so depressed?