Tuition teachers eager to resume their classes
School children are returning to classrooms, but tution classes are still not sanctioned
View(s):

Tuition class lecturers are waiting for the green light to begin classes after President Gotabaya Rajapaksa instructed officials to resume O/L and A/L classes in schools, on Friday.
All Island Professional Lecturers Association National Organiser Jagath Weeraman told the Sunday Times that their members have been instructed to keep lecture halls fully sanitised, have hand washing facilities installed and have other health measures in place.
Health Minister Keheliya Rambukwella informed that health guidelines with regard to the resuming of tuition classes are being prepared, Mr Weeraman added.
The rainy weather did not dampen the eager spirits of primary school children this week as they walked, cycled, took the bus or went in a private vehicle to school with much enthusiasm.
The re-opening of schools came as a relief to parents, especially in rural areas, who were unable to afford online studies for their children during the past six months.
Deshani Lakmali, a grade five student from the Kaluwamodera junior school in Aluthgama, said she is happy to be back at school.
"We didn't have money to pay for online tuition classes. So I was worried about her facing the grade five scholarship examination without much guidance," said Deshani's mother, M G Dhammika.
Principals of schools with primary classes said the turnover was about 85-87 percent.
Most leading schools with 35 students per class had 10-12 students arriving two to three days a week, while the second and third groups came to school on the next few days. In many schools, parents were briefed on health and hygiene practices.
Despite the rain, primary class student turnover was about 87 percent, V S B Thuseetharan, Principal of St John's College in Jaffna, said.
"We had grades four and five on Monday and Tuesday while grade one to three was from Wednesday onwards. All primary teachers reported to work and health and hygiene measures were followed," he said.
With Education Ministry officials instructing schools to avoid academic work and focus on drawing, many schools had their primary students colouring, singing and playing on the ground this week.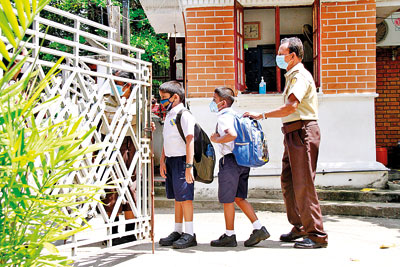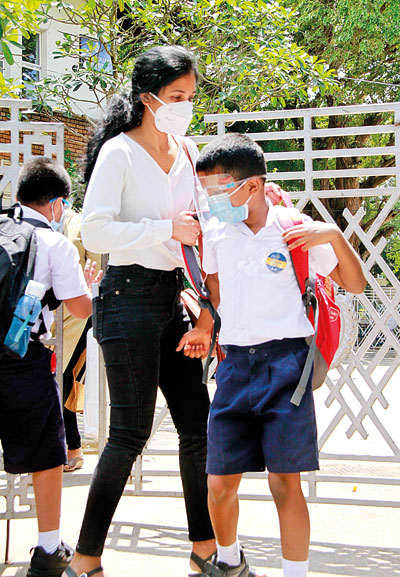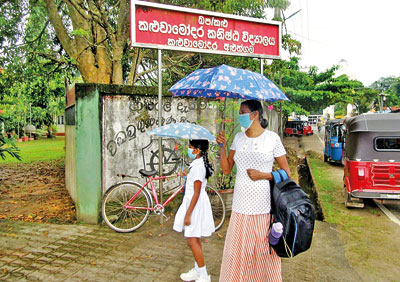 Pix by Thusitha Kumara de Silva and Indika Handuwala