Nation mourns scholar monk's death
View(s):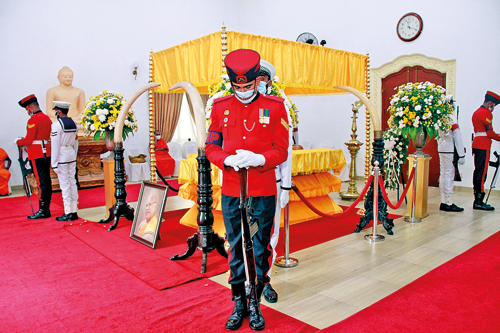 Chancellor of the University of Kelaniya, Chief Judicial Prelate for the two Regions of Colombo and Chilaw, and Chief Incumbent of the Peliyagoda Vidyalankara Pirivena, Aggamahapandit Dr Most Venerable Late Welamitiyawe Kusaladhamma Thera's final rites are scheduled to take place at Independence Square today (31).
President Gotabaya Rajapaksa has directed that the thera's funeral be held under state patronage.
The Government has declared today as a day of mourning, and accordingly, the State Ministry of Home Affairs has ordered all slaughterhouses, meat stalls and liquor outlets within Colombo and Gampaha Districts to remain closed.
President Gotabaya Rajapaksa paid his respects to the late thera at the Vidyalankara Pirivena in Peliyagoda. He expressed his deepest condolences to the resident monks, the Dayaka Sabha and the relatives of the late nayaka thera.
Prime Minister Mahinda Rajapaksa too paid his respects to the late thera at the Vidyalankara Pirivena.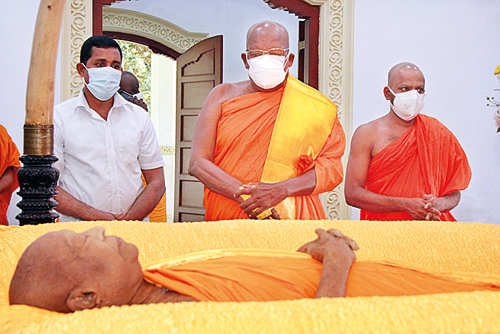 The Prime Minister recalled with respect the contribution made to the perpetuation of Buddhism in Sri Lanka, as well as the leadership of Ven Kusaladhamma Thera in resolving various crises and problems in the country.
Ven Kusaladhamma Thera did yeoman service for the betterment of the university students, he recalled.
Ven Kusaladhamma Nayake Thera spent 67 years of his altruistic life for the betterment of the Buddhist culture in Sri Lanka.
Speaker Mahinda Yapa Abeywardena in a condolence message said, "I am deeply saddened to hear the sudden demise of the thera who made a significant service to the Buddha Sasana.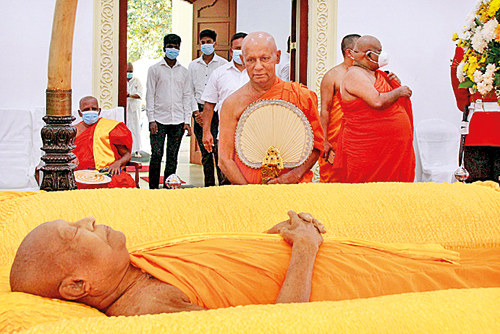 The demise of the thera, who was dedicated to the country, is an immense loss, the Speaker said wishing that the thera attain the supreme bliss of Nibbana!
Ven Kusaladhamma Thera passed away at the age of 84 while being treated at a private hospital in Colombo.
Born on February 20, 1937 at Kurunegala, he entered the order on January 7, 1954.
He was well-known for the great service he rendered for the propagation of Buddhism and the contribution for the betterment of university students.
He was conferred with the honoforic Burmese title Aggamahā Saddhamma by the Myanmar government in 2003.
The Nayaka Thera obtained an Honours Degree in Sinhala Language from Vidyalankara University, and commenced Dharma Shastra services at the Vidyalankara Pirivena in Pannipitiya.
He was the head of Sri Lanka's Sasarakshana Balamandala.