Lanka takes new measures to stop bottom-trawling by Indian fishermen
By S Rubatheesan
Vessels and fishing gear will be confiscated in addition to legal action against poachers
View(s):
In yet another move that signals that Sri Lanka is toughening its stance against bottom-trawling Indian fishermen in Sri Lankan waters, the Fisheries Ministry has decided not to release any Indian boat involved in the illegal, unreported and unregulated fishing.
Fisheries Director General S.J. Kahawatte told the Sunday Times the move follows the decision to fully implement the amended provisions of Fisheries and Aquatic Resources Act No 2 of 1996. The 2017 amendments have empowered the authorities not only to prosecute trespassing Indian fishermen but also to confiscate their trawlers and declare them as state property.
Earlier, the Sri Lankan authorities released the detained boats on humanitarian grounds or on requests from the Indian government.
Under the amended law, the arrested Indian fishermen could be released on bail but their boats would be kept in custody until the cases were determined. If they were found guilty, the boats would become the property of the Sri Lankan state.
"Earlier, the trespassing Indian fishermen were released. In terms of the new provisions, they can be released on bail and allowed to return to their home country, provided lawyers representing them appear in courts when the cases come up for hearing. The fish catch and equipment seized from their vessels will be confiscated," Mr Kahawatta said.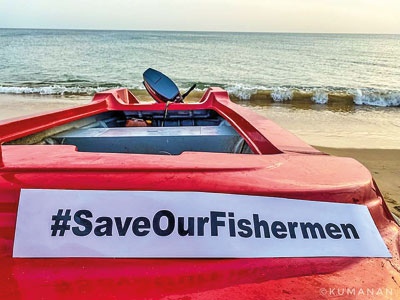 To stop bottom trawling, the Fisheries Department last month issued a directive to District Assistant Directors, advising them to implement the Fisheries and Aquatic Resources Act No 2 of 1996 and Fisheries (Regulation of Foreign Fishing Boats) Act No 59 of 1979 as amended in 2017 and 2018.
Accordingly, foreign fishermen who trespass into Sri Lanka's waters can be charged with illegal entry, fishing without a permit, entering into territorial waters without keeping the fishing gear stowed in their vessels and using banned bottom trawling nets towed by a motorised or mechanised boat.
Sri Lanka's tough new measures come in the wake of protests by Northern fishermen seeking compensation for damages caused to their nets and other fishing equipment by Indian trawlers.
Northern Province-based fisher federations had called on the Fisheries Ministry to auction the confiscated Indian trawlers to pay them compensation.
Asked whether the Government would comply with the Northern fisher groups' request, the DG said no decision had been taken yet in this regard.
In July 2018, following an understanding between India and Sri Lankan, an Indian delegation visited the North to secure the release of 184 boats detained prior to 2015. However, the delegation returned empty-handed since the boats were not in good condition for the India-bound passage.
More than 200 detained Indian trawlers have been anchored in jetties in Karainagar, Kankesanthurai and Point Pedro. Due to the long anchorage, a significant number of these boats are beyond repair, officials say.
Some 140 Indian trawlers which were seized before 2018 are yet to be retrieved by Indian fishermen. Legal action against 68 trawlers has been completed and a further directive from the Attorney General's Department is awaited. Four vessels were seized recently and cases have been filed against them. Since 2018, some 89 Indian trawlers have been confiscated.
Meanwhile, the Northern fishermen's demand to implement the law against Indian fishermen carrying bottom trawling fishing in Sri Lankan waters, has earned the wrath of local trawler fishermen. They fear that they would also lose their 'livelihood'.
On Tuesday, in Jaffna's Gurunagar area, a group of local trawler fishermen staged a counter-protest demanding that they be allowed to engage in trawling.
On October 17, more than a hundred black-flagged local fishing boats staged a protest sail from Mulliathivu to Point Pedro, urging the authorities to take tough action against poaching Indian fishermen. The fisher leaders insisted that the recently passed laws should be implemented fully to prevent the Indian fishermen from trespassing into Sri Lankan waters.
Local trawler fishermen said their trawling involved gill nets which were less impactful on marine resources compared to bottom trawling practised by Indian fishermen. They claimed they engaged in such fishing only in selected sea grounds identified by the National Aquatic Resources Research and Development Agency (NARA). They also claimed that unlike the Indian bottom-trawling fishermen, they did not use heavy metals for trawling, but used wooden slabs.
Mr. Kahawatte said the department had not issued any licence for trawling although a significant number of local trawlers used this fishing method. He acknowledged that that the department had received complaints against this practice by local trawlers.
Meanwhile, two Indian fishermen who were arrested last Monday following a chase that ended in a collision between their boat and a Navy vessel were released by the Kayts Magistrate's Court. They are to be repatriated to India. Their boat capsized after the collision, leading to the death of an Indian fisherman. The incident took place three nautical miles off the coast of Kovalam, Jaffna. The body of the fisherman was sent two days later amid widespread protests by fisher communities in Tamil Nadu's Pudukkottai district.
At present, 23 Indian fishermen are being detained at Karainagar Navy camp. They are undergoing a two-week mandatory quarantine process. The Kayts court this week further remanded them till November 10.
Fisheries Minister Douglas Devananda told the Sunday Times the Government was taking up the matter with the Indian authorities, making use of all available avenues, including diplomatic channels. He, however, said the practice of bottom trawling by Indian fishermen in Sri Lankan territorial waters could not be allowed under any circumstances.
"The reason why they keep coming into our waters is that almost all marine resources in the Indian side have been completely depleted due to their exploitative fishing methods. If this practice continues in our waters, we would face the same fate," Minister Devananda warned.
When the visiting Indian Foreign Secretary Harsh Vardhan Shringla was here early this month, Minister Devananda met him and raised the fishermen issue. The minister told the Indian Foreign Secretary that Sri Lanka had suffered a loss of Rs 500 million during the last five years alone due to Indian fishermen's illegal bottom trawling in Sri Lanka's waters.
Mr. Devananda also reiterated his proposal for joint monitoring of the Palk Bay and the Gulf of Mannar but India asked for more time to study it. The covid pandemic has delayed a dialogue on this initiative.
On Friday, Indian High Commissioner Gopal Baglay met Tamil National Alliance (TNA) leader R. Sampanthan and its spokesperson M.A. Sumanthiran to discuss the Indian fishermen issue, among other matters.