Cloud over 'Horizon' as Pandora Papers reveal Paski's trust deals
View(s):

Rising out of a bucolic, rice-producing corner of urban Malabe is a popular educational institution that began modestly as a vocational training school.

The Horizon College of Business and Technology (HCBT) was registered as a private limited liability company in January 2008. It is run by a Chairman and Rector. But nowhere on its website is there mention of a key backer who funneled funds into the organisation through a Singapore-based company owned by a Trust registered in the British Virgin Islands (BVI): Ramalingam Paskaralingam, a well-known public official who was an influential Treasury Secretary under late President Ranasinghe Premadasa.

There is no information in any public domain about Mr Paskaralingam's role, or how much money he has put into HCBT. And it is not disclosed that a family member is now co-owner of the business through the Singapore company named St John's Investments Pte Ltd, which holds 80 percent of shares of of HCBT.

These came to light for the first time through the Pandora Papers–a global investigation led by the International Consortium of International Journalists (ICIJ) that saw hundreds of journalists from media organisations worldwide examining a trove of 11.9-million confidential documents from 14 offshore service providers.

The papers related to Mr Paskaralingam are from the Trident Trust, one of the BVI's oldest and largest Trust companies. They reveal that he set up a structure in the BVI called 'The Aran Trust' in July 2012 for succession planning. He and his family members were named as beneficiaries.

Mr Paskaralingam last held public office as Economic Advisor to Ranil Wickremesinghe, former Prime Minister, in the 'Yahapalana' Government. He was a mover in Wickremesinghe-headed Cabinet Committee on Economic Management through which projects and contracts were channeled. President Maithripala Sirisena abolished the CCEM in March 2018.

A member of one of the final batches of the Ceylon Civil Service, Mr Paskaraligam was called Premadasa's "super bureaucrat". And among the posts he held in that administration were Additional Secretary to the Ministry of Education, Secretary to the Ministry of Local Government, Housing and Construction, Secretary to the Ministry of Highways and Chairman of Air Lanka.

Now in his 80s, Mr Paskaraligam–or "Paski"–was known to be rational, hardworking, "incredibly efficient" and "certainly more powerful than any Minister in Premadasa's Government". Even then, most large projects passed through him.

The Aran Trust owned 100% of a BVI company called Earth-Hold Investments Inc which in turn held 100% of St John's. Its Deed of Trust states that: "The ultimate asset of the Trust is Horizon College of Business and Technology (PVt) Ltd, a [sic] institution situation in Sri Lanka…" The proposed net worth of the Trust is stated as US$ 3.5mn in cash and bank accounts.
Documents from 2013 hold instructions from Mr Paskaraligam that, should any of The Aran Trust's income or capital remain indisposed of at the expiry of the Trust period, they should be poured in their entirety into HCBT.
Also in 2013, Mr Paskaralingam decided to dissolve The Aran Trust and set up The Aran II Trust; to settle Earth-Hold into this new Trust; and to transfer the shares in HCBT to his niece–listed as a housewife– "because she has been investing funds into the company and, as her investments exceed the value of the company, the company will be placed into her name".
Trident Corporate Services (Singapore) Pte Ltd (TCSS) was handling Mr Paskaralingam's account at the time. And Trident Trust BVI (TBVI) inquired from it how the niece's "investments" were recorded. Were they donations, contributions or loans to the Trust?
TCSS responded: "We know that she made an investment into the company but we are of the opinion that the same was made as a contribution as a donor or not for shares or any particular interest in the Company."
The documents indicate, too, that Mr Paskaralingam had other Trusts; that some of these were set up through TSNG or Trident Services Singapore; and that he started terminating them around 2012-2013, ostensibly as part of "succession planning".
An email dated August 2013 from TCSS explains Mr Paskaralingam's declared rationale for making his niece a beneficiary: "the main reason for the change and dissolution of the structure is the client wants to eliminate any offshore structures in order to be transparent with the Sri Lankan authorities and will be giving the assets to his niece as she has invested into the college and he feels it's her right that she receives the college as a matter of a commercial decision."
"Keeping it for the benefit of his immediate family does not make sense as they are not involved in the business, further he has provided for his immediate family through other structures," it adds. Separate emails state that "the client [Paskaralingam] will have no use for the BVI Structure in future as Sri Lanka is not in favour of BVI structures".
This decision was made, however, when Mr Paskaralingam was already much advanced in age and ostensibly interested in ensuring there will be no legal issues for his inheritors. The emails call for "a clear paper trail with the whole dissolution of the structure".
Communication between TCSS and TBVI in October 2013 gives further insight into why Mr Paskaralingam had been keen to reorganize his affairs. First, it was getting more expensive to manage his company in Singapore. Second was due to "recent issues with BVI leaks through Portcullis" which prompted the client "to close down all his offshore accounts".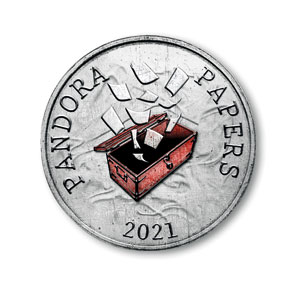 The Portcullis leaks were part of an ICIJ investigation in 2013 named 'Secrecy for Sale' where the business of Singapore-headquartered offshore service provider Portcullis TrustNet was revealed. In managing their clients' substantial wealth, the firm was found to be keeping names, finances, business interests and political links hidden through a variety of methods.
Mr Paskaralingam's niece subsequently set up her own structure named The Baron Trust "for succession purposes and in order to hold the share in a BVI Company". It is this entity that now holds St John's Investments Pte Ltd, the majority owner of HCBT. The proposed net worth of this Trust is again stated as US$ 3.5mn in cash and bank accounts.
The Trust's Establishment Form states: "College was gifted to the Settlor [niece] by her uncle Ramalingam Paskaralingam." But there is no information in the public domain of her involvement in HCBT.
Documents confirm that "St John's Investment Pte Ltd. owns 80 % of the company shares outright and the remaining 20% is held by a business partner". This unnamed person, it states, "is not the niece of Settlor" and does not own the stake "on behalf of the niece"
The Aran II Trust, meanwhile, has as its ultimate beneficiaries Mr Paskaralingam's son and great nephew. The shares of Earth-Hold were transferred to The Aran II Trust. The reason he did not close down "all his Trusts" was advice he received that this was "not a good idea because he is going to be left without proper succession".
If all this seems convoluted, it is because such transactions usually are. The Pandora Papers and previous document leaks from offshore providers point to a complex organ of trusts, holding companies, other entities and bank accounts. While there are legitimate uses for all of these–and there is often no documentary evidence to say the wealth is ill-gotten–the use of multiple instruments across several tax havens via proxies point to a strong desire for secrecy.
Meanwhile, Earth-Hold Investments Inc declared and paid interim dividends totaling SGD 364,284.75 (Rs 54.56mn); US$ 1,100,495.65 (Rs 222.35mn) and GBP 94,000 (Rs 26mn) to its sole shareholder for the year 2014. It also declared and paid interim dividends totaling GBP 1,741,791.72 (Rs 481.62mn) to the sole shareholder for the year 2015. All currency conversions are at prevailing rates. The sole shareholder is Mr Paskaralingam.
Emails allude to at least two additional amounts paid in 2015: GBP 8,000 (Rs 2.2mn) in January; and a further GBP 8,000 in March. They were later defined as "interim dividends". The documents reveal elsewhere that the quoted GBP 1.74mn was for investment in a property in Britain and that, rather than being a dividend, it was a "shareholder's loan".
There are other large amounts mentioned. "In February 2015, the Trustee in consideration of a request from RP, a beneficiary of the Trust, requested the Director of Earth-Hold Investment Inc., to pay distributions directly to an account held in the name of the said Beneficiary in the amounts of GBP 8,000 and GBP 10,000 [Rs 2.76mn] on the 24th day of each month and the 1st day of each quarter respectively," says an email dated June 4, 2016, from TBVI to TCSS.
TBVI did raise some concerns in 2014 about a US$ 100,000 (Rs 20.2mn) transfer that was first requested from The Aran II Trust for investment HCBT but later labeled as "personal expenses".
"As you would appreciate," it said, "initially we were advised that the US$ 100,000 was being requested for an investment in Horizon College. As we are now being told that the US$ 100,000 is for 'personal expenses', in addition to quarterly and monthly distributions of GBP 10,000 [Rs 2.76mn] and GBP 8,000 [2.2mn] for 'personal expenses', further inquiries were made."
Trident Trust BVI accepted that Mr Paskaralingam was old would be residing in Sri Lanka more often owing to his "health condition". But it asked why there had to be two separate transfers of US$ 100,000 (to Bank of Ceylon) and GBP 10,000 (to Barclays) for Mr Paskaralingam for "personal expenses". And it called for "detailed explanation for the purpose of the transfer", saying the given reason was "not sufficient for a transfer of this magnitude".
TCSS replied that US$ 100,000 was "for him/his son & family in Sri Lanka". It asserted that, in today's world, to order a MRI, ultrasound scans, and a few doctors' visits, etc, "will easily cost more than USD 30k". "We do not feel that USD 100k is out of norm for an old man/retiree in today's world," it maintained. The second amount of GBP 10,000, TCSS said, was for Mr Paskaralingam's wife and his daughter who needed "long-term medical attention in the UK".
The confidential emails show that the US$ 100,000 was, indeed, first requested for the purpose of "investment into Horizon College". But it was changed to "personal expenses" after TBVI asked TCSS to confirm whether "the investment is being made in the Settlor's name".
In June 2016, Mr Paskaralingam closed down The Aran II Trust which owned Earth-Hold Inc. There is no evidence in the documents of the Baron Trust being closed down. It is not known precisely what share, if any, Mr. Paskaralingam now holds in the school.
HCBT co founder Daranagama makes surprising revelations, no response from Paskaralingam

The ICIJ sent questions to both Mr Paskaralingam and Mr Daranagama of the Horizon College of Business and Technology regarding the information revealed in the Pandora Papers. Mr Paskaralingam did not respond despite having asked for more time.

Mr Daranagama spoke over the telephone with ICIJ. One of his more surprising revelations was that, while Mr Paskaralingam has been investing for over 13 years in HCBT, he did not receive any returns.

With a background in management and entrepreneurship and a Masters in human resource management, Mr Daranagama said he has been in education for over two decades. He was co-founder of HCBT and it was set up with support from Mr Paskaralingam via St John's Investment Pte Ltd. It is Mr Daranagama that holds the 20% stake. When the school started in 2008, the former Treasury Secretary had no public administration or political role and was mostly overseas.

"He himself invested in his own wealth," Mr Daranagama said. And it was a Board of Investment project. All monies were transferred through the banking system. Today, Mr Daranagama claims to manage all the institution's affairs with no involvement from Mr Paskaralingam.

His business had nothing to do with Earth-Hold or any other entity "from British Virgin Islands or whatever", Mr Daranagama said. But he admitted that St John's owned the 80% stake. On behalf of Mr Pasakaralingam, he said the Trust was set up because "Singapore is very expensive, extremely expensive".

"And, number two, I believe he wanted to actually make the arrangement for his next generation," in a more "convenient …very cost effective" manner. "But I don't have any dealings with them at all," he maintained.

Mr Daranagama repeatedly said St John's earned nothing from this venture and that Mr Paskaralingam's only interest had been to see it grow, perhaps for his children to be involved in the business one day.

"They want me to keep on developing the organization because there was a huge potential opportunity in Sri Lanka," he said. "If we start sending money out of the country, then I will not have enough resources to rebuild, re-develop, or to put the money to build the infrastructure."

"Because of that reason, he never basically wanted any remittance at all," he said, adding that he communicates with the 80%-shareholder only once a year, when he is asked for information. He also claimed St John's was "running as a Trust, a not-for-profit organisation."