Sri Lanka Felicitated at Innovative International Film Festival, Bangalore
View(s):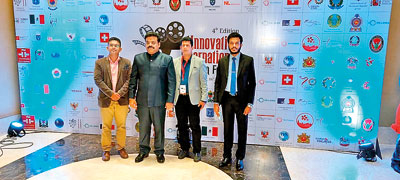 Exploring opportunities for strengthening its film industry in the international arena, Sri Lanka Deputy High Commission in Chennai together with Sri Lanka Tourism Promotion Bureau, for the first time ever organized a Sri Lankan film professionals` delegation at the 4th Edition of the Innovative International Film Festival (IIFF) which was held at JW Marriot Hotel and Innovative Multiplex theater in Bangalore from 14 to 17 October 2021.
IIFF is one of the biggest and prestigious international film festivals in South India which  has been organized by the Innovative Film Academy in Bangalore for many years and seeks to promote the film art and cultures of participating countries, creating a networking platform for the international film industry with co-production opportunities in different countries.
Commencing the Sri Lankan session at the event on 16 October, the Deputy High Commissioner Dr. Venkateshwaran gave the impetus to the distinguished gathering, highlighted why Sri Lanka should be selected as their favorite film destination country. Followed by his remarks, the five-member Sri Lankan delegation, including Assistant Director, Sri Lanka Tourism Promotion Bureau, Chaminda Munasinghe; Film Director, Frames TV and Films Shyaman Premasundara;  Managing Director, Circle 360 Yasas Rathnayake; Producer, Crew for Shoots Priyanga Kumarasiri and Film Director Chathra Dias Weeraman made a comprehensive presentation elaborating the history of shooting international films in Sri Lanka, the island's scenery destinations, availability of sophisticated infrastructure facilities and concessions/sops given for the international filmmakers.
Moving to the networking session, Founder Sarvana Prasad, and Creative Director of Innovative Film Academy Upasana Mittal introduced the Sri Lankan delegation to the conversant cine and entertainment industry professionals who had attended the session and followed by discussions too place creating more opportunities to Sri Lanka. Joining the Sri Lankan session, an eminent & illustrious film producer in Telugu cinema Allu Aravind had a cordial interaction and upon the Deputy High Commissioner`s invitation to visit Sri Lanka, he expressed his desire to explore Sri Lanka for his upcoming creations.
The four-day festival concluded with a fascinated closing ceremony with the participation of diplomats, government officials, industry professionals, and participant countries' representations. During the Ceremony, the newest Sinhala Movie called " AYU" which was directed by Chathra Dias Weeraman was awarded as the Best Asian film.
IIFF`s 4th Edition was turned out by leading filmmakers, celebrities, directors, producers, film associations & diplomats from 30 heterogeneous countries, and 75 international movies from participant countries were screened in 45 languages.
The Sri Lankan delegation was coordinated and arranged by Third Secretary (Commercial) of the Sri Lanka Deputy High Commission Dilanga Hettiarachchi and Assistant Director, Sri Lanka Tourism Promotion Bureau Chaminda Munasinghe.