Govt. seems shaky and on "Code Amber", faces revolt within
By our Parliamentary Lobby Correspondent
View(s):
Coalition partners say enough is enough; go public with criticism of Finance Minister for sneaking the Cabinet paper on the controversial deal with US energy firm
Opposition parties hit out at appointment of monk as head of one-country-one-law task force, President's move seen as total embarrassment to Justice Minister Sabry
Two young SJB MPs resign from party positions, call on leadership to prepare strategy to seize power and carry out campaign to defeat Govt. moves to postpone PC and LG elections
Governing by coalition has never been an easy task anywhere in the world and Sri Lanka is no exception. It is only the next most difficult thing to a cohabitation government. The country's governing history post-independence is littered with coalition governments coming to power on the back of many grand promises and alliances, only to fall apart midway in office due to internal conflicts.
The 2015 marriage between the United National Party (UNP) and the Sri Lanka Freedom Party (SLFP), which had been archrivals for more than 50 years, was always going to be no easy task, but it was compounded by the animosity that grew between the then President Maithripala Sirisena and the then Prime Minister Ranil Wickremesinghe; two men who were so totally different in character that the only thing they seemed to have in common was their mutual dislike for one another. Those around them only fanned the differences, not help defuse them.
The Constitution provides for cohabitation governments. The first from 2001-2004 ended prematurely with President Chandrika Kumaratunga dissolving Parliament notwithstanding a written promise not to do so. Only President D.B. Wijetunga ensured a smooth transition of a cohabitation government.
Conflicts within the coalition
Differences between President Sirisena and Premier Wickremesinghe were such that it eventually led to a constitutional crisis when the former removed the latter from his office. The third year anniversary of that 52-day crisis fell this week. While things are nowhere near as grim for the present Sri Lanka Podujana Peramuna (SLPP)-led Government, there is no doubt that the cracks within the coalition are continuing to widen as the Government heads into the third year of its term.
Several issues have tested the unity of the coalition in recent times. First, it was over claims that coalition parties were being given step-motherly treatment in District Development Committees and that their representatives were not being given adequate funding to carry out their work. There was also major friction between some coalition parties and the SLPP over the tripartite agreement to develop the East Container Terminal (ECT) of the Colombo Port with India and Japan. The widespread opposition from trade unions and even its coalition partners eventually forced the Government to pull out of that agreement and sign a new agreement with India's Adani Group to develop the West Container Terminal (WCT) as a compromise to appease an angry Indian Government.
Relations have been on a downward spiral since then, with SLPP General Secretary Sagara Kariyawasam at one point accusing Energy Minister Udaya Gammanpila, who heads the Pivithuru Hela Urumaya (PHU), one of the SLPP's constituent partners, of being involved in a conspiracy against his own Government by raising fuel prices and called on him to step down. Some of these same constituent parties have also come under fire from the SLPP for criticising the Government's abrupt ban on chemical fertiliser and attempts to shift the entire agriculture sector to 100% organic farming.
The latest and perhaps most serious differences have cropped up over the controversial agreement to hand over 40 percent of shares owned by the Government in the Yugadhanavi Power Plant in Kerawalapitiya to the US-based company, New Fortress Energy (NFE). The same company will also build an offshore Floating Storage Regasification Unit (FSRU) and the pipeline system for supplying Liquefied Natural Gas (LNG) to power plants including Yugadhanavi and Kelanitissa and plants proposed to be built in the future.  The Government has also granted the American company the rights to supply gas to all LNG power plants for five years.
The agreement has incensed Ceylon Electricity Board (CEB) trade unions. They have now threatened trade union action on November 3 that could lead to an island-wide blackout, similar to the one that occurred in 1996. A group of coalition partners, many of whom had also opposed the deal on the ECT, have come out strongly against the agreement with NFE as well. Up until Thursday (28), President Gotabaya Rajapaksa had rebuffed their attempts to meet him to discuss the issue, asking leaders of parties that had written him a joint letter to take their concerns to Prime Minister Mahinda Rajapaksa and Finance Minister Basil Rajapaksa. With pressure increasingly being exerted on him, the President called a special meeting of party leaders representing the Government on Thursday. The meeting was held at the Presidential Secretariat to discuss a range of issues including the fertiliser crisis, the COVID-19 pandemic and the Yugadhanavi power plant.
The meeting was attended by leaders of coalition parties within the Government as well as a group of senior ministers from the SLPP. President Rajapaksa chaired the meeting, along with Premier Mahinda Rajapaksa, Finance Minister Basil Rajapaksa and Education Minister Dinesh Gunawardena.
Twelve items were on the agenda, with the Yugadhanavi issue being the last of them. Coalition parties who oppose the agreement with NFE though, wanted it to be discussed first. By all accounts, the meeting, which lasted for more than four hours, was a fiery affair, with heated words being exchanged by both sides. State Minister and Sri Lanka Freedom Party (SLFP) General Secretary Dayasiri Jayasekara alluded to this just after coming out of the meeting, when he told journalists waiting outside that there was an "intense discussion" on the Yugadhanavi issue. "Finance Minister Basil Rajapaksa told us that this agreement (with NFE) was not the final agreement and that there were several other agreements on the matter which are yet to be signed," he said.
Both the President and the Finance Minister asked coalition partners to submit their observations in writing regarding any shortcomings in the agreement.
Coalition partners were not satisfied. On Friday (29), they went ahead with earlier plans to host the first meeting of a "People's Council" with regard to plans to transfer shares of the Yugadhanavi plant. In attendance were leaders and representatives of 10 political parties which are supporting the SLPP in Parliament. They included Ministers Vasudewa Nanayakkara, Wimal Weerawansa, Udaya Gammanpila, State Minister Dayasiri Jayasekara, MPs Ven. Athuraliye Rathana Thera, Prof. Tissa Vitharana, A.L.M. Athaullah, Gevindu Kumaratunga and Tiran Alles.
Making his welcome speech and explaining the aim of the council, Water Supply Minister and Democratic Left Front (DLF) leader Vasudeva Nanayakkara said they all came together to defeat a repressive regime that was being led by anti-national elements. "Though we have not publicly told this, as you would know, once we came to power, the trajectory of the Government we established raised some serious issues among us. First, we were saddened and hurt by these developments. We then decided to meet together and work to change the Government's direction."
He claimed their parties first raised these concerns politely and aired their views, "but it increasingly became clear to us that things that should not be happening were happening. It became clear to us that things were going down a far worse path than we expected. In the end, we were forced to come and complain to the people, and this is the forum to do that."
Energy Minister Udaya Gammanpila, under whose purview both the CEB and the Ceylon Petroleum Corporation (CPC) come, noted that the American company NFE had made an unsolicited bid as far back as November, 2019 to set up an FSRU, a gas pipeline system and also to supply gas to power plants. However, Minister Gammanpila stated that he and the then Power Minister Dullas Alahapperuma had decided it would create conflicts between the Government and other countries if all of those agreements were signed with one country. As such, in February this year, it was decided to float one tender for the FSRU under the CEB and another for the pipeline system for LNG under the CPC. It was decided to keep the supply of gas under Government control as otherwise; one company would obtain a monopoly on gas supply, which would threaten the country's energy security. It would also mean that no one will invest in Sri Lanka to drill for gas, he claimed.
"We floated the tender in February but NFE, which had been pushing for this since 2019, and did not apply for the tender floated 15 months later. Why? Because someone told them not to worry about applying for the tender since if they did, there was a chance they would not get it in case 'someone' made a more advantageous bid for us. As such, 'someone' told them to wait and assured them that they will be given the contract irrespective of the tender. What is happening now is the fulfillment of that promise," Minister Gammanpila alleged. Who was that 'someone' Gammanpila was alluding to? There were little doubts among the participants.
He lamented that this was the first time in history that a tender had been awarded to a company that never applied for it; and this too while the tender process is still ongoing. "This has not even happened during the presidencies of J.R. (Jayewardene), (Ranasinghe) Premadasa, Chandrika (Kumaratunga) and Ranil (Wickremesinghe), though we have criticised them all for the heights of corruption reached during those years."
Industries Minister and National Freedom Front (NFF) Leader Wimal Weerawansa explained that for much of the last few months, the Cabinet had met virtually due to the COVID pandemic. The Cabinet Paper relating to the Yugadhanavi issue had been taken up under "other business" after all Cabinet Papers on the agenda that day had been approved. At that point, the Finance Minister told the Cabinet Secretary that he too had brought a Cabinet Paper that he wanted to submit and asked the Cabinet Secretary if he had it, Weerawansa related.
"The Cabinet Secretary then said the paper came in just as he was sitting down for the meeting and he did not have time to read it. He asked the Finance Minister to brief the Cabinet on it. Normally, it is the Cabinet Secretary who briefs Cabinet on such Cabinet Papers, but here he was telling the Minister that he did not have time to read it, and asking the Minister to brief Cabinet since the Minister was aware of its contents. I haven't been a Cabinet Minister for that long, but this is the first time I have come across such a situation," the NFF leader told the gathering.
Weerawansa added: However, the following day, the Cabinet Minutes stated that the Finance Minister "briefed Cabinet extensively" regarding this Cabinet Paper and that it was approved by the Cabinet "after lengthy deliberations." He said he felt like applying ice on his head when he read the minutes to see if he was dreaming.
"We will go before court and say that there was no discussion whatsoever regarding this Cabinet Paper. This was brought in fraudulently. We are not prepared to stay silent on such things for the sake of ministerial positions," Weerawansa stated.
One country, one law
Another issue that figured prominently during Thursday's meeting was the decision by President Gotabaya Rajapaksa to appoint the controversial Bodu Bala Sena (BBS) General Secretary, Ven. Galagoda-aththe Gnanasara Thera, as the chairperson of the Presidential Task Force for "One Country, One Law." The 13-member Task Force was appointed on Tuesday by the President. In doing so, the President was carrying out a pledge he made when he addressed the 72nd Army Day Celebrations in Anuradhapura on October 10.
During his address, President Rajapaksa related how, while ascending the steps to worship the Ruvanweliseya Stupa, a young monk reminded him that he had pledged to establish 'one country, one law.' The monk had told the President that they were waiting for him to do that, the President said. "I will fulfil that promise within this year," the President said in his address.
President Rajapaksa has been in the habit of appointing Presidential Task Forces for various subjects since assuming duties. This is the 11th such Task Force he has appointed so far. Most such Task Forces have elicited little comment. If anything, the public has little idea what exactly some of them have even been doing since they've been appointed. The new Task Force appointed on Tuesday was different owing to the appointment of the firebrand monk as its chairperson.
The newly created Task Force under Gnanasara Thera has two objectives. One is "to make a study of the implementation of the concept; One Country, One Law within Sri Lanka and prepare a draft Act for the said purpose." The other objective is "to study the draft Acts and amendments that have already been prepared by the Ministry of Justice in relation to this subject and their appropriateness and if there are suitable amendments to submit proposal for the purpose and include them in such relevant draft as is deemed appropriate." The appointment of this committee, its chairman and its mandate must come as a total embarrassment to Justice Minister Ali Sabry. It seemed like a Task Force to monitor and supervise what Sabry was doing in his ministry with the many committees he has appointed. The Presidential committee is now tasked to study the draft Acts prepared by Sabry's ministry, some of which already passed by Cabinet and presented to Parliament.
The Task Force has nine Sinhalese and four Muslim members. None from the Tamil community was included in the Task Force; neither was there any female representation – rather curious omissions when considering that its main objective is to ensure that one law applies to all.
Meanwhile, only two of the 13 members announced in the Task Force are lawyers, an appallingly low number for a body tasked with studying the draft Acts and amendments that have already been prepared by the Ministry of Justice in relation to the subject.
The President, however, has now promised Tamil political parties aligned with the Government that he will change the composition of the Task Force by increasing its members with the inclusion of several Tamils. This was after Ceylon Workers' Congress Vice President Senthil Thondaman and Fisheries Minister Douglas Devananda raised issue over it during Thursday's meeting of Government party leaders.
The Task Force has been directed to submit reports to the President at least once a month and submit its final report on or before February 28 next year.
The Task Force under Ven. Gnanasara's chairmanship held its inaugural meeting on Friday.
Ven. Gnanasara Thera has been a divisive figure in the country since the inception of the BBS in 2012. He has been blamed for inciting violence against the Muslim community, particularly over the role he allegedly played in the anti-Muslim riots in Aluthgama in 2014. The BBS General Secretary is also someone who was found guilty by the Court of Appeal on charges of Contempt of Court in 2018, and was serving a six year prison term when he was pardoned by the then President Sirisena the following year. He was also given a separate six month prison sentence over an attempt to intimidate Sandya Ekneligoda, wife of missing journalist Prageeth Ekneligoda. His public utterances have centred on the spread of militant theology from a particular Islamic sect and the threat of violence from extremist elements citing the 2019 Easter Sunday attacks as an example. The Commission of Inquiry (CoI) that probed the Easter Sunday terror attacks labelled Ven. Gnanasara Thera's BBS itself as a Buddhist extremist group and recommended that it be banned. The Government, however, ruled out banning the BBS.
Opposition Leaders were quick to take to social media to condemn his appointment as the new Task Force's chairman. "Now it's very clear what President Gotabaya Rajapaksa's agenda is after he failed to deliver in all aspects. One Country, One Law is headed by someone who is blamed by the Easter attacks Presidential Commission and called to be prosecuted," Samagi Jana Balawegaya Parliamentarian Harin Fernando said on Twitter. The SJB also issued a statement under the signature of its General Secretary Ranjith Madduma Bandara, stating that the Thera's appointment made a mockery of the Constitution, which is the supreme law of the country.
"This committee itself is the definition of irony. What is the purpose of establishing a committee if the existing law can't be implemented correctly? Tamil National Alliance (TNA) Batticaloa District Parliamentarian Shanakiyan Rasamanickam called this task force a "joke" making some acerbic remarks about the chairman.
Even some members of the Government voiced anger. SLPP Parliamentarian and "Yuthukama" organisation Chairman Gevindu Kumaratunga described the appointment as one made without conducting an in-depth study of the very meaning of 'one country, one law.' Others, such as SLFP Vice President Prof. Rohana Luxman Piyadasa questioned the appointment of such a task force itself given that the concept of 'one country, one law' is not applied in the country in practice.
"It is clear when looking at what's happening in the country that the law applies differently to people based on how connected they are. One law applies to ministers and another to an ordinary citizen. The situation is the same even in prison. People who are on death row are being pardoned. The concept of one country, one law itself is good, but it is clearly not being applied on the ground," Luxman Piyadasa said.
The professor also said he could not understand what someone like Ven. Gnanasara Thera, who has been punished by courts, would bring to such a task force. "He is someone whose actions have run counter to the very heart of Buddhist philosophy. I fear his appointment will take our society down a very dark path resulting in the erosion of our political, cultural and social values."
SJB young MPs unhappy
It was not just the Government that was dealing with open discontent among its members. The SJB too is facing scrutiny after two of its most popular young MPs wrote jointly to party General Secretary Ranjith Madduma Bandara informing that they were stepping down from all positions in the party, including from their posts as electoral organisers.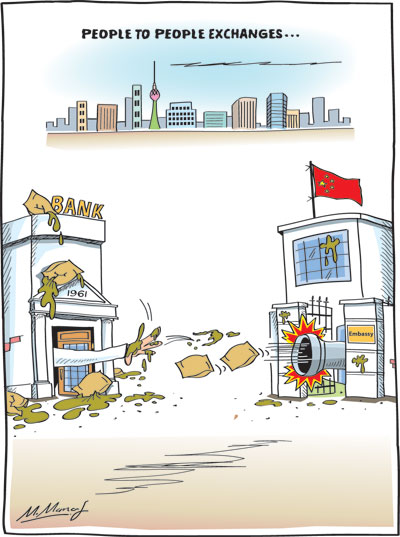 Ratnapura District Parliamentarian Hesha Withanage and Badulla District Parliamentarian Chaminda Wijesiri had earlier written to Madduma Bandara informing him of difficulties they were facing from sections within their own party when carrying out their duties in their districts. "There is no split within our ranks, but the party mechanism must be united when working in the districts and we were facing some issues in relation to that, which is why we opted to step down," Wijesiri stated. He, however, refused to be drawn into speaking about whether there were within the SJB "conspirators" who were trying to obstruct them and were working to spread rumours that both himself and Withanage were planning to cross over to the Government.
"The Government is riddled by internal conflicts as you can see with the way their coalition partners are behaving. They are looking for any opportunity to divert attention from their own mess, which is why stories are being planted in certain media that we are crossing over. No one in their right mind is going to cross over to a Government that is so deeply unpopular with the people."
Wijesiri, though, expressed frustration with what he said was failure on the part of the SJB to work on a long-term strategy rather than waiting on the Government's missteps to seize power. "This has been the strategy in this country for a long time. We wait for the Government to mess up, but we need to be thinking about the long term. We need to come up with a good five-to-ten-year programme to take to the people. We can also lie like the SLPP and promise all sorts of things, but once Sajith Premadasa wins, what will people say if all we have done is make empty promises. The Rajapaksas did that and look where they are now," he remarked.
The SJB MP also opined that the Government, conscious of its deep unpopularity, would try its best to postpone both the Provincial Council and Local Government elections. "In my opinion, the SLPP will not want to hold any election before the next Presidential poll. We need to organise ourselves and fight to ensure that people get to exercise their right to vote," he warned.
President Rajapaksa left the country yesterday to attend the UN's Climate Change summit to discuss the future of the planet. A UN report has warned global warming is getting worse and the world is on 'Code Red'. At home, the future of his Government seemed shaky, but still intact, and on Code Amber.
Collure blames pro-Yahapalana elements in CP for bid to remove him from chairman post

The Communist Party of Sri Lanka's (CPSL) Central Committee is controlled by members who supported the former Yahapalana Government, North Western Province Governor and CPSL Chairman Raja Collure alleges.

In an interview with the Sunday Times, Mr Collure labelled the decision taken by the Party's Central Committee on October 24 to remove him from the post of Chairman as "unacceptable" and said it had been done "maliciously."

"Presently, the CPSL's Central Committee is controlled by a group of persons who supported the Yahapalana Government against which I stood. They have been planning to remove me from the chairmanship of the party. I have been elected as party chairman unanimously throughout. They wanted to remove me so that they would gain some advantage at the forthcoming party congress," he stated.

On Friday (29), Mr Collure's lawyers obtained an enjoining order from the Colombo District Court preventing the CPSL and its Central Committee from removing him as party chairman and appointing another in his place. The enjoining order is valid till November 12.

The CPSL's Central Committee moved to remove Mr Collure due to a controversial statement he made as North Western Province Governor. He vowed to take disciplinary action against teachers and principals, and suspend their November salaries, if they failed to show up for work when schools with less than 200 students in the province reopened on October 21.

The statement was made after the Teachers-Principals Trade Union Alliance announced that it would engage in a strike on October 21 and 22 in protest against the Government's "arbitrary decision" to reopen the schools suddenly. The alliance has been spearheading TU action over the longstanding salary anomaly issue faced by teachers and principals.

"The CPSL Central Committee decided to act against me on the basis of my statement which was made in my capacity as the Governor of the North Western Province. It had nothing to do with the CPSL. I was carrying out the policies of the Government and my task was to ensure that on October 21, the schools were reopened."

He claimed he had been successful in reopening all 601 schools in the province with less than 200 pupils. While there were some absentee teachers and principals, the reopening was still successful, he maintained.

He stressed that there was no basis for the CPSL to act against him based on a statement he made in his capacity as Governor, arguing that it was in violation of the party constitution as well as the general law.

Mr Collure claimed the two people who were directly behind the move to remove him as party chairman were former CPSL General Secretary D.E.W. Gunasekara and current General Secretary Dr. G. Weerasinghe. "It was D.E.W. Gunasekara who moved a resolution in the Political Bureau that I should be removed from my post as chairman because of my statement." He dismissed accusations that his statement concerning the teachers and principals amounted to an indirect threat.

"I was concerned with the reopening of schools which had been closed for about 1 and 1/2 years and it was an important step the Government was taking. All the Provincial Governors supported that decision and decided to implement it because most schools in the country are under the Provincial Councils (PCs). Children have lost 1 1/2 years. They have to be given education lest there be problem of their upbringing."

Any withholding of teacher and principal salaries would have been done after an inquiry and he never meant that he would do such a thing summarily, the Governor added. "As the Minister of Education in the absence of a PC, I have the power to investigate into persons who had tried to sabotage the reopening of schools. After inquiry, it is possible for me to mete out certain penalties including suspension of salaries depending on the nature of the indiscipline they had carried out."

The statement caused uproar among teachers' and principals' unions, resulting in them marching to the Governor's office in protest. Mr Collure, however, remains defiant, revealing that he still intends to follow through with his stance to take action against teachers and principals who he said tried to "sabotage" attempts to reopen schools.