The 26th Bunka (Cultural) Awards conferred on seven acclaimed Lankan artists – Events
View(s):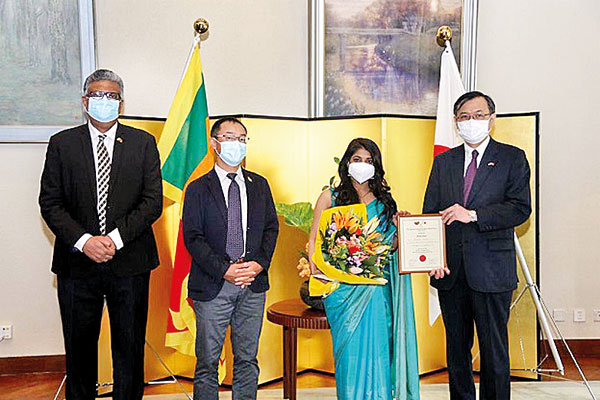 On October 21, a ceremony to confer the 26th Bunka (Cultural) Awards was held at the official residence of Sugiyama Akira, Ambassador of Japan to Sri Lanka. Seven Lankan artists, who have contributed to enriching the cultural heritage of Sri Lanka, were honoured with this prestigious decoration.
The Bunka Awards was established in 1993, on the initiative of the Japanese Solidarity Association and the Japanese Chamber of Commerce and Industry in Sri Lanka, in collaboration with the Embassy of Japan in Sri Lanka. The founders of the Bunka Awards, while noticing the rare historical and cultural affinities between Japan and Sri Lanka, envisaged that the peoples of both countries could cultivate, by deepening mutual understanding towards respective culture, the true friendship that would withstand the test of time.
This year, the following artists won the glory of the Bunka Awards: Samanalee Fonseka – Cinema and Theatre, H M R Chamika Hathlahawatta – Drama and Theatre, Pushpakanthan Pakkiyarajah – Visual Arts, Ravi Siriwardena – Literature, Shayari de Silva – Architecture, Santhush Weeraman – Music, Bathiya Jayakody – Music.
Ambassador Sugiyama Akira commended the seven Awardees for attaining the art of excellence in their respective pursuits, and welcomed them into the prestigious "League of Cultural Pioneers" on winning the Awards. "The seven recipients of the Bunka Awards", Ambassador Sugiyama stated, "are expected to bridge the numerous hearts through silent but most resilient power that culture is endowed with".