Royal grip or Thomian grit?
By M. Shamil Amit
142nd Battle of the Blues
View(s):
At last, the blue riband school cricket encounter of Sri Lanka 'will' take place, continuing its uninterrupted legacy of 141 years since 1880. The 142nd 'Battle of the Blues' big match cricket encounter between Royal College and S. Thomas' College is scheduled to be held on October 28, 29 and 30 at the Sinhalese Sports Club grounds, the haven for the world's second longest-running cricket encounter for many years.
Unlike in the past, this year's encounter will have many 'mysteries' in terms of cricket, team strengths and playing conditions, as the 142nd Roy-Tho will be the first and only proper match to be played this year among schools.
Owing to the restrictions and conditions caused by the ongoing COVID-19 pandemic, this big match was compelled to be put off twice, after all arrangements were made. The cream of the crop contest is always worked off inside the first two weekends of March, under the normal circumstances.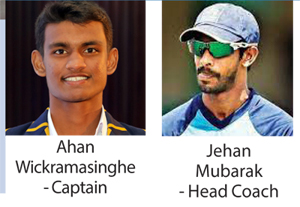 However, this time, under the new-normal guidelines, the Joint Match Organising Committee (JMOC) had to make different plans. The game was moved away from Colombo for the first time and Sooriyawewa was decided as the fitting venue, with bio-security bubbles, PCR tests and other regulations being strictly adhered to, instead of fanfare and parades that customarily welcome and dominate the stands of the three-day encounter.
Instead of March, it was pushed to April 8, 9, 10 with an official launch sans the captains and coaches from both the schools done-and-dusted and it was all set for the show. However, only days prior to the game, as many as a dozen Thomians were tested positive for COVID-19, including that of a player from the playing XI.
After months of silence, it was slotted again to be played on September 9, 10 and 11, but with a sudden nationwide lockdown coming into play, both schools decided to handle matters with responsibility and called it off for a later date.
With the condition improving and the country returning to normalcy again, members of the JMOC had worked tirelessly behind the curtain to make all possible arrangements to complete their mission, of playing the big match. Even by last weekend the dates were not announced as they were expecting some final touches to be made to their efforts.
Eventually, both teams will not travel to Hambantota, and the 'Battle of the Blues' will remain in Colombo, where it belongs. But, unusual for its identity, the three-day encounter will be played behind closed gates, to an empty stand.
Players of both teams may not feel the vibe as they do during the second week of March every year. Different times, different surroundings, yet the big match, not even halted during the two World Wars, will continue.
As for the teams, the final 15 will be announced after the PCR test to be conducted on Tuesday morning. Yet, both Royal and S. Thomas' will likely stick to their original plans drawn for the game in April. The number 'seven' plays a significant role in the fortunes and fate of both teams.
On paper, with the game running full three days, Royal will definitely have the upper hand. Royal will have the services of 'seven' seniors or coloursmen, whereas S. Thomas' come into this year's encounter with 'seven' freshmen or newcomers.
Sri Lanka Under-19 cap and experienced campaigner, Ahan Wickramasinghe will lead Royal College while his counterpart from S. Thomas' will be Shalin de Mel, another player with exposure. But one captain will enjoy the luxury of having more experienced players in the side, while the other will have to depend on a maximum of four.
Royal had played against Trinity, St. Peter's, St. Joseph's, Ananda and Wesley — five of the traditional two-day matches they play annually. Skipper Wickramasinghe dominates the batting performances for raking in 432 runs in seven innings, inclusive of two centuries — 210 against Trinity and 100 against St. Peter's. He is easily the man to watch through the whole match, being a final-year player. Dasis Manchanayake, another senior campaigner, follows next with a total of 287 runs in six innings. His tally includes three half centuries, 81 vs St. Peter's, 67 vs Ananda and 78 against Wesley. Next in line if Sadisha Rajapaksha, who is currently on national duty with the Sri Lanka Under-19s bilateral series against Bangladesh. He has a tally of 224 runs in six innings inclusive of solitary century of 152 against Trinity.
Among others who could strike form are Isiwara Dissanayake and Kavindu Pathirathne, the vice captain. DIssanayake, with a tally of 196 runs in seven innings, has his best knock as a patient 102 against St. Joseph's and Pathirathne, with 117 runs in total in five innings, scored 100 against Ananda. Other batsmen such as Ashen Gamage and Prashan Kalhara have failed to impress much, but fortunes could change for them next week.
In bowling left-arm leg-spinner Gishan Balasooriya and right-arm off-spinner Prashan Kalhara lead the pack with 17 wickets each in five games. They have a five-wicket haul each with Balasooriya claiming 5 for 31 against Trinity and Kalhara taking 5 for 20 against Ananda. a Right-arm fast medium bowlers Kavindu Pathirathne has claimed 11 wickets and Dan Poddiwela has a tally of 10 scalps in five games.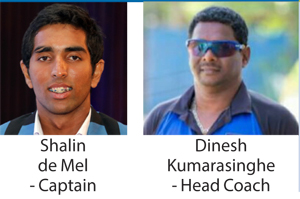 As Royal, S. Thomas' too had played five two-day traditional games, against Ananda, Wesley, St. Joseph's, St. Peter's and St. John's Jaffna. The Thomian batting strength will highly depend on Ryan Fernando, Anuk Palihawadena, Yasiru Rodrigo and skipper De Mel, with others failing to impress much in the opportunities they were given. Fernando has a tally of 347 runs in seven innings, inclusive of two centuries and a half ton, with a best of 127 against Ananda. Palihawadena, in six innings, has a total of 212 runs, inclusive of two half centuries and a best of 54 against Wesley. Rodrigo, the other centurion of the team, scored a best of 103 against St. Joseph's, but only has 128 runs in four innings. Others who could impress are Caniston Gunaratnam, Thenuka Liyanage, Vinuja Wijebandara and Senesh Hettiarachchi.
Bowling would be an area the Thomians would wish to adjust before the game begins next Thursday. They have tried out as much as 15 bowlers in the five games, but with average results. Manith Perera, a left-arm spinner, has impressed though, with 14 scalps in three matches. Alongside him are left-arm paceman Yasiru Rodrigo and right-arm off-spinner Anuk Palihawadena, both youngsters. They claim a tally of 11 and 10 apiece in three and five outings.
However, neither of the teams have had the opportunity yet to explore what the wicket would offer with medical protocols taking priority in this year's encounter. Both teams would likely name their playing XI on Wednesday after assessing the pitch, and more importantly getting full clearance from the final PCR tests to be conducted on Tuesday.
Unlike other years, this year's 'Battle of the Blues' clash is more or less a blind date for both teams as this will be the first occasion they take the field after playing five each of their traditional two-day first XI matches six months ago.
According to the JMOC, the relevant authorities have only granted both schools the permission to hold the match 'under strict guidelines. Consequently, the match will be played behind closed doors, without any invitees or spectators.
Further, the two teams and match officials will follow all COVID-19 protocols and health and safety guidelines of Sri Lanka Cricket (SLC) that will regulate playing conditions, as well as be within a Bio Secure Environment (BSE) as per the guidelines of the Ministry of Health.
The safety of the schoolboys will be of paramount importance this year, whilst preserving the 141-year-long tradition of the most elite big match encounters of Sri Lanka. In addition both Royal and S. Thomas' and the JMOC have strictly decided not organise any event other than the match itself.
"Neither the two schools, nor their two alumni associations nor the JMOC have endorsed or authorised any group gathering to view the match at the SSC or any other location. The JMOC has made arrangements to broadcast the match LIVE with our principal sponsor Dialog Axiata via thePapare channel on Dialog TV in the interest of all present boys, old boys, parents, supporters, and the cricket-loving public who are encouraged to watch from the comfort of their homes," the JMOC, issuing an official statement, noted.