Farewell Captain Fantastic, good bye my friend
By Lawrence Heyn in Brisbane
View(s):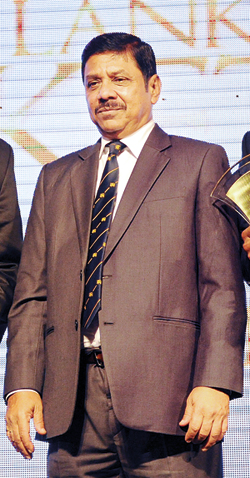 Sri Lanka lost an exceptional sportsman, dynamic cricketing brain and genuine all-round nice person with Bandula Warnapura passing away this week. I lost a lifelong friend.
Ever since we were toddlers, living across the street from each other in Wellawatte, Bandula and I formed a strong bond that would stand the test of time through the years. We were similar in many ways; we both came from large families, enjoyed the outdoors, and shared a love of cricket.
Bandula's home was my home, more times than I could recall. His father, Dr W.L. Fernando, was an influential figure in our community and encouraged Bandula, and by extension, his brothers and me to take cricket seriously and carve a niche for ourselves.
Bandula embraced his career with both arms, but I chose to follow a different path as a journalist. As a schoolboy cricketer, he created a real buzz among the press writers, commentators, and followers. He was a star in the making.
While Bandula achieved the pinnacle of cricket as the first captain of the Sri Lanka Test team, his versatility in other sports is less known; he could dribble and kick a football well, and he was a formidable badminton player. His all-round flair helped him hone his cricketing skills as he was blessed with fine reflexes.
When news broke of his passing, it did not take the cricketing world long to pay homage to Sri Lanka's first Test captain and outstanding administrator. But, sadly, Bandula was prevented from reaching his full potential and was on the outer for many years after the ill-advised 'rebel' tour of South Africa.
Yet, Bandula played a key role in Sri Lanka gaining Test status. Sri Lanka's future hinged on winning over the 'Big Two' of the then International Cricket Conference – England and Australia.
In 1981, the Australians, led by Kim Hughes, visited Si Lanka for a four-day 'unofficial Test' and three One-Day games. The tour was a litmus test as there were two Australians Sri Lanka needed to impress in its quest for full ICC status. The key figure was manager Fred Bennett, who later became chairman of the Australian Cricket Board. The other was skipper Hughes.
In the second One-Day International, Sri Lanka chased down a target of 189 with Bandula stroking a masterly 106 in a match-winning innings. He and Sidath Wettimuny (46) had an opening partnership of 170 runs. I was in the press box, covering the game for the 'Sun' and 'Weekend' newspapers, and was filled with pride to see my friend walk off the ground to rapturous applause. It was a euphoric moment for me to file my report for the newspaper, with the headline Captain Fantastic running across the page.
Sri Lanka acquitted itself well on that tour, duly impressing Bennett and Hughes. Bennett later said Sri Lanka had come of age. The country had Australia in its corner.
Not soon after, Bandula led the national team on the tour of England to play the counties. It was midway through the tour that news reached us the ICC had granted Lanka full Test status.
It was the following year that the new kids on the block played their first Test match. I was again filled with pride to see Bandula walk out for the toss with England captain Keith Fletcher at the Sara Stadium. In a game of swings and roundabouts, in the first three days Sri Lanka had a good chance of winning. In the end, England won. The Empire had struck back.
Bandula's Test career was short; he played only four before agreeing to lead an unsanctioned team to South Africa, a country in the throes of the evil policy of Apartheid, where people of colour were segregated. In my writing for the newspaper, I expressed strong thoughts that this tour should not have taken place, and for the first time Bandula and I were opposites. Not that Bandula supported the apartheid regime; he and his teammates were purely lured by money, with a promise of more financial gains to come. Afterall, no cricketer was going to be able to support his family with meagre payments from the Sri Lanka Cricket Board.
On their return, Bandula and his team paid a heavy price, being banned for 25 years. I know it hit Bandula hard – the realisation he would not be playing for his country anymore. As for our friendship, it was strong enough to withstand this glitch and we remained firm friends.
When my mother had a life-endangering stroke, Bandula was the first on the scene to drive my mum to hospital. That was the spontaneous and generous man he was.
Even after I migrated to Australia, I watched Bandula's career blossom again on the international scene. Spurned at home, he became a power in the Asian Cricket Council and imparted his cricketing knowledge as a coach and administrator. After his passing, it was comforting to see tributes from cricketing heavyweights, such as Mahela Jayawardene and Kumar Sangakkara, acknowledging his contribution to the development of players and game in general.
Bandula's greatness as a player was unfulfilled but he was coming into his own as an official, having only recently taken over the reins as president of the Bloomfield Cricket and Athletic Club. But fate had one final, cruel twist to play.
Today, we mourn the loss of a husband, father, brother, and mate.
Sleep lightly my friend.