Mysteries of World War I & II wreck sites in Lanka
View(s):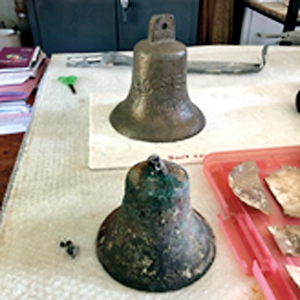 Dharshana Jayawardena will deliver this month's National Trust lecture online.  He will speak on 'Underwater War Heritage: World War I & II – Unravelling Deep Mysteries'   on Thursday, October 28 at 6 p.m (LINK: https://us02web.zoom.us/j/89012203208).
The impact of World War 2 in Sri Lanka, specifically the actions of the Imperial Japanese Navy, culminating in the 'Battle of Ceylon' on April 5, 1942 (Easter Sunday Raid) and April 9, 1942 is comprehensively documented. The significant loss to the British Eastern Fleet resulted in many shipwrecks around the east coast of Sri Lanka. Relatively, the impacts of World War 1 in Sri Lanka are lesser known and hardly discussed.
The Antiquities Ordnance only provides legal jurisdiction to relics or artefacts that existed before March 2, 1815. Understandably, this raises a question, "what is the extent of the underwater war heritage in Sri Lanka?".
Jayawardena will present details of expeditions to unravel the mysterious origins of several World War I & II wreck sites in Sri Lanka. An underwater explorer and author of 'Ghosts of the Deep – Diving the shipwrecks of Sri Lanka', he discovered Sri Lanka's first underwater cave system.
He collaborates with various Government institutions, such as the Maritime Archaeological Unit, Department of Archaeology, Department of Wildlife, Department of Tourism, and the Sri Lankan Navy on matters related to shipwrecks, shipwreck conservation, and technical diving. He also functioned as the technical advisor for the recent record-breaking deep dive by the Sri Lankan Navy, off Trincomalee.