Carlos Santana interview:
View(s):

'I was in an altered state at Woodstock,' says Carlos Santana. The Mexican-American guitarist was a 22-year-old unknown in 1969 when his band Santana took the stage at the now legendary rock festival. He admits that he finds it hard to watch the documentary footage, because all he can see is his own discomfort. 'It is extremely scary to be in front of 150,000 people and the neck of your guitar feels like an electric snake. All I'm thinking is, 'God please help me stay in tune and on time'.

Carlos had been given mescaline by The Grateful Dead's Jerry Garcia, just before the Woodstock promoters altered the set times and ushered his band on stage. That sensational groovy and explosive performance changed everything for Santana. Their debut album came out the following month, their bold fusion of Latin and African rhythms with jazz and heavy blues rock firing Carlos into the guitar hero elite. Which begs the question of how do you actually play while in the grip of a hallucinogenic trip?

'It's not easy,' says Santana, with deadpan understatement. 'I wouldn't recommend it.'

On the question of whether the acclaimed 74-year-old virtuoso musician still indulges in mind-altering substances, he is circumspect. 'I wouldn't call it indulge,' he responds, carefully. 'I call it visiting myself from another angle. Indulge is like if you eat too much carrot cake. I don't do that. I dive into a place where I can discover something different and new with emotion, feelings, and passion, like a meditation.'

Carlos Santana has sold more than 100 million albums, both solo and with ever-changing line-ups of his band. The florid artwork and soaring solos of albums such as Abraxas (1970) and Amigos (1976) made Santana synonymous with psychedelic rock but he simultaneously mapped out a parallel career in jazz-fusion, working with elite musicians such as John McLaughlin and Herbie Hancock, as well as contributing sensational fretwork to some personal heroes including Bob Dylan, Aretha Franklin and John Lee Hooker.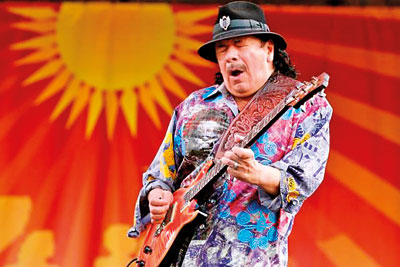 As an unapologetic advocate of hippy peace and love values, Santana has an interesting take on recent years of political turmoil and apparently perpetual crisis. 'I'm not discouraged, because the world is literally vomiting. And, you know, when you vomit, you're gonna feel better later, because you're getting rid of something that doesn't belong in your system.'
He proposes a unique solution to America's divisions. 'If I could, I would put all Americans – all of them – into a space capsule, and they can go around for a week. So they can really, really see that out there, it is just one planet.'