Farmers on the streets – not in their fields; teachers on the streets – not in their classrooms
By our Parliamentary Lobby Correspondent
View(s):
Not only Agriculture Minister, but President also coming under attack from farmers demanding chemical fertiliser
Teachers decide to report to work, while vowing to continue their protests until the salary anomaly issue is addressed
Last year, soon after Sri Lanka emerged from successfully containing its first wave of COVID-19 with minimal loss of life, President Gotabaya Rajapaksa publicly complained that he was not getting enough credit over the way his administration handled the pandemic within the country.
"They are sending me articles on how they did it (contained COVID) in Singapore, China and Italy. No one is talking about how I did it here," the President said in Sinhala during a meeting at the Presidential Secretariat, before adding "Api thamai hondatama karala thiyenne" (We are the ones who did it best).
Little did he know then that those same words would come back to haunt him with a vengeance in the coming months. Gradually, the words "Api Thamai Hondatama Kale" were parodied extensively on social media and became a widely used phrase to mock the President and his Government whenever a crisis facing the country continued without being resolved.
The phrase has been widely used again in recent weeks as the Government's self-inflicted fertiliser crisis continues to infuriate farmers, prompting street protests on a daily basis. Much of the farmers' wrath has been reserved for Agriculture Minister Mahindananda Aluthgamage, who has been the public face of the Government's efforts to substitute chemical fertiliser with organic fertiliser. He is probably taking the beatings, literally as his effigy is getting thrashed by irate farmers, largely because they can't vent their frustrations against the President himself whose brain-child it was to ban chemical fertilser being imported.
However, now, the President is also increasingly coming under attack by farmers as the crisis drags on into the "Maha" cultivation season. A variation of the phrase was even used in Parliament on Friday (22) when Samagi Jana Balawegaya (SJB) MPs held a protest denouncing the Government's handling of the issue and calling on it to immediately resolve the crisis by providing fertiliser to farmers. SJB MPs, many of whom were carrying placards, shouted slogans against the Government. One of the placards read: "Kauda Kale Hondatama? Gota Kale Hondatama." (Who did it best? Gota did it best.)
The fertiliser crisis was the subject of an adjournment motion moved in Parliament on Thursday (21) by the SJB. Opening the adjournment motion, SJB General Secretary Ranjith Madduma Bandara, an MP from the largely farming district of Moneragala, blasted the Government's handling of the issue. He pointed out that the Government had already been forced to import 100,000 metric tonnes of rice due to uncertainty surrounding the country's food security following its "arrogant" and sudden decision to ban the importation of chemical fertiliser and to insist that farmers use only organic fertiliser.
The MP also pointed out that there are serious suspicions over the organic fertiliser that was being imported. He accused the Government of trying to import organic fertiliser contaminated with "Chinese sewage." The comments would not have gone down well with the Chinese authorities, especially given that the Chinese embassy in Colombo chose to bat for the fertiliser company whose shipment the Government recently rejected after tests revealed the presence of harmful bacteria. The embassy has called the findings made by the National Plant Quarantine Services (NPQS) regarding the presence of harmful bacteria in the samples "hasty" and "without scientific basis", throwing its diplomatic weight behind what is otherwise a straightforward commercial contract gone badly wrong.
The SJB General Secretary further alleged that though the Government claims that the shipment had been rejected, based on the samples that have been tested, the vessel carrying the stock of contaminated fertiliser was still sailing towards Sri Lanka and a state bank has received instructions to pay 70% on the Letters of Credit opened for the fertiliser shipment. "Our scientists are saying the stock is contaminated, but the Chinese are disputing this and trying to threaten us into accepting the shipment," Madduma Bandara alleged.
The following day, Chinese Ambassador Qi Zhenhong met Opposition Leader Sajith Premadasa. The Opposition Leader said on Twitter that he had "an excellent conversation" with the Chinese Ambassador. "I emphasized the importance of continuing friendly bilateral relations between the two countries while protecting Sri Lanka's sovereignty," Premadasa stressed, but nothing about the contaminated fertiliser itself.
Embattled Agriculture Minister Aluthgamage, meanwhile, continued to insist that he stood with President Gotabaya Rajapaksa's "historic decision" to ban chemical fertiliser. "The President's decision was taken in good faith considering the health of the people," he told Parliament. The minister, though, said the Government failed in not being able to properly "market" that decision. "The Government couldn't stand united on this issue. Even some stakeholders in our Government spoke about this outside and even some MPs did the same. When the Government can't put up a unified stance, it creates issues when others criticise," said the minister.
Coalition partners criticise fertiliser policy
While he did not mention names, it was clear who the minister was referring to. The Sri Lanka Podujana Peramuna (SLPP) hierarchy has not been amused by statements made by some of its coalition partners criticising the Government's fertiliser policy. The Sri Lanka Freedom Party (SLFP) has been among the most vocal, with both party Chairman and former President Maithripala Sirisena and General Secretary Dayasiri Jayasekara being critical of the issue. Mr Sirisena recently described the situation publicly as the "greatest calamity to have befallen our agriculture in recent history." He even expressed fears that he will be unable to show his face in his rice growing home district of Polonnaruwa if the crisis continued due to protests by farmers. State Minister Jayasekara, meanwhile, has railed against the Government for the self-inflicted crisis and noted that plans to transition into a 100% organic agriculture model were doomed to fail.
The SLFP is not the only coalition partner which has criticised the Government's handling of the matter. The National Freedom Front (NFF) led by Industries Minister Wimal Weerawansa, too, has been strongly opposed to the abrupt decision to ban chemical fertiliser. "Some 6.9 million voters in this country did not vote for a Government to take such arbitrary decisions. Even the President can't singlehandedly take such a decision. People expected us to do things differently from the Yahapalana Government," fumed Nuwara Eliya District SLPP MP Nimal Piyatissa, one of six MPs in Parliament representing the NFF. Mr Piyatissa is also the President of the National Farmers' Movement and has been a vocal opponent of the fertiliser policy since its announcement.
While chemical fertiliser was used extensively during paddy cultivation, the MP pointed out that in his home district and upcountry regions, farmers who grew crops such as carrot, potatoes and beetroot used a mix of chemical and organic fertiliser. "Farmers were used to this. It's not like they weren't used to organic fertiliser, but the way to fully transition into organic fertiliser is a long process and even then, it can't be used for all crops. What should have been a decision taken after extensive and wide-ranging consultations was taken overnight and left farmers high and dry."
He scoffed at the Agriculture Minister's criticism on coalition partners failing to stand with the Government on the issue. "We were not voted in by Colombo 7 voters. It was the farmers who campaigned and voted for us and sent us to Parliament. We are there to voice their concerns. This is a self-inflicted crisis. The Government can't claim that these are Opposition organised protests. Their scale shows how angry the farmers are. The Maha season began on October 15. By now, farmers should be in their fields, but they are all on the streets. That should tell you how badly this has gone."
In an attempt to address some of the concerns MPs had regarding organic fertiliser, a workshop was arranged for MPs in the Parliament complex on Friday. A good number of Government MPs did attend the workshop, including some of the SLPP backbenchers who had sought a meeting with President Gotabaya Rajapaksa to discuss the farmers' crisis. The Presidential Secretariat had earlier informed the MPs to raise their concerns at the Government Parliamentary Group meeting on Thursday (21). The Parliamentary Group meeting, however, will now take place this evening (24th) at the Presidential Secretariat with the President himself in attendance. It is expected that the matter will be discussed at length there.
CP running with the hare, hunting with the hound
While the fertiliser issue drags on, there might be some light at the end of the tunnel regarding the salary issue of teachers and principals, though it is entirely possible that it will once again explode into a full blown crisis. On Thursday (21st), the Government reopened schools that have less than 200 students as the first stage of its plans to get students back to school. The Teachers-Principals Trade Union Alliance, though, declared earlier this week that they will launch a strike on both, October 21 and 22 but would report to work from Monday (25th) on their own terms. The reasons they cited were that the Government had decided on the date of reopening these schools arbitrarily, and also to protest against what unions say were attempts to intimidate teachers and principals by certain Government politicians, particularly Public Security Minister Sarath Weerasekara.
Unions have been engaged in protest action for four months now over their salary anomaly issue. This has included street protests and staying away from conducting online classes for children. The trade union action completed 100 days this week.
With Provincial Councils (PCs) being defunct owing to there being no elections, Governors appointed by the President are wielding power as the Education Ministers of those provinces. Since many schools with under 200 students are managed by PCs, some Governors had been threatening action against teachers and principals who do not report for duty. One of the most insistent was North Western Province Governor Raja Collure, who is also the Chairman of the Sri Lanka Communist Party (CP). He threatened this week to suspend teachers and principals who failed to report for duty and even withhold their November salaries. He told the media that even those who had taken "sick leave" on the two days the strike took place would face scrutiny to see if they really were sick.
The irony that one of the senior-most figures of the CP, known for its staunch defence of trade union rights, was threatening to punish teachers and principals for taking trade union action was not lost on many, including the unions, who have condemned the Governor's stance. Political analysts have observed a marked shift in the SL CP of today taking a very pro-China stance, supporting 'state capitalism', supporting foreign investment in the Chinese built Port City and showing little patience with mass agitation. In contrast, in the past, it was backing the working class and aligned with the former Soviet Union rather than China over differences in 'Marxist dialectics'. Unions are planning to surround the Governor's office tomorrow (25th) to protest against his proposed actions.
The CP, however, attempted to distance itself from its own chairman's comments, issuing a media release on Wednesday saying it "strongly condemns threatening statements targeting principals and teachers."
The statement, signed by Party General Secretary Dr. G. Weerasinghe said, "More than threats of salary suspensions or disciplinary action, the Government and its various levels of officials and the principal-teacher community need to work together to revive the school education process."
A party official who spoke on grounds of anonymity was highly critical of the Governor's actions. "Our party's stance has always been supportive of the struggle of teachers and principals. He (Collure) is playing his role as the Governor. His view is not our view. No one has the right to threaten those engaged in trade union action." It seemed the party was running with the hare and hunting with the hounds.
When schools reopened on Thursday, they did so with armed police posted outside the gates to prevent what the Government said were attempts by "elements" to try and intimidate teachers and principals who showed up for work. In at least one instance, a teacher had to break open the padlock of the school gate to admit himself and the students who were waiting outside into the school premises.
Government Ministers and MPs visited reopened schools in their respective districts to show how successful the reopening was. In Kalutara, Ports and Shipping Minister Rohitha Abeygunawardena visited one school and handed out gifts to students who were in attendance. An Opposiiton MP wise-cracked that it was nice to see the Minister going to school even now. Preschools and Primary Education State Minister Piyal Nishantha, also from the same district, visited a school in his area and even participated in a sing-along with the students. Education Minister Dinesh Gunawardena visited a school in the Piliyandala area and appeared to become irritated when a journalist said that not all teachers had reported to work in the school he was visiting and that teaching was being done by trainee teachers who the Government had recruited under graduate schemes. He accused the journalist of "spreading a myth" that the Government was using trainee teachers throughout the country.
The Government initially claimed 98% of the schools had reopened. Yet, attendance was noticeably down among teachers and principals, with student attendance being even lower. The Education Ministry admitted on Thursday that only 26% of teachers and 16% of students overall had attended school that day. Minister Gunawardena, however, noted that the actual percentage of teachers would be higher than the statistics showed since some had reported to work but had not signed the school attendance register. Despite the statistics, the Education Ministry still said the attendance figures had "exceeded expectations."
Unions which supported the strike claimed victory, saying it sent a clear message to the Government that teachers and principals will not be intimidated. They disputed the statistics reported by the Government regarding the percentages of teachers who had reported to work. They claimed 98% of teachers had not reported for work. It is fair to say that both sides are exaggerating figures to suit own their narrative.  The real figures are probably somewhere in-between, though there was general consensus that the majority of teachers and principals had stayed away. Indeed, in some schools, there were far more armed police than there were students and teachers. In one school, only one student showed up. In another, only three members of the non-academic staff reported for work. The principal, teachers and students were all absent. It was a cat and mouse game being played out.
The Government planned to lure teachers into a trap by reopening schools with less than 200 students first, claimed General Secretary of the Ceylon Teachers' Services Union (CTSU) Mahinda Jayasinghe. "When reopening schools after the last two COVID waves, the Government gave priority to students who were sitting for exams, namely the Grade 5 Scholarship Exam, the GCE Ordinary Level Exam and the Advanced Level Exam. Yet, this time, it chose to reopen these mostly rural schools with few students," he pointed out.
There are about 263,000 teachers serving in Government schools and only about 20,000 are attached to these particular schools by their calculation, the CTSU General Secretary said. "There is no point in continuing a strike with such a small group of teachers. This is why we decided to report to work from Monday on our own terms. Our struggle continues and will take on a new form from Monday."
As part of these efforts, unions are planning to hold protests outside schools throughout the country at 2.00pm tomorrow while a programme to educate parents regarding their struggle will begin from Tuesday, Jayasinghe said. The unions then hope to hold further island-wide protests along with assistance from parents from November 3.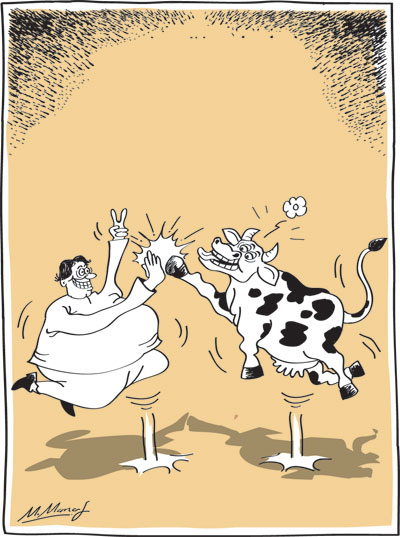 Fears over fuel shortage
The main demand of the unions still remains that the Government grant the salary increases recommended by the "Subodhini Committee" comprised of senior Government officials as a one-time payment instead of being broken up into three instalments over two years as the Government proposes, Mr. Jayasinghe said. The unions will wait and see how Finance Minister Basil Rajapaksa proposes to resolve their salary issue when he presents his first Budget on November 12. "If our demands are not met, we will go for an island-wide indefinite strike," the trade union leader warned.
On Friday evening, the Government announced that primary classes from Grade 1 to 5 in all schools will resume from tomorrow.
On top of the farmers and teachers taking to the streets, the last thing the Government needs now is a fuel crisis, but fears over such an eventuality sent many motorists scrambling to filling stations to top up their tanks on Thursday. Many lined up for hours outside petrol sheds, resulting in a few running out of stocks. Again, television cameras captured people venting their fury at having to waste their time in another long queue to add to the milk powder, rice, gas, sugar and myriad of other queues they had been forced to wait in during the past few months. One or two were also mouthing the now oft quoted "Hondatama Karala" (They've done it best) theme to show their displeasure.
Rumours of a fuel shortage started circulating after the Lanka Indian Oil Company raised the price of a litre of 92 Octane Petrol and Auto Diesel by Rs 5 each with effect from midnight Thursday. There were fears that the Ceylon Petroleum Corporation (CPC) would do the same, leading to a rush to fill up tanks.
Energy Minister Udaya Gammanpila was forced to give a media briefing to allay fears on Friday, saying there was no fuel shortage and there would also be no price increase. The minister, though, noted how badly the CPC was faring currently, saying it was losing Rs 38 per litre of diesel and Rs 22 per litre of petrol. Nevertheless, he said there was no move to increase fuel prices.
Minister Gammanpila's assurances now are a far cry of what he mouthed only two weeks ago, when he said a fuel price hike was inevitable unless the Finance Ministry stepped into cushion the CPC's losses. Central Bank (CBSL) Governor Ajith Nivard Cabraal has already said publicly that the CBSL is not in favour of further reducing taxes on fuel and that a fuel price hike was "the right way to go." Thus, to say that there is deep-rooted mistrust among the people in the Government's statements is to put it mildly.
It is understood that President Gotabaya Rajapaksa, already under pressure due to the soaring cost of living, is reluctant to give the go-ahead for a fuel price hike at least in the short term.
Calls to regulate social media
With public anger against the Government gathering momentum, some ruling party MPs are now also voicing calls to regulate social media. SLPP General Secretary Sagara Kariyawasam was the latest to jump on the bandwagon on Thursday, telling Parliament it was necessary to regulate social media to prevent the spread of "falsehoods and hate speech."
He said that many young people were now getting their news from social media rather than newspapers or television. "Social media has proved to be fertile ground for anti-national elements to spread disinformation to mislead the public," he insisted, claiming that a vast conspiracy was launched against former President Mahinda Rajapaksa on social media resulting in young people coming to hate him, which contributed to his defeat in 2015. "We are seeing a similar situation today," he said.
While stressing that he was not calling for a social media ban, Mr. Kariyawasam said it was important for a mechanism to be established that would identify misleading social media posts so that a clarification can be issued speedily. What he did not say, or could not say was that the SLPP relied heavily on social media for its own victory in 2019.
If what Kariyawasam is suggesting is a fact-checking mechanism, there are many such initiatives already on social media either by social media sites themselves or by non-profit organisations working to counter misinformation. There is no doubt that much still needs to be done, especially at the local level, where there are not enough initiatives to fact-check social media content in Sinhala and Tamil. The 'Singapore model' is being peddled. It is said that Singapore is not a democratic state, just a commercial hub. No doubt, many democracies are struggling to police social media, particularly those indulging in hate and vituperative speech with ulterior motives. Any establishment of a Government sponsored regulatory body, however, for social media should first be up for extensive discussion and not be rammed down to the people, lest it give the rumour mills the upper hand. The cure then could well be worse than the disease.