A 'charade of justice' under cover of 'modernizing laws'?
View(s):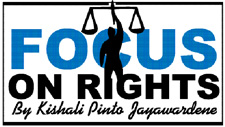 Under cover of a seductively glittering propaganda blitz that laws are being 'modernized,' is the Government ferociously bent on a pursuit of turning even the remnants of Sri Lanka's civil liberties safeguards on its unsteady constitutional head?
Withdrawals of indictments and privileging the police
This is a question that legitimately arises in the wake of the country's Public Security Minister reportedly proposing amendment of the Establishments Code to 'cancel' charge sheets issued for human rights violations against police officers if not 'completed' within six months. Indeed, in a twist that would be funny if it was not so spine-chillingly outrageous, some media reported that the cases would be 'annulled.' Both the media and the Public Security Minister need to be educated that a mere 'amendment' of the Establishments Code will not suffice to 'cancel' or annul' charge sheets.
But I must also enter a rider here. This is a nation after all, where a Presidential Commission of Inquiry recommended not so long ago to 'charge' state law officers for engaging in their lawfully mandated tasks of investigating crimes including that of murder. Those crimes included the abduction for ransom and killing of eleven Tamil and Muslim persons in 2008-2009 in which Navy personnel were implicated and Admiral Wasantha Karannagoda was charged with covering the incidents up. As we may recall, that Commission report recommended quite scandalously, that indictment against the navy personnel be withdrawn in the ongoing trial.
At the time, it was predicted that this undermining of judicial, prosecutorial and legal institutions will not (finally) spare judges themselves, there will be no privileged immunity for the devastation ('A hard rain destined to fall on Sri Lanka's institutions of justice,'Focus on Rights, 7th February 2021, commenting on the recommendations of the Upali Abeyratne Commission). We have yet to see officers of the Attorney General themselves being charged for carrying out their official duties but that day too, may not be long off. But obligingly, the indictment against Karannagoda was withdrawn recently by the Attorney General.
What was 'extremely hypothetical' then has become real now
And apropos to this discussion, the Supreme Court's description almost twenty three years ago, of what was described as 'extremely hypothetical' examples of bad exercise of the discretion of the Attorney General becomes chillingly relevant now. Looking at a complaint of a journalist that criminal defamation indictments had been arbitrarily filed against him and affirming that this discretion was subject to its review, the Court described instances where it would feel compelled to intervene. For example, what if the Attorney General proceeded to exercise the powers of office only to benefit politicians of a particular political party (indict/not to indict, withdraw indictments/not to withdraw indictments) while ignoring others?
If that clearly differential treatment took place despite sufficient evidence, that may show that political affiliation was the only determining factor. If so, a case would lie for violation of the fundamental right to equality before the law, the Bench said (Ivan v Silva and another, 1998). On that reasoning, Opposition politicians who are unhappily trudging to court on their own cases may well go to Court pronto for violation of their constitutional right to equal treatment given that all the indictments being withdrawn in an unending if not unedifying stream by the Attorney General are in regard to those 'connected' to the regime in power.
That said, the Opposition's screeching in regard to what they categorise as a charade of justice attracts little sympathy. The damage done to Sri Lanka's judicial system during 2015-2019, notwithstanding (theoretically) good features of the 19th Amendment to the Constitution was colossal. Convenient leakage of tapes of conversations with judges by a free wheeling celluloid hero cum parliamentarian now in prison for contempt of court was just one cherry on that terribly unsavoury cake. Let us also not forget 'deals' over corruption cases and human rights abuses, aided by a former Inspector General of Police later put into jail over lapses on the 2019 jihadist attacks.
Novel upending of the Rule of Law
And then there were the recordings of the Director General of the Bribery and Corruption Commission (CIABOC) engaging in entirely irregular conversations with suspects during dinners or lunches with Ministers, quite apart from the content of those conversations being doctored. What we experience now is the end result of manifold hammer-blows to the legal system. Even so, this harebrained proposal to amend the Establishment Code stands in a category of its own. In other words, the State's prosecutorial, investigative and legal failures in delaying justice are to be used against the victims themselves.
This is a novel upending of the Rule of Law best seen in banana republics. Victims will thus suffer the double jeopardy of being harassed, intimidated or even killed (as has been the case in several instances) when cases are delayed and finally see the charges being dropped completely. Why bother filing charges at all, one may well question? The mere amendment of the Establishments Code cannot cover all of this as any first year law student will know but we are at a suitably lunatic point that the amendment of the Criminal Procedure Code itself may be proposed for this purpose.
After all, a recent amendment proposed to the Code dispenses with the personal production of a person in custody if the judicial officer so decides, including on grounds of 'breach of peace' and 'obstruction of proceedings.' As is wont in these troubled times, health priorities and quarantine restrictions are listed among those grounds. But however innocent seeming that this may sound, these are amendments to the country's pre-eminent criminal procedure law, not to be confused with temporary restrictions brought in for covid-related times.
What fresh horrors will strike us next?
There is a world of difference here that we must recognise. Health related restrictions or for that matter, emergency measures in a time of national security are, by their very definition, limited and confined to that period. It is exactly on that basis that such measures are ruled as constitutional. These cannot be proposed as permanent changes to safeguards that have been put into place to prevent abuse of civil liberties. That is a primer to a basic essay on constitutional law surely.
Both proposals of 'cancelling' charges against police officers purportedly due to delay and dispensing with the production of a person in custody affect the core of Sri Lanka's criminal justice system. While the second is problematic enough, the first idea is stupendous of and by itself. Similar attempts by the police to negate cases against their colleagues on the basis of some ground or another have been previously struck down by the courts. In one instance and notably so, the appeal Court summarily quashed a circular issued by the police which imaginatively sought to reinstate all officers who had been interdicted on charges of enforced disappearances but had been bailed out, (Pathirana v. Victor Perera (DIG Personal Training Police) and Others, 2006).
Indeed, one must credit the police with some chutzpah in dreaming up this idea in the first instance though the Court was not amused. In handing down his order, the late Justice S Sriskandarajah refused to even entertain the pleas of the police that some police officers had, in fact, been reinstated, after the circular was issued and that therefore any change would unfairly prejudice them. Ruling that 'administrative inconvenience' cannot weigh with the Court, the circular was thrown out, lock, stock and smoking barrel.
What is being proposed now is on all fours with this 2006 attempt, except that now we have the amendment of the Establishments Code being mooted. What fresh horror will strike next, one wonders?