A tribute to a pioneer in modern cardiothoracic surgery in Lanka – Appreciation
Dr. Y. K. M. Lahie, MBBS, MS, FRCS, Consultant Cardiothoracic Surgeon
View(s):
It was October 7. The time was about 6pm. There was call from one of my senior house officers. I answered the phone thinking it would be about a patient under my care. However, what was conveyed to me was totally unexpected and unbelievable. It left me in complete disbelief when I heard that Dr.Y.K.M. Lahie had passed away. For a moment I thought it could be a mistake, but further inquiries confirmed the bitter truth. Dr. Lahie had in fact left us.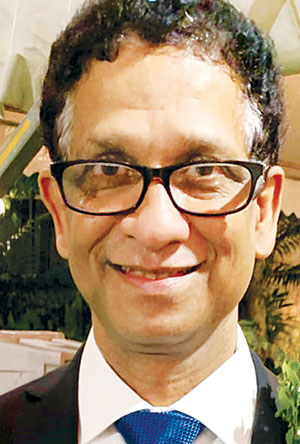 I had known Dr. Yoosoof Kamil Mohamed Lahie for almost 30 years.  After my internship, in 1992 I was appointed as a senior house officer to the Cardiothoracic Unit of the National Hospital of Sri Lanka, where Dr. Lahie was a senior registrar. Although we worked under two different consultants, I always used to admire this handsome budding surgeon with sharp eyes and quick reflexes coming for the surgeries along with his consultant.
With an excellent educational record from the United Kingdom, Dr. Lahie returned to Sri Lanka in 1994 as a fully-fledged cardiothoracic surgeon. By then, it had been over 40 years since the speciality of cardiothoracic surgery had got established in this country. However, it had not progressed enough then to keep on par with the international standards. Thus, there was an urgent need to establish a modern and advanced cardiothoracic surgical programme in the government sector. The responsibility of this had been entrusted upon the young surgeons of the time who had returned from their training overseas.
Dr. Lahie had been one of the pioneers who shouldered this humongous responsibility of establishing an advanced cardiothoracic surgical service in the National Hospital of Sri Lanka.
Cardiothoracic surgery is unique among all the surgical specialities. Every patient undergoing a heart operation carries a considerable risk. A wrong move or a moment's mistake on the part of the surgeon, however trivial, could be detrimental to the patient. Whenever a new surgical programme is launched, especially in such a demanding field, it is of paramount importance to produce good results from the outset. Should the results be unsatisfactory, the patients will be disinclined to opt for operations, nor would they be referred to by cardiologists. The final outcome would then lead to a total failure of the programme.
By nature, Dr. Lahie was always ready to take up challenges and this was no exception. He bravely took up the challenge, showed tremendous results and soon became a household name.
His surgical skills were incomparable. His manual dexterity was impeccable and his judgements were exceptional. He could operate on an octogenarian and on a day-old neonate in the same breath and dexterity with brilliant, unique skills that are rare possessions of a few surgeons.
When I finished my local postgraduate exam and decided to choose cardiothoracic surgery as my area of specialisation, I did not even have a moment's hesitation in selecting Dr. Lahie as my trainer — a decision I would cherish for the rest of my life.
As a trainer, he introduced a new culture in training. Up to then it had been self-learning by watching surgeries and by assisting the surgeon. He completely changed this tradition. I was always encouraged to take responsibilities, to make my own judgements and then make decisions while he was watching from behind, keeping a keen eye. Not only me, others too were trained in the same way, moulding all of us to be fully competent surgeons at the end of the training programme.
We know, Dr. Lahie himself as a trainee did not have this privilege. Most of the surgeries he had learned were self-taught through trial and error methods. There had been lots of trials, but there were hardly any errors. He never had any reservation in sharing his hard earned knowledge with his trainees, thus, making the pathway of learning much easier for us — a rare phenomenon.
Dr Lahie, needless to say, was a thorough gentleman. He used to maintain cordial relationships with everybody he had worked with. He was unassuming by nature. Whenever there had been a problem he used to get the opinion of the trainees as well. He always encouraged his trainees to take part actively in solving problems and always used to respect their opinions as well, a rare quality of a great man.
He was loved by everybody alike who worked with him. I will never forget the way he used to walk into the ward or to the theatre, always with a broad smile. I have never seen him lose his temper and had never seen him shouting or scolding anyone under any circumstances.
With his untimely death we have lost a pioneer in modern cardiac surgery in Sri Lanka and a skilful surgeon who had given life to thousands of patients over the past 27 years or so.
His passion was to operate and he never became tired of operating. After retiring from the government service he joined the Kothalawala Defence Hospital to continue with his passion and to continue with the services he had been providing to the cardiac surgical patients of this country.
It is with profound sadness I recollect the last conversation I had with him over the phone about a week before his death. In that conversation, he talked a lot about establishing this new cardiac surgical unit at the Defence Hospital and asked my views about the project as well. Though he had achieved a lot in his career it is sad that he couldn't accomplish the dream of starting cardiac surgery at the Defence Hospital which he had been looking forward to.
He leaves behind his wife Fatima Minna, son Dr. Hussein and daughter Sabreena. Although he had left us his contributions for the upliftment of cardiothoracic surgical services in Sri Lanka, he will remain forever in the hearts of the people in this country. Good bye sir. May the gates of heaven be open to you!
Dr. Iresh Wijemanne
MBBS, MS, FRCS
Consultant Cardiothoracic Surgeon, National Hospital of
Sri Lanka