Cushioning post mastectomy trauma
By Ruqyyaha Deane
Zonta Club II of Colombo focuses on patient care in this month of Breast Cancer Awareness
View(s):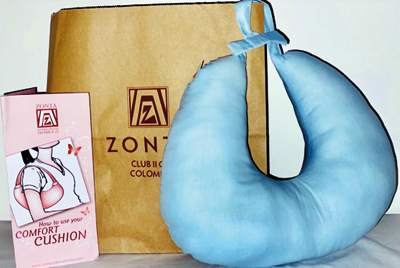 An organisation that stands for women's rights, Zonta has always been a strong advocate in educating and creating equal opportunities for women and children through various programmes, service projects and community relief care.
With October being Breast Cancer Awareness Month, the Zonta Club II of Colombo's Mammo Care Group's primary focus is the Breast Care Cushion project, which was adopted in 2012 from their sister club in Botany Bay, Australia that successfully implemented it in 1995.
"After a woman undergoes a radical mastectomy where a surgery is carried out to remove the breast, underlying chest muscle and lymph nodes as a treatment for breast cancer, the area under the arm and side of the chest is quite raw, which leads to a difficulty in using your hand resulting in  it becoming stiff and swollen because the lymphatic drainage is also blocked,"  members of the Mammo Care group explain.
Providing relief to these women who are already going through a turbulent time, the Breast Care cushion which is a half-moon shaped pillow can be worn like a handbag to provide maximum comfort. Made with a soft lining and stuffing of cotton lawn (a lightweight fabric that uses high thread cotton yarns), the cushion has a silky and un-textured feel.
When you wear the cushion, the affected area is secure and you can use the arm freely without worry.  The cushion is washable and comes in soft pastel colours of blue, pink and yellow. There have been many testimonials of those who have used the cushion post-op saying that it has provided them more confidence to go about their daily lives feeling more comfortable.
"For a year around 2500 breast surgeries are done in the country and we have contacted all the hospitals  and surgeons as well as the Sri Lanka Society of Breast Surgeons so that we know how many cushions are needed and can distribute them accordingly," the Zonta members tell us adding that this is done throughout the year with members and their families  helping to make these cushions. An instruction leaflet given with each cushion is  sponsored by Toppan Forms Colombo Ltd and the fibre fill is sponsored by Silueta (Pvt) Ltd.
During this awareness month, Zonta Club II will also hold other programmes to highlight that prevention is better than cure and for women to be aware of the signs of breast cancer so that they  seek treatment early.
One of these programmes is their social media giveaway on Facebook and Instagram where individuals who like, share and tag their friends on the post spreading awareness will have a chance to undergo a free mammogram. Six mammograms are  sponsored by Durdans Hospital and Ninewells Hospital Pvt Ltd. An Australian nurse was also flown down to teach young nurses how to examine and detect breast cancer.
The group has been active despite the pandemic and lockdown the country has been experiencing.  Their islandwide Maths project with the help of the Ministry of Education saw trained 'in-service advisors' conducting interactive Math Lab training sessions for teachers who are also provided with kits that will help teach their students get more interested and involved in learning Math.
They have also helped maintain four 'Mithura Piyasa' counselling centres in Kalutara, Panadura, Ratnapura and Embilipitiya with coordination from the Family Health Bureau where anyone experiencing abuse and domestic violence is able to walk into a room in hospitals and receive guidance and help with the next steps to take to break the cycle of abuse.
Other projects include providing clean and safe water targeting areas where kidney disease is more prevalent, awareness programmes on gender-based violence, educational training sessions and more.
Their social media handle is zontaclub2ofcolombo.
The cost of a breast care cushion is Rs 400 and anyone can sponsor the making of the cushions. Zonta Club II can be contacted via email at zontaclub11ofcolombo@gmail.com or Whatsapp 0777550620 for more details on how to support this cause.