Appreciations
View(s):

Remembering a special couple who meant so much to so many

NORAH & JOHN WATAWALA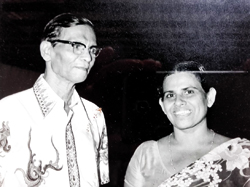 The birthdays of John and Norah Watawala fall on October 15 and 17  and it is a fitting occasion to remember them both.
I joined the Senarath-Dassanayake family and the Watawala family many moons ago when I married Shelton, Norah's youngest brother and since then, Norah was like my own Akka. When my mother-in-law fell sick just before our wedding, it was Norah Akka who fulfilled her role on behalf of their family. As custom prevailed at that time, the mother-in-law lifts the veil of the new bride and accepts her but with her unavailability, Norah did her part even though she was only in her thirties. I still have the picture of this special moment.
Norah's father was Proctor Fredrick Senarath-Dassanayake from Katuwellegama walauwwa, close to Katana, and her mother hailed from Debaraliyadda walauwwa in Pannala. Norah was the third of their six children. She spent her childhood at Katuwellegama and schooled at Newstead College, Negombo. She married John Watawala when she was quite young and therefore could not pursue higher studies. However, she took good care of her six children, made sure that they had a good education and did well in society. Her large home with all facilities could accommodate her siblings and their families whenever they visited her for family gatherings.
Her husband, John, a landed proprietor and owner of a dessicated coconut mill was glad to provide her all her wants. He made sure that all their children entered good boarding schools. He looked after her brothers when they were schooling, for their father had died very young. I remember once my husband Shelton when he was a teenager, eager to learn driving, had taken his brother-in-law's car without permission. His elder brother had seen this and had complained to John. Do you know what John's answer was? "Well, you don't have to worry, that's my car. Let him learn driving in it." That's how he treated his teenage brother-in-law! He was a father figure to all of them. Shelton, who never knew his father, for all practical reasons, treated him like one. He was loved and respected. We all miss him.
Norah was generous – towards her children, siblings, domestics, and villagers. She spent lavishly on the family, the needy and religious activities. Almsgivings and pirith ceremonies were quite common in her home. She believed that everyone must take part in the almsgiving by participating in some sort of work. I am an only child, and she knew I was not much of a homemaker. She would keep an already done pile of ingredients on the table and asked me to make balls for the cutlets. She never belittled me for my lack of knowledge of cooking but admired me for the things I could do like driving. She and I would drive down from Katana to Colombo when my husband was hospitalised. This was way back in 1965. We were both hopeless at finding the correct Colombo roads, but she trusted my driving skills. Always, we would get back home safely. The almsgivings were houseful. I remember once there were about 60 monks invited. How she handled and organised such events was beyond my thinking because a dana was no party!
Sinhala New Year was when everyone gathered at their home – "Shanthi"in Katana. The tables were laid with all sorts of delicious meats, seafood, vegetable curries and scrumptious desserts. She would buy identical sarees in four different colours as New Year gifts for her four sisters-in-law and that is how she maintained a good relationship with everyone. On all occasions, her husband gave her the fullest support.
Although she had many domestic helpers, I remember her bringing a cup of coffee to my bedside in the morning. This itself shows how humble and caring she was. I could not say my final goodbye to her because I was thousands of miles away here in New Zealand. My grandchildren would eagerly await and relish the cashewnut milk toffees made and sent by their Katane aththamma – up to now, they remember its everlasting taste.
All of us really miss her, her loving and generous ways, her smile and charm, and remember her fondly on her birthday, October 17.
With the pure life they spent on Earth, I feel both of them have already attained nibbana.
 Pearl Senarath-Dassanayake
---
He thought out of the box and always saw the bigger picture
Douglas Ladduwahetty
An inescapable feature of my public service career starting in 1960 was interacting regularly with technocrats – in survey, forestry, irrigation, land settlement, agriculture -  both at district and later at national level. Of them Douglas Laduwahetty   impressed me as one of the few engineers who could 'think out of the box' and also 'think laterally' in looking for solutions to development related problems as they unfolded.
In those days of 'closed departments', loyalty to the agency one served in, was uppermost in the minds especially of technically trained staff. DL often went beyond engineering and never hesitated to speak his mind even if he broke the 'departmental code' for he had the ability to look at the bigger picture and the wider issues; both I believe, intuitively as well as perhaps through wider reading.
In the mid-70's, we used to meet across tables and exchange views in resolving mostly day-to-day mutual  problems in the fields we were involved in. DL had the personal charm and skill to meet non-engineers at equal level and get their assistance departing from established protocol and worrisome rules. As Resident Project Manager of Mahaweli System H, he was reputed to have not only breached departmental barriers but also mentored his young engineers to look beyond the discipline they were trained in and to learn to interact effectively with other officials and the farming community who were mostly 'settlers' in a new environment.
By the time I renewed contact with DL in the late 70's the high level government decision for the Accelerated Mahaweli Programme (AMP) in which DL was the proponent and the driving force had already been made. This was about the time when DL introduced me to Minister Gamini Dissanayake in his makeshift office on Darley Road.
As a member of the small 'AMP Task Force' headed by N.G.P. Panditharatne,  that reported directly to President JR fortnightly, I observed that DL was perhaps the only member who was always optimistic about the AMP and never ever uttered a negative response whenever a doubt was raised. Invariably he came up with an alternative solution. That reflected his resolve and determination to go through what he had pledged to the Head of State which later made President J.R. Jayewardene to announce "we have made a decision to accelerate the Mahaweli Programme…. And we will see it through" which gave all stakeholders the confidence to commit themselves. DL never 'took his foot off the accelerator' so to say.
In this connection, I recall the 'Travelling Seminar' we had in early 1978 where ten of us specialized in  seemingly conflicting and adversarial fields, drawn from both the public and the private sector, led by NGP toured the yet unexplored AMP area – from the future Victoria Dam site through future Ulhitiya, Systems C, B and A to the East Coast exchanging views on the AMP strategy. At the end of three enjoyable days, many conflicting viewpoints had been discussed and we had some consensus on the road map. This was the beginning of an AMP management style which flourished throughout the next decade and more.
In the early stages, the AMP had many detractors. DL in no small measure reached out to them and the media and assisted the political leadership to convince the non-believers and opponents on the potential benefits of the AMP. The highlight of this exercise was when DL was instrumental in arranging for President JR and Minister GD to meet face to face, live in the field, with political stalwarts "NM" and "Colvin" to address their genuine concerns and resolve them on the spot.
After 10 years together in the 'Mahaweli Team' we went our own ways when I joined then IIMI (now IWMI). In the mid-90's a heterogeneous set of retired Mahaweli aficionados re-grouped to 're-live the Mahaweli spirit'. Following intensive brain-storming, the result was the birth of I/D/E/A/S, a non-profit private company committed to foster community led development and micro and small scale enterprises through the medium of seed capital and concessionary financing. After 25 years it is flourishing. DL took great pains that it  adhere to its original principles.
In a recent TV talk show, a business leader while referring to the need to expand IT to its full potential quipped: "for us to meet our goals, we must make it a 'Mahaweli Project'"which goes to show that 'Mahaweli' has acquired a brand name status.
DL clearly was one who relentlessly worked towards it; these memories will certainly live with our colleagues for a long time.
 Nanda Abeywickrama
---
An example of honest and integrated living
Trevor Baines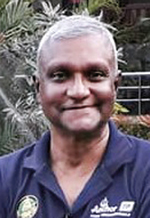 In his last conversation with me, Trevor's gentle words sounded like a confession.  He had turned down an award for excellence in his profession, as he felt it would create a conflict of loyalties. His membership and first loyalty was with an older organization.
Months earlier he had turned down the offer of a COVID vaccine, because he did not belong to the group for whom it was being administered.
This was the man who became my brother when Crystal and Gihan married. Gentle and full of integrity, Trevor was a calm and clean influence with one and all. Exceptionally well informed on current affairs, he had a lucid way of explaining social trends and challenges and the courage to then state his own position.
Trevor cherished his girls Crystal and Andrea till the end. Nothing brought him greater joy than to observe them grow into women of integrity. Talking about them, his smile seemed to say, "This is all I want".
When his dear Andrea passed away in the prime of life, a substantial part of Trevor died. But, even though tears and sadness refused to go away, the memory of the young woman she had become, made his tomorrow a bit more possible. Exceptionally integrated and attractive, and academically and professionally accomplished, the memories of Andrea in life, seemed to slowly provide the solace and strength for Trevor to go on with his own life.
Trevor and his life's partner Geraldine, made a warm and generous couple. Their lovely home at Ampitiya was always open to friends and relations, with the characteristic invitation to stay on for a few days. Those who accepted had the additional company of Tango, Scrappy and Brownie. The Baines family were dog lovers and there was no discrimination between all living beings under their roof. This was also true of the vulnerable who called at their door. They were not simply helped, they were received with respect and dignity.
The relationship between Trevor and Geraldine was typical of an unpretentious marriage. There was always room for difference of opinion, built on a foundation of years of love and care. This was most noticeable the way Trevor would close their friendly banter by allowing his Gero to think she had had the last word. His gentle smile and knowing nod implied that this was a familiar practice to them both.
Whenever we visited, Trevor insisted on doing the sandwiches for our return trip to Colombo. The way he sliced the vegetables and spread the egg, it was clear that the unforgettable flavour in the food came mostly from the method and mentality of the master chef that he was. Anyone could mix ingredients.
As a master chef with decades of experience in the country and the world, Trevor refused to conceal his culinary secrets. Recklessly generous with his recipes and expertise, he was loved and respected by the chef fraternity. Across the generations, those who benefited from his mentoring, rose to shine in the world of cuisine and hospitality all over the country and globe.
Right up to his last days, Trevor was in demand as a management consultant. When new hotels and restaurants were being set up, or existing ones ran into difficulty, those who knew him or about him, turned to him. Money mattered least, and whether it came or not, he remained liberal with his prowess and expertise.
One of the consultancies he greatly valued was the training of war widows in culinary skills and food outlet management. Communicating through a translator, and using the basic Tamil he knew, he worked hard to enter the trauma of the women—and from there led and encouraged them to discover their potential. Travelling regularly to Mankulam and back by bus, this was how he opened up a new life of economic security and dignity for his students. For those with eyes to see and ears to hear, under the skin of the world-class chef, there lay a humble and empathetic facilitator.
Crystal's touching tribute assured her father that the liberating simplicity and integrity she valued, came from him, and would never be compromised. Many of those who listened, connected with this covenantal promise. All that we had received from Trevor would be lived out the way he did it, in loving memory of an outstanding human being.
Go well my brother and add your distinct flavour to the heavenly banquet.
 Duleep de Chickera
---
Happy memories from childhood days
Lakshman Gunasekera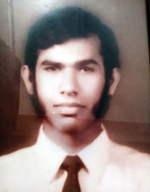 Lakshman Gunasekera, my father's sister's son passed away at the age of 73 on September 2, after a brief illness. He leaves behind Sriya, his beloved and beautiful wife and two loving sons Gayan and Navodya.
He hailed from the famous Obeyesekere family of 'Nalagama walauwa', Tangalle. His mother was Hilda Obeyesekere and Windom Gunasekera was his father.
He had his education at Richmond College, Galle and was very proud of his alma mater. He worked at Global Trade Agencies as the Head of Human Resources until his retirement.
He married Sriya Wickramaratne from a well-known family from Wagegoda, Tangalle. Sriya's father was the Village Chief and Sriya was the only daughter. They had a beautiful family life with their two sons.
When we were small, and living in Negombo, Lucky Aiya visited us very often and spent the vacations with us. He was such a joyful person, a very good entertainer and all our cousins enjoyed his company. We really had a beautiful childhood and he was our hero.
He was an honest and a down-to-earth person and led a simple life.
When I visited him last with my husband Kamal, we really enjoyed that day singing old melodies. I never thought it would be my last visit to him.
Lakshman Aiya, you were an exemplary, amazing human being; you have shown us how to face life with a smiling face amidst ups and downs. We miss your beautiful smile and loving words. We miss your joyful company. It's hard to say that you are no more. But amidst the silent tears we will remember you until we die. Your sweet memories will linger long in our hearts.
My parents Leslie and Leela Obeyesekere treated him like their own son. Since they are no more, on their behalf, I thank Lakshman Aiya for all the love and care extended to them.
We have a great regard for Sriya Akka and Gayan and Navodya for their amazing dedication, sacrifice, love and care during the period Lucky Aiya was indisposed. They are still bruised with grief.
Dearest Lucky Aiya, may you be able to shorten this voyage of Sansara and at the end of this painful journey, may you attain the Supreme Bliss of Nirvana.
Renuka Gunasekera (nee Obeyesekere)
---
His life revolved around the four 'R's
 Gamini Edirisinghe  
I first met Gamini, the eldest son of Albert and Yasa Edirisinghe of Vision House fame, when he got engaged to Roshini Kodagoda of the House of Perera and Sons in 1975: a union formed between two well known families in Colombo.
Gamini was the outstanding epitome of what a proud Sri Lankan stood for. With deep ancestry rooted in the south, educated at a multi-religious school he remained true to his identity as a Sinhala Buddhist.
His greatest loves all began with capital R – Roshini, Ramala, Royal College, and Rotary. No doubt he dearly loved his parents and his siblings Mangala, Thulani, Sharmali and Janaka and their families and they in return adored him. But his life revolved around the big letter R and it was reciprocated a hundred-fold. Roshi was exclusively dedicated to the loving care of Gamini from the time he fell sick. Ramala, Gamini's pride and joy, grew up to be the wonderful woman she is – a dutiful, loving daughter who along with husband Jehan provided the support for Roshi in caring for Gamini in his prolonged ill-health; their two little daughters a fountain of happiness during the very trying times for Roshi.
Royal College Union and Rotary vied for Gamini's attention.  I knew Rotary recognised Gamini when he was appointed Governor and being at the BMICH on that day at the grand investiture ceremony and post-event felicitations I realized his commitment to the Rotary movement was held in the highest esteem.  In the Royal College Union where he held office as Secretary and Vice President there was no young old boy or old old boy that didn't know Gamini Edirisinghe. I must not forget his commitment to the United National Party. A strong affiliate of the Ranil Wickremesinghe camp, up until he fell sick, Gamini would shout me down if I were to criticise his beloved party or its leader.
Educated at Royal College Colombo, gaining professional qualifications in Optometry and Management from England, Gamini returned to Sri Lanka and worked under his father Albert Edirisinghe expanding the optometry business to cover an all island network. Those were the '70s and Albert Edirisinghe Opticians were the optometrists sought by all.
Coming from a leading Buddhist family in the country, Gamini and Roshini would host pirith and danas in their own home at Kalyani Road but religion was not limited to those. Gamini lived it in every part and going by the example of his lovely parents he too embraced peoples of all races as one community of Sri Lankans. Post -1983 there were many occasions where Gamini diffused tension, when racist remarks were thrown around by insensitive persons oblivious to my presence, incidents indelibly etched in my memory.
Gamini and Roshi were the perfect hosts and their home was a place relatives and friends gathered on special days where wit and camaraderie prevailed.
Gamini Edirisinghe has passed on but a life well lived will be remembered for a long time to come.
Vijayaluxmi Sivananthan Rajah
---
She was a ray of light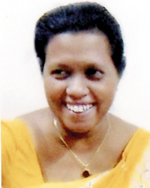 Savithri Wickramasinghe
She has been gone for three long years but not from our hearts. I still remember that fateful morning of November 23, 2018 when she left us. Since then, our lives have been sad and empty. She was a ray of light for the whole family.
She was fortunate to have a lovely daughter Dinusha and son-in-law Dilushan.
Savithri worked for  33 long years at the Urban Development Authority and left lasting memories among her friends and colleagues.
She battled her illness bravely and taught me that nothing is impossible. She was a devout Buddhist and the meritorious deeds she did were woven into the lives of others.
May her journey through Sansara be short and may she attain the supreme bliss of Nibbana.
Nimal W
---