Tourism revival: September sets the pace with backpacker visitors
By Tharushi Weerasinghe
View(s):
Sri Lanka's tourism sector is heaving a sigh of relief as the ongoing vaccination drive and the removal of travel restrictions locally and internationally are drawing a trickle of visitors once again.
Some locals are also on the move seeking a break from the lockdown boredom.
"We are fully booked right now!" said Fred Netzband-Miller, a hotel owner from Arugam Bay.
The promise of a long weekend has led to a surge of Sri Lankans making bookings and travelling to beautiful destinations, despite inter-provincial travel restrictions.
While 20% of the tourism industry was dependent on domestic tourism, the off-season trip-goers are a lifeline to the industry.
As Sri Lanka was removed from most travel "red lists'' worldwide, more tourists are coming in and recommendations help.
Sri Lanka was ranked among the "Top 5 countries to travel to" in the Conde Nast traveler readers' choice awards 2021".
"We do see a great recovery on the horizon," said Sanath Ukwatte, president of the Sri Lanka Hotels Association, adding that flights from new airlines, like Air France, were also a promising sign. Talks have begun for a British Airways flight to Colombo.
He noted that airline bookings to Sri Lanka, especially from France and Germany are rising.
The industry has set a target of US$500 million (Rs 1.7 billion) in receipts for the fiscal year ending in March 2022, based on the winter season tourists expected between December and April. This still marks a sharp drop in receipts compared with pre-Covid-19 years. The industry raked in US$4.5 billion in 2018, and US$3.2 billion in 2019, even after the Easter Sunday terrorist attacks on Churches.
"The industry is completely vaccinated save for the occasional and extremely rare anti-vaxxer so that has been a great asset to our revival too," Mr. Ukwatte said.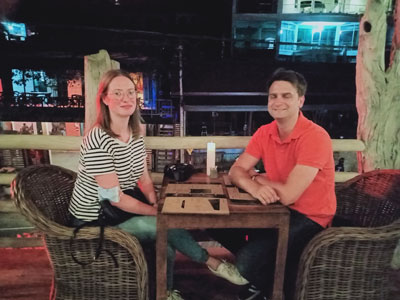 However, over two years of closures have taken its toll. Staffing is now a problem.
According to Mr. Ukwatte, about 15% of the industry workers including chefs and restaurant managers have emigrated.
"We now have a recruiting requirement of about 15,000. Unfortunately, those that have left are the ones with years of experience in the hospitality industry, which is impossible to replace sometimes." But, training of workers has begun.
Apart from this, hotels that had been shut, need to be refurbished. Maintenance was a luxury that many hotel operators couldn't afford during its dry spell.
A five-star hotel for example, would now need to spend about Rs. 1 million per room while a three-star hotel would have to spend at least Rs.100,000 per room. The costs include things like re-painting, air conditioning, carpeting, reupholstering, and bedding.
"The costs for beachfront properties are even higher because of the corrosion,'' Mr Ukwatte said.
He noted that the current plan was to prepare for 50% occupancy, meaning that refurbishments would be made to accommodate 50% of each hotel's capacity.
Earnings will be reinvested to refurbish the rest of a hotel.
Reinvestment is vital. "Quality is not something we can compromise," Mr. Ukwatte insisted.
The tourism authorities are exploring the restructuring of loans to help ease the debt load.
"We are in talks with the Central Bank and other financing stakeholders to discuss the restructuring of loans for the hospitality industry," said Kimarli Fernando, chairperson of the Sri Lanka Tourism Development Authority (SLTDA). "The industry has a refurbishment requirement going back a couple of years now.''
Where possible, even the complete absolution of loans is being considered.
She believes that moratoriums, while helpful, are insufficient.
The SLTDA is also in talks with two international funding agencies to refinance tourism in Sri Lanka.
However, where possible the SLTDA is granting concessions on utility payments and registrations, she said.
While noting that campaigns to rebrand and reposition Sri Lanka tourism were launched, Mrs. Fernando added that the SLTDA was coordinating with other government agencies to smoothen the way for a tourist's arrival in Sri Lanka.
"The airport experience, for example, needs to be improved," Mrs. Fernando said.
SLTDA is assisting other institutions to speed up processes like the visas.
"It is relatively easy now since any vaccinated tourist just needs to bring a negative PCR test report but there is room for improvement in the airport experience our guests have," she noted. "We are progressing slowly but surely and September was our best month yet."
According to SLTDA data, September arrivals were the highest this year yet, since the reopening of the airports in January. In January there were 1,682 tourists, while 13,547 came in September. Arrivals between 1 and 13 October alone stood at 7,096.
Vajira, a 37-year-old tour guide that the Sunday Times spoke to, noted that the current flock of tourists is backpackers.
"But this is also good because they are often the first sign we have that tourists are venturing this way again," he noted. "Groups are not coming yet, but we do see a rise in the number of tourists that is steady and encouraging," he said.
Vajira guides cultural tours and so noted that this business had not picked up yet.
Some destinations are deserted.
"Pidurangala is usually bottlenecking with tourists every time I go, but when I last visited I was the only person there," Vajira said. He noted that Sigiriya had been attracting slightly more visitors.
"The hospitality has been amazing!" said Linda Van de Walle, a Belgian tourist travelling with her children. She has come to Sri Lanka during the second week of September and had to travel in lockdown but noted that she only had to spend one day in quarantine at a level one hotel.

"I think Sri Lanka is doing a great job with the vaccination programme and when I compare it with all my travels, Sri Lanka is way ahead which is obviously very advantageous to the international tourism market, too." She confirmed that fully vaccinated tourists could move around with minimal restrictions and held that the protocols made Sri Lanka feel safer.

"I like to tell people we opened the country!" she said while adding that doing things like watching a sunrise from Pidurangala and watching the Temple of the Tooth Relic rituals alone had been a whole new experience. She had been able to complete all the activities planned, save for a Galle city trip that didn't involve church visits as they were closed. "I love the wildlife, the national heritage, and the things like Stupas here very much — and the street food like kottu and egg hoppers are amazing."

While some shops were closed during the lockdown, Linda and her children dined at homestays when takeaway wasn't available.

While she had expected animosity on account of the travel restrictions on locals but not tourists, she held that the people had been welcoming.

"I actually felt safer in Sri Lanka than in Belgium because everyone here wore masks very diligently," she said.

The absence of public transport was most likely tough on backpackers but she believes the winter overseas is promising for the island. "Sri Lanka deserves it!"