Families make do with less and less
View(s):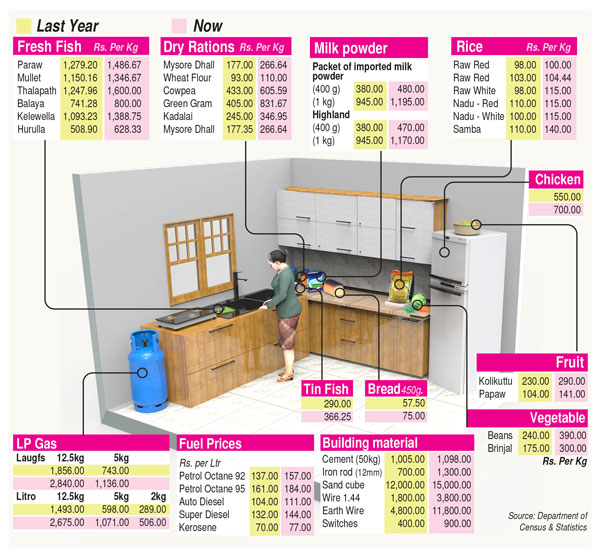 Sandamali Perera went to her local shop to replace her gas cylinder on Monday while gas prices were on the increase. The shop owner sold her a cylinder of gas for Rs. 2,750, saying the price had increased from Rs. 1,250.
She had heard that the gas companies had deducted Rs. 75 from gas prices but when she asked the shop owner for the rebate she was rebuffed.
"The shop owner would have known the price reduction. They increase prices even before price hikes are announced but fail to give back the balance when prices drop," Ms. Perera said.
Concern about rising prices is widespread.
A security guard living in the Suduwella area, A.G. Nimal, said that his family and his children were barely managing to survive.
"I bring home Rs. 2,000 per month because I have taken a loan from my basic salary; therefore I have to depend on loans I have taken from people to keep my family alive," he said.
Due to the pandemic his work hours have been restricted and there are no overtime payments. In the meantime, all the family expenses have increased.
Shantha Kumara, a middle-aged mason baas who is a father of two, said the higher gas prices, in particular, had eaten into his Rs. 3,500 monthly income.
"I have other expenses such as tuition fees for my children. My wife and I are striving to educate our children so I pawned my wife's gold chains to pay the tuition fees. Now I have to also pay interest," Mr. Kumara said.
Suresh Kumar, 41, a supervisor at his workplace, said he had taken on an extra job to cope with increased household bills.
Mechanic Nalaka Priyantha Gunasekera said his daily lunch packet now cost more. He said that even though rice millers claimed prices of nadu rice for Rs. 115 a kilo, samba for Rs. 140 and keeri samba for Rs. 165 he was unable to find rice at those prices.
"I bought keeri samba for Rs. 220 from a wholesale shop in Pettah, where the merchants only display a price of Rs. 165 in their stall," he said.