COVID brought her back home, now Rome awaits her
By Ruqyyaha Deane
Young classical singer Chrisni Mendis is excited to begin a new chapter in the home of opera
View(s):
For 27-year-old Sri Lankan Taiwanese soprano Chrisni Mendis it seemed the COVID-19 pandemic brought her world to a standstill as she returned home to Sri Lanka after six years training at the Royal Conservatory of Scotland. However she can now see the silver lining as another exciting opportunity beckons, this time in Italy – the home of opera – "a once in a lifetime opportunity" she says.
Always given to expressing herself through song starting with nursery rhymes when she was a child, Chrisni  says her true sense of joy in singing blossomed under the tutelage of renowned teachers like Maryanne David and Wendy Holsinger. It was her mother however who steered her towards following music not journalism even though she had already been accepted to  university for the latter. Chrisni had her early schooling at the Colombo International School and was awarded a three-year scholarship at the Overseas School of Colombo where she attained her IB diploma.
 "I took to music like a fish to water and to me it just made sense. My mother watched me perform at the Colombo Festival in 2012 and took some videos as well and she was like 'Chrisni, you love this. You can do anything in the world, right and you could do it 80% or you could do something you really love and give your life meaning and give 100% to it'," she recalls.
After that conversation Chrisni sent out applications to music schools overseas and to her surprise and delight won a scholarship and admission to the Royal Conservatory of Scotland. Admission is hugely competitive with only four to six of 200 soprano applicants being chosen.
Chrisni admits that not being 'part of the system' she was not sure how everything worked. She didn't even know how to read music, she says and made that admission at her audition.  With her teachers advising her that she needed to work hard and catch up with her peers, Chrisni followed a gruelling schedule with voice training, learning languages such as Italian, French, German and even Russian, immersing herself in the history and culture to understand the music better and practising for long hours daily.
 "And after six years of a schedule like that something's bound to happen, right? Eventually, I started getting bigger auditions. I got auditions at the Royal Opera House in London, the National Opera Studio in London and more but I wasn't ready for those because it's a different level," she shares telling us that she continued to study thereafter while getting a chance to perform in Europe – in countries like Italy and France and learn under Welsh operatic tenor Dennis O'Neill and Wilma MacDougall. Her operatic performances include the title role of Puccini's Suor Angelica, Leila (The Pearl Fishers), Arabella (Arabella), Marzelline (Fidelio), Micaela from Bizet's Carmen, Alice from Verdi's Falstaff, Zerlina (Don Giovanni), Susanna (Le nozze di Figaro) and Ännchen (Der Freischütz). Chrisni has also covered Lauretta (Gianni Schicchi) and Rose Marrant (Street Scene) for the Alexander Gibson Opera School.
Her hard work paid off. She was commended in the Edgar Sledding Memorial Lieder Competition in 2017  and in 2018, she won the Ian Fleming Award for Classical Singing.
Then COVID-19 struck. As the pandemic swept across countries, Crisni found herself back home last August. It was then that she bumped into classical singer and trainer Barbara Segal who has made Sri Lanka her home and began training under her. "She's fantastic and she really taught me how to sing, in a very Italian style which made the sound very, very beautiful."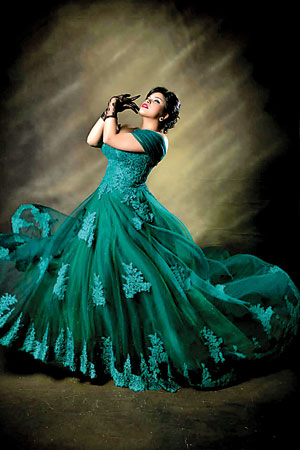 Barbara also introduced Chrisni to other mentors so that she was able to gain more exposure and refine her technique further. It was after a few months of studying under Barbara and Professor Carlos Conde that Chrisni felt her voice completely changing.
Barbara it was who introduced Chrisni to Senora Eleonora Pacetti from the Teatro dell'Opera di Roma paving the way for another major step in her musical journey.  "She invited me to go and coach under her and also be a listener and an observer of the theatre in Rome. She said that if I wanted to be here longer and learn more, she could send me to Accademia Lirica Osimo which is a small heritage site where some of the best teachers go to teach around 26 students from around the world," Chrisni says, excited for her big break. She hopes to go to Italy as soon as possible.
 "I'm on such an exciting journey. Like, after all these years, I'm finally making it. It's kind of a testament to how life will throw you things when you don't even expect it. When I came back here, I actually was extremely upset but it's a pandemic so what can you do? This has probably been the best thing that could have happened because it forced me into a room to practise and properly get to know myself, get to know my problems and how to fix them," she says. It's so important to approach anything with the right attitude, she stresses.
Chrisni also does voice training classes and teaches all the basics that tie in with Western classical music, currently teaching 40 students. Showing young singers how music gives an understanding to a different world is immensely satisfying, she finds.
"Of course, the dream would be to sing my favourite roles in major opera houses around the world. But what I would want most in the world is to spread the message that art has a quality to nourish the mind and the spirit and connect people from all over the world. In art, we explore our humanity and opera happens to be my medium,"she says.