Twelve Gateway students win 'GOLD' Awards at the
The Queen's Commonwealth Essay Competition
View(s):
Each year, aspiring young writers are asked to submit their pieces in response to a theme based on Commonwealth values. For the theme in 2021 – 'Community in the Commonwealth', there were 25,648 entries, the highest recorded ever, in the history of the competition.
Established in 1883, the Commonwealth Essay Competition is the world's oldest international writing competition for schools. With thousands of young people taking part each year, it is an important way to recognise achievement, elevate youth voices and develop key skills through creative writing.The Competition invites all young Commonwealth citizens and residents, regardless of region, to share ideas, celebrate their stories and have their voices heard.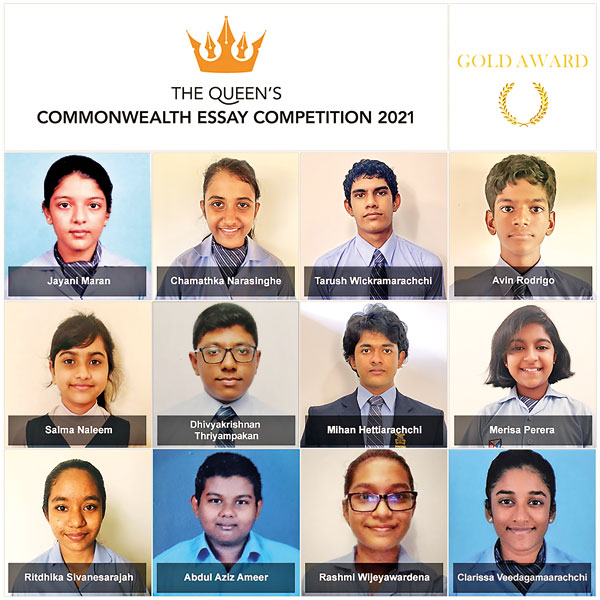 Among Gateway students, Tarush Wickramarachchi, MihanLakvidu Hettiaraachchi, Abdul Aziz Fowzul Ameer, Dhivyakrishnan Thriyampakan, Ritdhika Sivanesarajah, Avin Rodrigo and Clarissa Vedagamaarachchi (Senior category) and Chamathka Narasinghe, Jayani Maran, Merisa Perera, Salma Naleem and Rashmi Wijeyawardena (Junior category) won gold awards.
Silver award recipients included Venuki Mendis, Dithara Danthanarayana, Mitesh Srishanker, Vakeesh Shanthi Rupan and Shaveen Kanageswaran, (Senior category) and Sehani de Zoysa, Hashir Ameen, Yoshithya Lokuge, Talia Taeiq, Sanya Mohammed, Bhanu Madawala, Enaya Fernando, Risali Rangajeewa and Nethika Rangajeewa (Junior category).
Aamina Mowlana, Aaron Kavin Priyadharshan, Enosh Solomon Earnest, Achchaya Sasikumar, MandivSamaratunga, Imaadh Muwahid, Kenuli Weligamage, Laisha Mohamed, Nevashenee Rajakulasingham,
Tevin Gunawardane, Sunna Mohammed, Saarah Deen, Hanna Samsudeen, Sushaini Perera and Yenuli Dissanayake (Senior category) and Thevan Peiris, Risindee Rodrigo, Evaan Perera, Deane Egodawatta, Avinash Arunkumar, Sithuki De Alwis, Nethara Jayakody, Arshaq Jazeem, SaifImram,Zeek Ali and Thushaayeni Rajakulasingham (Junior category) were rewarded with Bronze awards.