'If they do not have rice, let them have milk rice?'
View(s):

If the Sirisena-Wickremesinghe coalition of 2015-2019 was tone deaf to outraged mutterings of the citizenry at the time, surely the Rajapaksa-Rajapaksa-Rajapaksa government of 2020 onwards must be wholly dumb, deaf and blind to the roars of fury exploding in their favoured constituencies in Sri Lanka.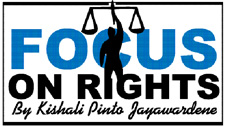 On splendid ironies and political victories
As farmers who once gave sweeping mandates to the Government burn their fields along with effigies of the Agriculture Minister and education trade unionists angrily challenge the Public Security Minister, Catholic priests join Buddhist clergy to cry 'mea culpa, mea culpa, mea maxima culpa' for their part in supporting ruling politicians to come to power. Indeed, Sri Lanka's political elite may well remind themselves of Marie Antoinette,  famously (though spuriously) maligned as having remarked, 'if they do not have bread, let them eat cake' to the starving poor who rose up in revolution and disposed the last queen of France and her aristocratic companions through the guillotine.
In that same airy fashion, is the Government showing the middle finger at protesting farmers, in effect, to say, 'if they do not have rice, let them have milk rice (kiribath)'? This is of course, a spendid irony not only because both rice and coconuts are becoming luxuries in this land (of rice and coconuts) but also in view of the fact that political victories as well as political assassinations of Presidents of this country have been ritually and triumphantly 'celebrated' by the faithful with 'kiribath.' Such peculiarities do not reflect well on our national character.
Regardless, a larger question arises. An overweening political heedlessness is fast becoming the troubling stamp of the Government. What enables it to march juggernaut-like in this way, quite unconcerned about the desperate cries of the populace and in the face of the looming economic catastrophe that we face, despite the less than convincing arguments of Sri Lanka's Central Bank? Unwisely large mandates which these very same protesters conferred on their favourite rulers were utilised to justify the replacing of ineffectual public servants with military authority on the argument that, 'efficacy counts.'
One step forward and two steps backwards
Such mandates should not be given to any of Sri Lanka's political parties as history teaches us only too well. Placing retired military officers with no idea of how the public service functions and even less of governance into key state positions has not improved efficacy. In fact, efficacy all around has not been a strong point of this administration apart from the country-wide vaccinations process which has been handled remarkably well. Yet in almost all other respects, it  has been a ridiculous dance of (mis) governance with one step forward and two steps backwards. The clash with the country's paddy mill owners showed that only too well.
The Presidential promulgation of emergency regulations was announced with much fanfare as intended to nab hoarders and prohibit selling of rice at higher prices. Then we saw some sweating officials scurrying around warehouses for some weeks before the Government gave way, handing over the determination of price hikes to the mill owners themselves. This is not to argue the relative merits or demerits of competitive market policies versus price controls. Rather, the point is the absence of cohesive national policies resulting in chaos and confusion. This we see at all levels, from education to agriculture and health.
For example, the interlinked furore over rice prices and the sudden prohibition of chemical fertilizer was entirely avoidable as even a student might point out. Strengthening oversight agencies, including the Consumer Affairs Authority (CAA) and the Paddy Marketing Board with strict penalties for collusive 'price fixing' along with a gradual reservation of organic fertilizer for particular crops may have averted this current agony. But  the contrary was evidenced with a key 'whistleblower' of the CAA resigning after exposing huge corruption scandals into garlic, sugar, rice and other scams and complaining of death threats.
The silence of the law
An inquiry into the threats seems destined for the same sorry ends as other corruption scandals. And the law is rendered silent. Meanwhile we suffer the spectacle of a plethora of indictments against prominent ruling politicians as well as in regard to persons implicated in 'emblematic cases of impunity' being routinely 'withdrawn' by the Attorney General. Interestingly, one such withdrawal of indictment against Admiral Wasantha Karannagoda over cover up of the 2008-2009 enforced disappearances of eleven Tamil and Muslim youngsters for ransom who were brutally killed thereafter, has been challenged in the appeal court by parents of the victims.
Legal proceedings in this case had indicated the complicity of Navy personnel in the crime and concealment of this truly heinous offence at the highest levels of state authority across military, investigative and prosecutorial lines. The legal challenge will be interesting at many levels. So far, relevant legal principles in regard to the exercise of judicial oversight over the state prosecutor have been clearly articulated though somewhat timidly exercised by Sri Lanka's superior courts. In principle, judicial review would lie if the Attorney General has abused the process of court or acted oppressively.
Even so, this power would be judicially exercised only in the most exceptional circumstances on well known legal precedents.  In other jurisdictions including in India, judges have strongly asserted that the power of filing or withdrawing of indictment is not unfettered. Discretion by the Attorney General must be exercised fairly, honestly, reasonably and on relevant considerations only. Strict oversight is practiced as the act of entering into an indictment or withdrawing the same cannot be done frivolously or lightly.  The Attorney General must answer for the impact of the same on the administration of justice.
Inventive political strategies that bode ill for the people
In sum, this terrible cycle of confusion, chaos and corruption that we are swallowed up in is framed by declining public confidence in the Rule of Law. The arrogant obliviousness of the political leadership to the middle class now collapsing into the poor and the poor who are being pushed to real starvation reflects a deeper angst afflicting the country's political branch. In other words, this is a Government secure in its belief that even with formidable missteps, the collective Opposition, notwithstanding its bellowing, will not rise up in challenge.
That too (red, green or purple) is bedevilled by the same fundamental incoherence. This is a stinging accusation but justly called for in the sorry state that we find ourselves. The Opposition must prove itself not through 'speechifying' in Parliament or in leading staged protests but in providing credible and rational political alternatives. Time and time again, this duality of mis-governance is evidenced. This week, we are informed that 'some elements'of the 'yahapalanaya' Counter Terror Act (CTA) may be 'considered' by this Government in proceeding with amendments to the Prevention of Terrorism Act (PTA) as urged by the 'international community.'This is a veritably Catch 22 proposal in truth.
On the one hand, the CTA proposed by the Wickremesinghe administration includes draconian clauses cut and pasted from counter terrorism laws in the West including the US's Patriot Act. At that time, the Rajapaksa opposition came out vehemently in protest of its contents. Any proposal to use only the 'good' parts of the CTA is hardly reassuring now. But on the other hand, the origins of the CTA and the support that it received will constrain objections being raised at this point by those (domestically and globally) who supported it then.
Doubtless these are inventive strategies that may raise chuckles  in the corridors of power. However, they promise little good to Sri Lanka's people battered by deeds and misdeeds of parties which sit alternatively in benches of the Government and the Opposition. And so our profound misery continues.