Appreciations
View(s):

The lessons I learned from my father

Gratien Amirthanayagam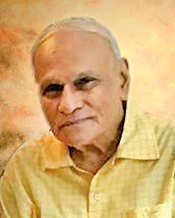 "Love is patient, love is kind. It does not envy, it does not boast, it is not proud. It is not rude, it is not self-seeking, it is not easily angered, it keeps no record of wrongs. Love does not delight in evil but rejoices with the truth. It always protects, always trusts, always hopes, always perseveres."
1 Corinthians 13 : 4 -7
The above Bible passage embodies the life of my father. The loss of my beloved father on  September 3 has left a deep void within me. It is a void I have tried to fill with reflections about his life, and how his gentle influence shaped my own.
My father left a lasting impression on many people. To his business associates, he was a conscientious man with a steady hand and forthright manner. To fellow Rotarians, he was a tireless worker for the community who embodied their motto, 'Service above self.' To his family and friends, he was a caring, compassionate figure whose quiet wisdom was reflected in the way he lived.
My father was the youngest son of five children of the JMO, Jaffna in the 1950s, Dr. G.A. Amirthanayagam and his wife Mary Teresa. Growing up in that loving family, he imbibed such values as honesty, empathy and treating all with kindness. In fact, I have never heard him raise his voice. He always had a smile on his face, was courteous and displayed a rare humility that came from the love of God.
Many are the lessons I learned from my father. He never thrust his views on others, but whenever he gave advice, it was worth remembering. He often told me that whatever you do, do it to the best of your ability, and never take on too many things, for that would only bring stress and disillusion.
My father was a quiet, unassuming man. However, he was keen that I, his only child, be more outgoing. In fact, he was delighted when I excelled in speech and drama. He believed that these abilities will give me an edge later in life. When I became a well-known face on national TV as a newsreader, he was my best critic. He would carefully follow the bulletins, and when I got home he would advise me on how to improve my delivery. It was always a constructive discussion.
In his professional life, my father achieved a lot. Back in the '60s or '70s, he was tasked to set up Consul Expo that promoted our tea, rubber and spices internationally. He then managed Abdul Hussain Jafferjee – a reputed export and trading company – before being appointed a Director of Browns Group and Siedles. He also launched the Sunny Hill coffee brand under Darley Butler.
In 1990, my father started a venture that would mark a turning point in my own life. Partnering with three entrepreneurs from Australia, he founded Holmes Pollard & Stott. He guided me through my early years as CEO, and today I'm the sole custodian of this successful ad agency.
It was in the Rotary movement that my father's community spirit found expression. An active member since 1976, he held various positions in its hierarchy, including President of the Rotary Club of Colombo West. In his many years with Rotary, he spearheaded a number of projects. Among these was bringing down instructors from the USA to impart English teaching skills to Sri Lankan teachers. It was highly successful, and the Americans stayed for a couple of years, inspiring and training others. He also served as Rotary District Secretary to District Governor K. R. Ravindran, who later became President of Rotary International.
Interestingly, different people called my father by different names, but always in an endearing tone. Born Gratien Andre Premraj Amirthanayagam, he was called Gratien by close friends, business associates and fellow Rotarians. To classmates, he was simply Andrew. His extended family preferred calling him Prem. And to his siblings, he was always Thambi (being the youngest brother in the brood).   
I will always carry fond memories of my father. When young, I would accompany him to the stadium whenever an international cricket team visited the country. His deep knowledge of cricket and other sports gradually seeped into me. It proved vital years later when I became a cricket commentator. He also inspired me to serve the community through the Rotary movement. It was a truly fulfilling journey, and two decades after him I too was elected President of the Rotary Club of Colombo West. He took great pride in the fact that I was the 50th President of the club.
My father never hankered after material possessions. Rather, he found meaning and purpose in life's simple joys, like spending time with the family. He trusted in God and spread love and warmth all around in his own quiet way. My family and I miss him deeply, but we know that his gentle spirit will always remain with us.     
In conclusion, I would like to paraphrase Horatio: "Goodnight sweet Dad, may flights of Angels sing thee to thy rest."
Pradeep Amirthanayagam
---
He leaves behind a great legacy in the aquaculture sector
 Prof.  Sena S. De Silva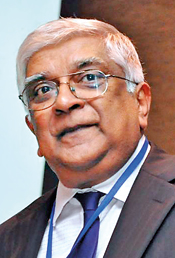 On May 6 last year, Professor Sena De Silva, or Sena as everyone used to call him –passed away in his home in Melbourne, surrounded by his loved ones, after over two years battling with cancer. As always, Sena was at ease facing new challenges, and before passing, he said that he was ready to go.
Sena was a man with a razor-sharp intelligence and an incredible wealth of knowledge, but at the same time, a simple person, humble and truly compassionate for the less fortunate. Sena leaves an enormous legacy to the aquaculture sector in its entirety; a legacy benefitting aquaculture science, academia and scholarship, aquaculture real-world policies and practices and most importantly, aquaculture people.
Sena studied at the University of Ceylon and in 1973 obtained his PhD at the University of Stirling, in Scotland, with a thesis on the 'Clupeid populations of the West Coast of Scotland'. He returned to Sri Lanka and started working as a lecturer at Vidyalankara University (1973–1978). He took a professor position at University of Ruhuna (1978–1988), and in 1989, went to the National University of Singapore, with a Visiting Commonwealth Professorship.
In 1991, Sena moved to Australia and took a senior lecturer position at Deakin University, at the Warrnambool Campus. His career at Deakin then progressed quickly, obtaining a personal chair and full professorship in 1997. Ten years later, in 2006, Sena took up the position of Director General, at the Network of Aquaculture Centres in Asia-Pacific (NACA) in Bangkok.
In 2011, Sena 'officially' retired and returned to Australia where he continued to be very active in his research and scholarships endeavours. In 2009, in collaboration with Albert Tacon, Sena conceived, founded and led, as editor-in-chief, a new scientific journal 'Reviews in Aquaculture'. Sena first met Albert in the early 1980s in Stirling when he was a visiting researcher. They shared similar passions and started a long professional relationship of almost 40 years.
Throughout his career, Sena received numerous awards, including the first ever Doctor of Science from University of Stirling (1989) and an honorary Doctor of Science from the University of Ruhuna (1996). Sena's contributions to aquaculture and inland fisheries were also recognised outside of academia; he was granted Honorary Life Membership of the World Aquaculture Society (2005), a Gold Medal Award and Honorary Life Membership by the Asian Fisheries Society (2004 and 2013), among many others.
Sena was a true academic, excelling at both education and research, and his contribution, as a researcher and an educator, was immense. As a teacher and mentor, Sena had the unique ability to identify potential. He was very inclusive and selfless in developing students and early-career researchers. Sena's students can be found in nearly every country where aquaculture is practised, and many now are in high-level positions. Many of those he influenced can also be found in rural villages, working at their farms, particularly across South East Asia. Sena had several research interests and foci, and the two areas where he was most active and shone the most were fish nutrition and reservoir fisheries management.
Among his books, three important publications, that have been pioneering and represented important reference materials for many students and practitioners, were 'Fish Nutrition in Aquaculture' (1994, Chapman & Hall), 'Success Stories in Asian Aquaculture' (2010, Springer) and 'Aquaculture in China: Success Stories and Modern Trends' (2018, Wiley Blackwell).
In 2006, Sena was elected as Director General of NACA and served for five highly successful years. After retiring to Australia, he continued his research and collaboration on aquaculture development projects with NACA.
In addition to having an exceptional mind and his profound professional contribution to the aquaculture sector, Sena was a great human being. He was humble and warm, had a good sense of humour and was always kind and generous. Sena was able to motivate people to do their best, with charisma and empathy. He was always genuine and those who knew him have never seen him changing his behaviour an inch; whether in his office editing a PhD thesis, or on the couch watching cricket on TV, in a wet laboratory stripping fish to collect faecal samples for digestibility measurements or giving a keynote talk in front of an audience of international delegate scientists, in a gala dinner entertaining high-level diplomats from all over the world, or in a village talking with fisherman and their families. Sena was always Sena, perfectly comfortable in any occasion and in any environment. And that is what made Sena a very special person.
'What' Sena did in his professional career was exceptional, but 'how' he did it was possibly even more special and important. He did it well, with grace, good humour, gentleness, dignity, compassion, skill, integrity and charm, and leaves behind for all of us working in the aquaculture sector an even greater legacy, and an example to aspire to.
 Giovanni Turchini, Simon Wilkinson and Albert  Tacon
---
A humble human being with outstanding leadership qualities
Adhil Bakeer Markar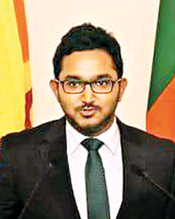 I strongly believe that it's not the number of years that someone lived, but what they did during their lifetime while touching the hearts of others which makes an extraordinary human being.
Even though Adhil unexpectedly departed from us five years ago, I believe his life story gives us a powerful message on leadership behaviour and the responsibility of youth. I also believe that the example set by Adhil is the need of the hour for our society.
Such special life stories as Adhil's can restore our faith in humanity.  As a proud product of Royal College, Colombo 7, Adhil was an exemplary outstanding young leader. I don't think that anybody would disagree about Adhil's leadership abilities and human qualities if they have ever interacted with him. Most importantly, many people remember Adhil because he was a humble human who treated everyone equally and with kindness, regardless of their social status.
Even though raised in a political family, being a grandson of a former Speaker of  Parliament and son of a well-respected former Minister and current Parliamentarian, Adhil always made sure to remain down-to-earth.
In our country it is not rare to see stories where some young people with political family backgrounds try to enter politics solely relying on their family connections, wealth and power. Adhil chose a different path completely even though he had the same privilege.
It's not a secret that Adhil also had political aspirations. However, he never wanted to use his family background to fulfil his desire. Instead, he chose to shape his character whilst equipping himself with the necessary political knowledge and experience. Upon successfully completing his LLB degree and Attorney's examinations, he was admitted to the Bar as a junior lawyer. He won a prestigious Chevening Scholarship and selected to pursue a Master's degree in Comparative Politics at the London School of Economics (LSE). Having the privilege of becoming a Chevening Scholar, I would also like to gratefully remember how Adhil wanted me to apply for the same scholarship some years back. This was another excellent quality of Adhil's because I rarely meet people who are willing to share the opportunities they have had with others.
As a young leader, Adhil made sure to gain experiences that would help him understand the ground reality at the grassroots, by working closely with people from different walks of life. If he ever entered politics, I have no doubt he would have become a brilliant policymaker as he had a great sense of awareness of the ground reality and policy-making process.
I personally believe that Sri Lanka already has more than enough politicians but not enough statesmen. If Adhil were  alive, he could have filled that vacuum as he had what it  takes. Without exaggeration, one could claim that Adhil could have become the first Muslim to become the Prime Minister of Sri Lanka with the majority vote from the citizens of all other ethnic groups.
Adhil never had to portray a public image which is completely different from what he truly was, as he lived by his own set of principles and values.
When I recall memories about Adhil, there is one particular incident that I really want to share. Before Adhil left to the UK to pursue his postgraduate studies, he was working as board director for international youth affairs at the National Youth Services Council (NYSC) of Sri Lanka, voluntarily carrying out the duties without even taking any allowances to which he was officially entitled.
In 2013, Adhil was selected as one of the two youth delegates representing our motherland at the 68th United Nations General Assembly. Being the NYSC board director who was in charge of the portfolio of  'international youth affairs', the same UNYD programme came under Adhil's supervision a few years later. Having applied for the same programme four consecutive times, I witnessed how Adhil tried his best to make the application process fair and transparent in both years he handled the UNYD programme. He also took some revolutionary steps to reform the foreign pool of NYSC in order to make the selection process more systematised and transparent.
In addition to all of the above, Adhil added a public speech round to the UNYD selection process so that the public and youth could actually see who was going to represent them at the UN General Assembly.
This particular incident I am referring to took place during the last stage of the UN Youth Delegate Selection Process in 2016. It was crucial for me as it was my last attempt for the programme. Even after the marks had been finalised in the final stage of the selection process, political authorities and higher officials attempted to influence the selection process. However, Adhil made a bold decision to ignore all the political influences and pressures to preserve the selection process's transparency. He strictly mentioned that he would rather reveal the injustice and resign if someone tried to change the original mark sheets of the applicants who progressed to the final round.
Without Adhil's bold decision to go ahead with the initial results of the applicants, a person like me would never have got  the opportunity to become the official Sri Lankan youth delegate to the UN in that particular year.
I should also mention that during his tenure at the National Youth Services Council, Adhil won the hearts of all employees who even today,  remember his humble nature with much love. They grieved for him with profound sadness.
I recall coming back home and being picked up by a driver from the NYSC who told me: "It's not only a great loss to us, but to our motherland".
I firmly believe that the best way of paying gratitude to Adhil is to live a life with integrity while being a compassionate and empathetic human being.
 Sachinda Dulanjana
---
We were lucky to have had him as a friend
Ruwan Perera
Ruwan Perera who peacefully passed away on August 10, was known to many as the flamboyant cricketer who lived next to Salgado Bakery in Maradana. He captained the junior and first-eleven cricket teams of Ananda College in the 70's and the first team of the Burgher Recreation Club in the 80's. Some still speak of the gritty centuries he scored against top teams.
He had a good entrepreneurial knack. He identified a niche in the market based primarily on his instincts and developed a business he enjoyed leading. He was never shy to seek knowledge or advice from anyone to improve that business.
Socially, he entertained friends with his tales of adventure that amaze some of us to this day. However, behind the macho persona, Ruwan was a compassionate, respectful and grateful human being. He never hesitated to pull out his wallet to help someone in need.
In recent years, his hobby was reading the newspapers from front to back. He was well informed on matters ranging from economics to sports and enjoyed discussing any topic, but politics. He had the memory of an elephant. On my last visit to his house in April 2021, I was accompanied by two friends, one of whom Ruwan had not seen for nearly three decades. With a few leading hints, Ruwan recognized him and went on to relate details about him that he himself only faintly recalled.
Whatever his aspirations were, Ruwan was not one to share them even with his closest friends. Neither would he brag about his achievements. Some paths he followed and choices he made may not have taken him to the places he wished to be, but he had a positive outlook and never looked back. I am sure that most people will consider themselves lucky to have either met Ruwan or had him as a friend.
 Prianka Nalin Seneviratne
---