Sujeewa's 'Untouched' to compete in Egypt
View(s):

"Untouched'' English monodrama directed by Sujeewa Pathinisekara has been selected to participate in the competitive section of Sharm El-Sheikh International Theater Festival in Egypt.

Held from November 6 to 12, the festival is conducted under three categories.  'Untouched' will compete in the Monodrama category.  The festival held at Sharm El-Sheikh city in Egypt, Kuwait, Egypt, Romania, USA, Tunisia, Ukraine, Mexico, Bahrain, Algeria and Sri Lanka are to be participated. This is the first time that a Sri Lankan production has been invited to participate in this Festival.

Actress Subuddhi Lakmali is to perform in the monodrama and sets and choreography by M. Safeer while music director is Sagara Wijesinghe. Lighting design by Wasantha Kumara and assisted by Sujeewa Pathinisekara, stage management is done by M. Shafraz, M. Sharaf and Nirosh Kavirathna.

Presented by Interact Art, ''Untouched'' participated at two international theatre festivals in the United Arab Emirates (UAE) and India in 2020. The play was performed at the Preksha theatre festival in Colombo last year. Following the Sharm El-Sheikh International Theater Festival, Sinhalese version of the play ''Untouched'' will be staged in Sri Lanka.

"This is a love story but it has been enriched by additional stories I have come across in English drama, film and literature," said Sujeewa Pathinisekara, the playwright.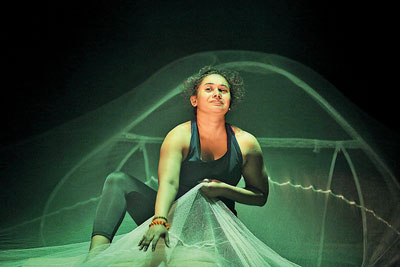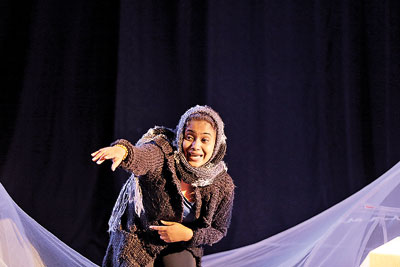 Made during the first Covid-19 lock down in 2019, Sujeewa said the play was made as a monodrama mainly due to practical issues and the other reason was that it was planned for a festival in the UAE.
Nearly three decades in theatre, Sujeewa first join Gamini de Silva's Shakepeare Centre where he trained as an actor. "In 2012 I produced the Sinhala version of Shakespeare's 'King Lear' .  During this period I met M. Safeer and we started to work together," said Sujeewa describing his collaboration with Safeer and the Inter Act Art, theatre group.
In 2017 Sujeewa produced and performed in "Api Narakai", a Sinahala version of a German play. He also acted in Safeer's play 'Kevin' produced in 2019.