The City School of Architecture: Q & A Session with Students!
View(s):

The City School of Architecture with 35 years of excellence in architectural education has provided training for undergraduate and postgraduate students to qualify as Professional Chartered Architects.

Established with a comprehensive array of facilities, the City School of Architecture is an institution, which ensures that students excel in diverse skills to become industry leaders.

The School's Part I and Part II courses are accredited by the Royal Institute of British Architects (RIBA) London, UK and the Sri Lanka Institute of Architects (SLIA). The school's partner university – The University of the West of England, Bristol, UK, has offered CSA students Bachelor's and Master's Degrees in Architecture, since 2012. These Degrees are recognised by University Grants Commission (UGC). In addition, the Diploma programmes are registered under Tertiary and Vocational Education Commission (TVEC). Together, they guarantee recognition for CSA graduates, not only within the local industry, but also
globally.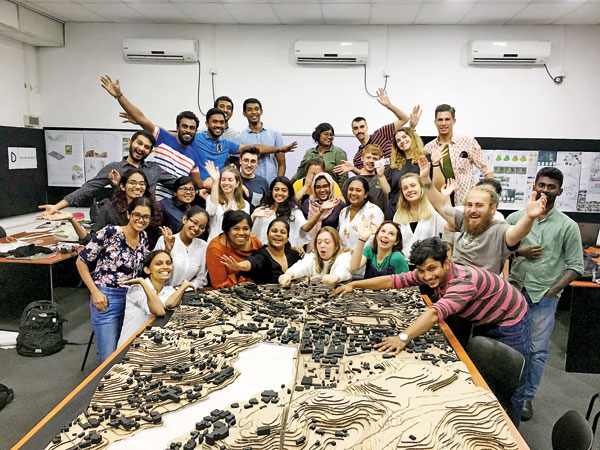 The China tour is an annual event which happens at the end of the first year of masters, where every batch is taken overseas to really experience architecture. Our batch, the entire batch this time, was taken to Shanghai's Bundt district of China. The CBD is well known for its skyline of looming high-risers which we experienced from its busy streets as well as from the inside of some of its buildings.
The city is famous for being built on a Bund facing alongside a meandering river which we even cruised. We then visited ancient water towns a few hours' drive away from the CBD which was a lovely contrast to the city experience- a calm and relaxing atmosphere where we had a taste of culture and shopped till we dropped! It was a good opportunity for us to experience culture and architecture and make comparisons with our own.
See, this China tour and similar overseas tours that have been organised by CSA over the years gives us that exposure that you only get from international travel- it helps us grow in our field of architecture and as professionals and future practitioners.
Q1 Could you share your experience of the transformation from secondary education to tertiary education?

School taught me so many things, whether it was to find your strengths and really push your boundaries and just experiment with everything you do, like take good risks. Here at CSA, I was able to do that, reach out to options, and take risks that I couldn't even imagine that I was capable of doing.

There's a huge misconception as to what Architecture really is, and what most know is that it's probably a profession that just designs buildings, spaces, etc. But Architecture is more than just that, Architecture is a part of everything we do and how we live and it really shapes our everyday life seamlessly.

So to really grasp all of it and to understand something that has reoccurring principles but has various conceptions to each day and age, you need to be fully prepared and understand it wholely. The Architecture programme here at CSA offers experiential learning & communication, appreciating architecture through design projects, written projects, graphics, model making etc.

---

Q2. Describe your experience in distance learning.

I'm not going to lie but coming to CSA all the way from Kurunegala, distance learning has been very smooth for me since I can work from the convenience of my own home.

But at the same time there is this sense of loss that I feel since we're missing out on most of the aspects of our university life that cannot be recreated virtually.

I think it's not just me, I believe I speak for everyone when I say that we truly missed the opportunities of working together on projects physically.

But yes, technology made group projects feel almost the same as physically meeting our teammates. Our lecturers go the extra mile to make sure we're not bored at home and always make us feel included, they always make sure all students have perfectly understood every lesson despite the difficulties of online school. Without these, it would have definitely been much harder for us. Distance learning has its own benefits and drawbacks, but because of CSA, the experience has been amazing so far and I'm truly grateful to the efforts made by them.

---

Q3. Tell us about the Upcycled Bicycle Exhibition.

Well this was a fun project for us. It was one of the 5 projects that we did for design in the 2nd year and it was done for the SLIA annual exhibition 2020.

The purpose of it is to promote architectural education to the general public by showcasing the work of students. So we as students were trying unique ways of design to give a timely message to the society rather than making it just a beautiful exhibition pavilion.

All of us came to a conclusion to use bicycle parts to bring a different character to the space, with the concept of promoting sustainability and healthy living.  The design will included bicycles and bicycle wheels as facades.

The panels and architectural models that exhibited student work were rotatable. We used the mechanisms that were seen in bicycles and communicated that trough a suspended sculpture which allowed user interaction.The bicycles also add aesthetic value because they act as sculptural elements.

Therefore the project goes along with the main theme of the exhibition which is art in architecture. We also tried elaborate other themes such as connectivity and mobility. What was interesting about this project it gave us an insight within the construction industry and provided all students the personal experience to work as a team on time and on budget.

Made using 54 bicycles, 25 chains, 23 pedals, 98 gears, 22girls, 12 boys, 2 dedicated year coordinators, weeks of missed sleep and a very special ginger tea. Similar to a ripple effect.

We hope the ideas we are trying to promote will have the same result I'm running out of time. On a site visit, you know architectures all about travelling and getting inspired.

---

Q4. Tell us about your submissionfor the Port City Design Competition and winning the competition.

At CSA Students are encouraged to participate in local and international competitions to excel and showcase students' creative talents.

The Beach sculpture competition was one of them. The "Dream" sculpture competition organised by the Colombo port city was a great opportunity. The entry was a group submission, myself, Tharindu Perera and Viranga Waduge participated in this competition.

The exposure to international mentors and judges helped a lot. The sculpture is based on the Idea of the Greek philosopher Heraclitus, "The only constant in life is change itself" This means the change is a slow process which can gives a false interpretation that change is nonexistent; while it's a constant ongoing process. Likewise, the objects in the sculpture are to create a link with past present and the future.

The sculpture is changing daily basis. It's a kinetic sculpture where the elements are subjected to rotational motion with the help of sea breeze.

The base material of the sculpture is Copper which will be patinized with the time by exposed to the elements.  The magnificent support we received from the CSA Forum, Lecturers at CSA and seniors helped us to win this competition. It is a great achievement as Students to win this international competition.

It's a great achievement to have our design as a land mark in a place of such significance as port city. The whole experience helped me to grow as a graduate professional.

---

Q5. Tell us about your University of West England & China tour  experience.

The part 2 or Masters course expects students to gradually inculcate a deeper understanding of architecture and exhibits maturity in architectural design.

The curriculum encourages students to explore designs in depth, acknowledging contextual and societal issues as means to a multifaceted approach to design that also gears students to face real world practice. The UWE tour was part of this learning experience and was definitely the highlight of it! The tour of UWE is the second leg of a two-part student exchange programme on urban and societal revitalization- a collaborative programme between the University of the West of England in Bristol and the City School of Architecture in Colombo.

Not less than 2 weeks were spent in both countries. 10 of our UWE counterparts travelled halfway across the globe to Sri Lanka for in-studio collaborative workshops and a field visit to Sri Lanka's mangrove abundant city of Chilaw. Accordingly, a few months later, 10 of my batch mates, myself included were lucky enough to be selected to travel to England. Over there, we spent our first week at the University in Bristol where we were exposed to a more hands-on approach – we were shuffled up with our friends from the UWE into groups and subsequently designed and crafted and pop-up urban installation- it was loads of fun! The second week at the UK was spent touring and sightseeing Stroud, Bath and finally London and we even managed to squeeze into our schedule, shopping trips and trying out local cuisine.

The learning experience was no-doubt entertaining and insightful- we were exposed to a different model of architectural education and there was the unspoken cultural exchange – we met and bonded with new people, explored a new context and experienced architecture very different to our own.

The programme was definitely a success and we benefitted immensely – both in terms of learning and entertainment.

---

Q6. Tell us about the opportunities after graduating from CSA.

I have been always passionate about architecture and urban studies.

How spaces can change what we see, what we feel and what we believe in. So right after I completed High School, I joined CSA to jumpstart my career in architecture. I was little confused in the beginning where I am heading, But CSA gave me solid guidance and showed me opportunities I have along my way.

So, after completing 3 years at CSA, I topped the batch with the best grades,  won the highest awards in CSA part 1, and started my search for higher education focused on architecture and related interdisciplinary research.

On the look for further studies, I was fortunate to get selected to lot of prestigious institutes such as University of Pennsylvania, University of Washington, University of Oxford and many more. But it was always my dream to study at the University of Oxford. So, with the foundation I gained from CSA I am now pursuing my postgraduate studies at the University of Oxford.

I could say I am experiencing new adventures every day in my life, living in Europe and attending one of the most prestigious institute of the Great Britain. As an architectural student it's an enormous opportunity to see and mingle with different people from various cultures and backgrounds, that surely gives me novel perspective to every project I work on.  Studying at Oxford opened doors for me to work with numerous international organizations apart from my studies; to have hands on experiences on humanitarian architecture, energy efficient buildings and sustainable urban development which I am highly passionate about.

So I am eagerly looking forward to go deep into my research area after completing my studies at Oxford and to work with International organisations on humanitarian work utilising my experience and exposure. CSA gave me the excellent start to my career as an architect.  There are many opportunities and careers that are waiting for you to grab after you graduate. World is your oyster, hard work, dedication and focus that will guide you to places that you only saw in your dreams.