Spectrum Intsitute of Science & Technology; Pioneering towards scientific and technological excellence in the island!
View(s):

Over the past 20 years, Spectrum Institute of Science & Technology (SIST) has continued to be instrumental in providing young students with globally recognised higher education opportunities in the field of science & technology.

At SIST we believe that the youth have an extraordinary potential in the areas of science and technology that is often sacrificed in the face of expensive, time-consuming university degrees. That's why we have made it possible through SIST, to earn a globally reputed, UGC (University Grants Commission Sri Lanka)-recognised, Honours degrees, where every hour both in and out of the classroom is full of experiences that prepare you for a fulfilling career in the future.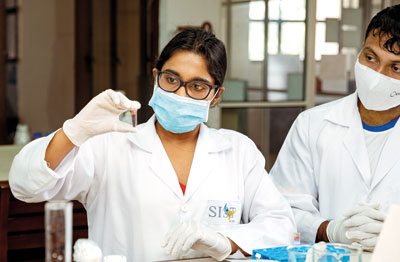 The degrees offered by SIST are in collaboration with the prestigious Edinburgh Napier University, UK and Lincoln University College, Malaysia.
SIST's campus located in Colombo 5 is home to four modern laboratories where students have the chance to apply a hands-on approach and gain an in-depth understanding of the world of Microbiology, Tissue Culture, Biochemistry and Molecular Biology.
We also encourage our students to network with the best of the best in the scientific and technological industry with a commendable faculty of local and international lecturers that are dedicated to delivering a diverse curriculum.
With access to leading research institutes and organizations in the country, we allow you to acquire a first-hand understanding of the field and discuss potential research and career opportunities available even before you graduate.
Our final year pathways with compulsory honours research projects help you lock in a comprehensive collaborative research experience so that you are armed with a strong competitive advantage helping you be the No.1 choice for future employers.
SIST is privileged to have pioneered scientific and technological excellence in the island, with our graduates transforming industries with their inspiring talent and innovative minds not just in Sri Lanka, but across the world. Former students of SIST are now a leading force of lecturers and researchers behind a wide variety of sciences including but not limited to the fields of biomedicine, agriculture, environmental, food and beverage, and pharmaceutical.
With our October 2021 intake, we hope to inspire and strengthen a brand-new generation of Sri Lankan scientists and engineers.
If you are passionate about understanding the intricate world of biotechnology, if you want to explore the universe of microbiology, if the thrill of analyzing chemical conversions is the career you want, and biomedical sciences have always captured your attention – this is your invitation to join us, and become a part of the global scientific community!