SLMUN: A Conference like no other
View(s):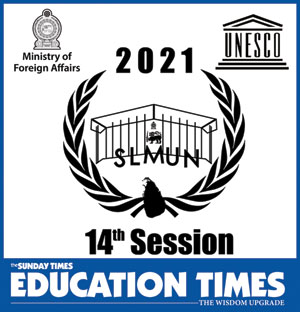 Sri Lanka Model United Nations, is a platform where skills in leadership, negotiation, and diplomacy are identified, nurtured & developed in line with building a stronger and peaceful future for mankind worldwide. Founded by some of the individuals who serve, and have represented Model United Nations across the globe it aims to engage youth leaders from across the country and provide a platform to share perspectives and opinions in solving detrimental issues with no regional boundary.
Having engaged in international platforms across the world, the founders of SLMUN plan to bring forward a revolution to the Model United Nations movement in Sri Lanka by introducing most of the modern concepts of the MUN that are not currently present in the nation. Having identified potential talent across the island, SLMUN hopes to be the pinnacle of success to all aspiring MUNers from around the country and act as an incubator to jumpstart their thought processes, ideas, their career and help boost their soft skills with an emphasis in problem-solving and negotiations.
The SLMUN Institute is proud of its alumni, who go onto become leaders in their schools, colleges, communities, and their careers. Our alumni have won numerous awards at prestigious MUN conferences including Best Delegate awards at conferences hosted by both local and international institutions. And our alumni have gone on to be Presidents and Secretaries-General of their high school MUN teams, have run conferences, and have competed and held leadership positions in their university's Model United Nations programmes.
"As a delegate of SLMUN I gained a lot of experience and confidence in relation to public speaking and analytical thinking.
As an EXCO member it's gotten me to be more responsible and be able to multitask way more effectively when it comes to balancing my workload and to work under pressure and a strict timeline"
Himaya Perera
Under Secretary General of
PR and IT
Sri Lanka Model
United Nations 2021
Sri Lanka Model United Nations conferences give students the unique opportunity to represent different countries in simulations of different real UN (and Non- UN) committees discussing and debating a vast array of pressing topics and finally drawing solutions to issues that plague our world, all within the structure of the United Nations and following its procedures. The SLMUN conference is a great setting where people can try to face their fear of public speaking. This opportunity to overcome a fear of public speaking helps support delegates' personal growth and increases self-confidence. Additionally, it will expand your knowledge about global issues because SLMUN requires every participant to understand the global issues and their opinion may contribute to solve the problems that affect our planet today.
Operating under the theme "Restless for change" the 14th Session of SLMUN strives to cultivate the next generation of thinkers and young leaders to be more aware and vocal of world issues that will impact them and their future. To do this the 14th Session of SLMUN will engage the next generation to be proactive in the fields of both activism and volunteering, we believe that this effort will help transition the youth of this generation into informed and caring citizens of the world.
Furthermore, at SLMUN we believe that to initiate the change we must go beyond just words and it is for this reason that we are actively engaged in community welfare initiatives through our endorsement from both UNESCO and the Foreign Ministry. Additionally, SLMUN constantly strives to develop MUN in Sri Lanka in addition to giving you the best experience at conference in the Island! And now, we have introduced our very own version of an Ambassador Programme to do just that. This not only has improved the conferences atmosphere every year but has also allowed many schools both in and outside Colombo to establish their own MUN clubs through workshops organised by the SLMUN organising committee.
This conference gives the youth the opportunity to be actively involved in discussing and attempting to solve prevalent crises from around the world. Students will also learn the skills of leadership, negotiation, debate, and compromise in a practical and well-moderated environment We believe that a conference of this nature bares the potential to launch the careers of future diplomats, humanitarians, and advocates. Essentially – the leaders of tomorrow.
Session XIV of SLMUN will be held on the 6th and 7th of November 2021 at the Bandaranaike Memorial International Conference Hall (BMICH), Colombo, Sri Lanka. Registrations for delegates, admins and IPC delegates are now open until the 30th of October 2021.
For further details, head on over to our website on www.slmun.org , or please contact us via:
Email –
cda@slmun.org / pr@slmun.org
Telephone –
+94 71 801 3722 / +94 71 444 9694 /
+94 76 898 9763
- Ashan Chandrasena
(News and Media Team 2021)