Peradeniya uni to take measures to improve psychological and mental health of school children
View(s):

The University of Peradeniya is planning to assist in the development of children's mental and psychological abilities using the talents and knowledge available within its faculties, as the premier higher educational establishment in the country.

Central Province Governor Lalith U. Gamage discussed the question with the university's vice chancellor Prof. M. D. Lamawansa when the latter called on the Governor after his appointment to the university.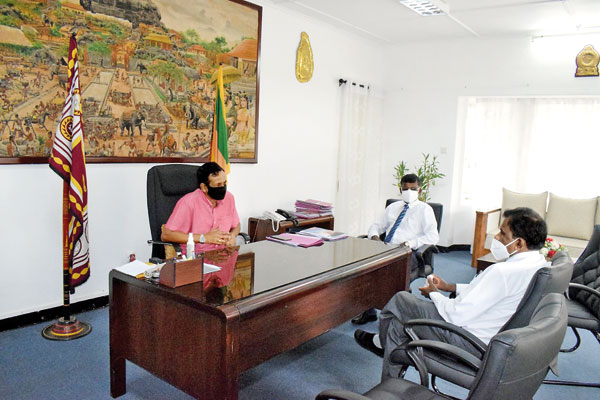 The meeting of the Governor and Prof. Lamawansa
The Governor told Prof. Lamawansa that the university is a massive compendium of knowledge for the Central province in particular, and also for the entire country.  The talents and knowledge available in the university have to be used, as he feels that sometimes they are underutilised.
One way, was to put into use in the present situation in the direction of children who are returning to schools after a long period. They have to adjust to the present situation and their classes after several months, the Governor said.
The discussion centered on how best this situation could be adjusted and Prof. Lamawansa said a plan has to be worked out as to how best the university could accommodate the request of the Governor, which needs careful and concerted planning and thinking among the intellectuals of the university.
The Governor also said that it should not be in this aspect only, but in any aspect that needs development in the Central province which could be undertaken with the elite talent within university, he said.
(By L. B. Senaratne)