Management & Science INSTITUTE, The student's choice after O/L's for a recognised and affordable higher education
View(s):

Management and Science Institute (MSI), Colombo would like to congratulate all the students who successfully completed their O/L examinations, and recognise the hard work and dedication taken to conquer one of the greatest hurdles in your life.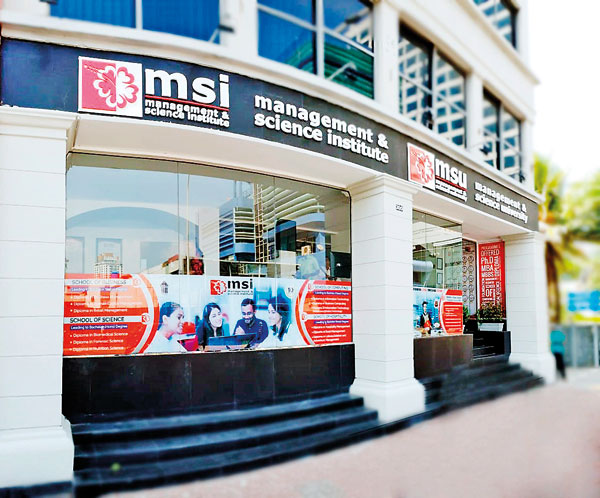 The doorway to your future starts now, determining your higher education pathway and choosing a suitable degree programme in a constantly changing global environment is overwhelming, therefore you must select a programme that not only matches your interest but also has a demand in the job market.
MSI offers wide range of programmes  aming to develop knowledge and skills of students while preparing them to obtain employment or continue their higher studies. MSI currently offers Diploma, Degree and MBA programmes including Hospitality and Tourism Management, Biomedical Science, Event Management, Business Management, International Business, Human Capital Management, Accounting and Retail Management.
All the MSI programmes are administrated and accredited by Management and Science University (MSU), Malaysia. Upon completion of the Diploma programmes which leads to the Bachelor (Hons) degree, students can choose to pursue their higher studies in Sri Lanka, Malaysia or at any of the partner universities worldwide in the United Kingdom, Australia, Germany, and Japan.
Blending technical vocational education and training (TVET) with traditional academic curricula, MSI enhances competencies with industry internship, community and creative entrepreneurship, as well as global exposure; empowering MSI graduates with the well-roundedness desired and sought after by employers.
Extensive partnerships and collaborations with institutions in over 40 countries worldwide provide comprehensive mobility opportunities for all MSI students, enhancing their graduate employability through global exposures by studies and internships abroad.
So why should you
choose MSI?
Full-time and part time programme
MSI Diploma which is locally and globally recognised
Affordable tuition fee and easy payment options without extra cost and bank loans.
Distinguish faculty with industry experience lecture panel.
The curriculums for the courses are developed taking into consideration the current needs of the industries.
Students will be exposed to the local and Malaysian leading industries through the local and international industry visit
Students can transfer at any point to partner universities in United Kingdom, Australia, Germany and Japan.
MSI's also offers students a scholarship which aims to recognise and reward deserving students that enables them to pursue their higher education dreams and become an internationally qualified graduate from a world class university.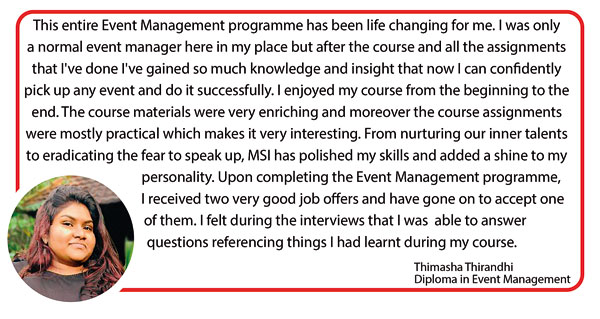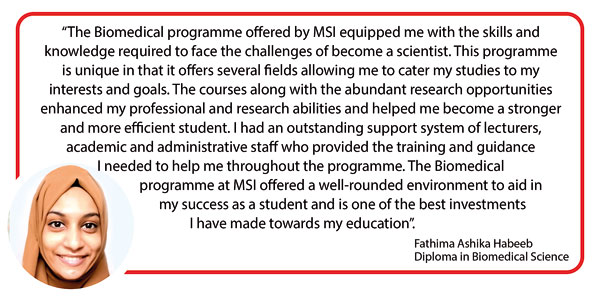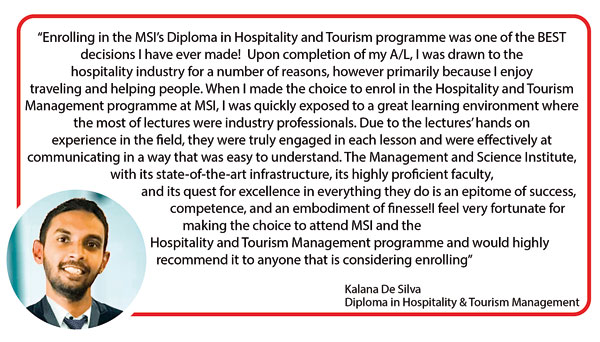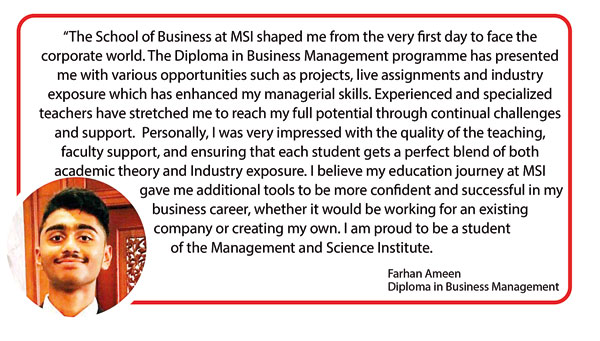 For further information about the MSI programmes of study, please contact us on 0112576644, 0112576700,our  Hot Line 0770777880, email - info@msi.edu.lk  www.msi.edu.lk    or by visiting MSI Colombo at, No 300 Galle Road, Colombo 3.