AnEducator presents "Study World" by LEAD in Negombo!
View(s):

AnEducator, one of the leading digital marketing companies in Sri Lanka is delighted to presents its inaugural 'Study World by LEAD' event on 23 October 2021 at Avenra Bayfronte in Negombo.

Study World by LEAD will have both local and international higher education providers participating to support aspiring students the best possible study opportunities in Sri Lanka and overseas. AnEducator is a one-stop access to institutions to position their profile and promote their courses and for students. It is a great platform to explore study opportunities locally and internationally. AnEducator has provided amasing and incredible access to reputed institutions to promote their courses, and also support events and collaborative initiatives over the years. It has proven to be an effective and powerful tool providing up to date information for students on behalf of education providers.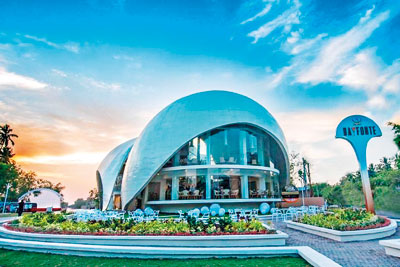 Devni Rajaratne, Founder and Managing Director speaking to the media mentioned, 'it's a great opportunity for students and parents to meet with representatives of higher education institutions in person as well as through virtual means one-on-one at the event. I wish to express my gratitude and appreciation to participating representatives of institutions. It is our endeavour to keep students abreast with the study options with institutions and countries we are collaborating. Pandemic has had an impact globally, which restricted students movements, but they are temporary setback for both students and institutions, which shouldn't stop continuous engagement".
What is LEAD by AnEducator?
'Leadership, Engagement and Diversity' is the moto of AnEducator, always focused on this when entering into collaborations since establishing the business. The objective is to support young and adult students with the best study opportunities and add value to education providers who are reputed and globally recognised to engage in the Srilankan market more meaningfully. We placed our community first, especially the younger generation in the country who thrives to excel in education and aiming to build a strong career – education has been the pillar for them and the right exposure and experience which we are committed to provide through our collaborative arrangements.
We collaborate with institutions that have excelled in providing high-quality education, and help students to engage in their learning which create a lasting educational impact in their life. Identifying the most equitable learning experience is a bigger challenge but the institutions we collaborate have always made it easy for our students.
Student benefits
n  Simplify the application process directly with the partnering education providers
n  Diverse disciplines to choose and to further understand the benefits of pursuing higher education locally and internationally
n  Country specific Insights on education systems where our partners are located
n  Information on admission process, eligibility criteria, fees, visa processing, living experience / quality of life, post-study work options, etc.
For more details and prior registration to participate, please contact Team AnEducator – 0772 16 77 00 / Dilusha – 0765 47 52 57
Pre-registration
desirable, strict
health guidelines will be
followed and adhered to
in line with the
current protocols in place.