22 ANC Students leave to the Top Ranked Yerevan State Medical University (YSMU) in Armenia for Medicine
View(s):

This year 22 ANC students will be flying to Yerevan State Medical University which is a world recognised university in Armenia to pursue their dreams to become Doctor of Medicine.  These students and their parents chose a university that offers a high-quality education and is affordable qualifications accepted by Sri Lanka Medical Council (SLMC)

ANC Medical Placement is NO.1 in placing students at top ranked Medical Universities around the world. Hundreds of aspiring local students have been placed at world recognised universities in Russia, Georgia, Belarus, Malaysia, Australia and Armenia to study medicine through ANC Medical Placements. ANC boasts a solid reputation in the industry for offering exceptional service standards, a seamless university application process and students can look forward to guaranteed pathways to study medicine at many prestigious universities.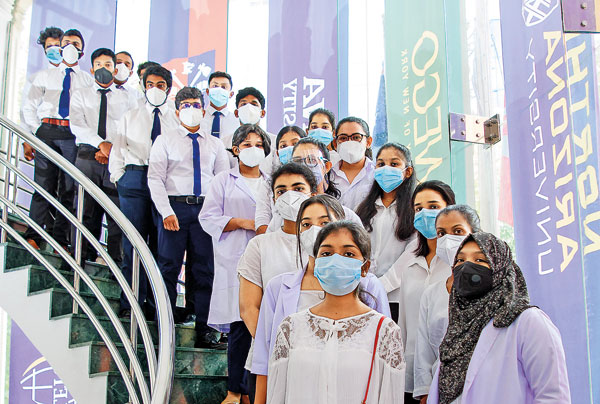 Yerevan State Medical University (YSMU)  which is over 100 year in existence is located in Armenia is recognised as a European Union member country and is one of the best countries when it comes to affordable and quality education. The capital of the Republic of Armenia is "Yerevan" and this is where almost all major universities and higher learning institutions are located.  YSMU is the first medical university of the Soviet Union and was established in 1920. It's the largest and most prestigious medical university in Armenia and it's very popular among students around the world.
The medical degrees awarded by the Armenian universities are globally recognised.
The "Low tuition Fee" in the Yerevan State Medical University is the primary reason for attracting thousands of students from around the world & the university provide scholarships for all Sri Lankan Students.
SLMC recognised state medical university
The adoption of the English language as the medium of instruction is the other main reason why students prefer Medicine in Armenia
Armenia is known for the lowest crime rate and safest country in Europe for worry-free education
Extensive clinical training at state hospitals
6 years Doctor of Medicine (MD)
YSMU boasts over 31,000 graduates to-date and 11 teaching hospitals. There are about 8,000 students in 6 faculties and it is considered to be the best university to study MD in Armenia (which is equivalent to MBBS in India). Teaching and Research activities are organized in more than 100 chairs, leading clinical bases and research centers in Yerevan. The University has about 1,100 lectures out of which, 171 are well qualified Doctors of Science, 504 are candidates of Sciences, 7 Academicians of the RANAS who perform scientific and pedagogical works at the university.
For more information Call 077-348-8834 or visit www.ancedu.com or follow us on Facebook: https://www.facebook.com/ancedu/ and "ANC_Education" on Instagram.
Najeetha Sarbin Mohamed Iqbal
Easter International College, BatticaloaIt was my aim ever since childhood and I admired doctors and I wanted to be like them.  After my A/Levels I researched on many places and I came across ANC Medical Placements. People I spoke to shared very positive feedback about ANC.They said that ANC offers a value for money service and the entire process is very transparent and that they explain every single thing from end-to-end. ANC is also very trust worthy and reliable and my parents and I experienced a great customer friendly service. I hope to specialise in Gynecology because my goal is to cater to the female community.

---

ANC Students share why  they chose to study medicine with ANC Medical Placements:

Rashil Benadict Ranasinghe St. Josephs College, Maradana

Chemistry and Biology were two subjects that I enjoyed studying from a young age. The idea to become a doctor was encouraged by my parents because I had the interest and also its a well-respected profession. When I completed my local A/levels my results were not enough to meet the Sri Lanka Medical Council (SLMC) requirement. I came across ANC Medical Placements and they provided the One Year Medical University to obtain the required score for medical school. I enrolled for the programme and I got 2 A's and 1 B. ANC offered an exceptional service and their lecturers were excellent as well as the management. I received my acceptance into Yerevan State Medical School and I am very happy that I will be going to medical school in October 2021

---

Denise Anastasia Pronk
Alethea International School, Colombo

Coming from a south Asian background I always knew about doctors and the work they do. What drove me to pursue this profession came from a place of concern. I want to help marginalized communities have a better healthcare system, as healthcare is a basic human right. I also really enjoy studying and learning, and I have to be constantly learning new things and be up-to-date with new developments in the medical field.  I met with two agencies and my mother preferred ANC Medical Placements because her biggest concern was my safety. ANC made us feel comfortable and provided a really good customer service.  Yerevan State Medical University seemed the best fit for what I wanted and was feasible overall. I'm looking forward to travelling with over 20 students from ANC in October 2021 to Armenia.