Sri Lanka to host Bangladesh for five Youth ODIs
View(s):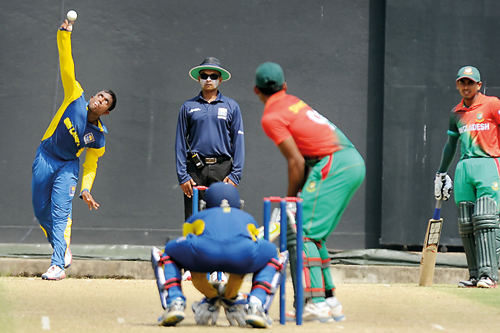 Sri Lanka will host the Bangladesh side in a Youth One Day International series, which includes five matches, during October, according to Sri Lanka Cricket (SLC).
SLC conducted a Talent Hunt Programme covering all districts and provinces to select a national squad of 75 players, as school cricket has been totally inactive since the outbreak of the COVID-19 pandemic, since early 2020.
The Sri Lanka Schools Cricket Association (SLSCA) made attempts to conduct a few important competitions, but were forced to play a one-off Limited Overs competition, which too was held during mid 2020. Since then school cricket has been totally of action, which hampered heavily on the national commitments of the Sri Lanka Under-19 side as SLC was unable to select players based on their performances that are usually recorded during a season.
Through the Talent Hunt Programme, SLC was able to conduct a trial competition among five teams from the lot of 75 players, who were then pruned down based on their individual performances. This was done targeting the upcoming inbound, regional and international competitions lined up for the Sri Lanka Under-19 team.
As the launch of competitions for Sri Lanka Under-19 after a long absence, the Bangladesh Under-19 side will visit the island to play a limited overs series, which includes five Youth ODIs. The Bangladesh Under-19s will arrive on October 7, and will play five the Youth ODIs with Sri Lanka Under-19s during the tour, which will be played under a Bio Bubble Environment.
"The upcoming series will give the Under-19 team an opportunity to play international cricket after a while, and help us to work on finding the right combination to play in the ICC Under-19 World Cup in 2022," stated Avishka Gunawardene, the newly appointed Under-19 coach of
Sri Lanka.
Meanwhile, the Sri Lanka Under-19 squad completed a residential training programme of 22 days in Colombo focusing future tours. A total of 35 players were in the programme which was conducted by Avishka Gunawardene (Head Coach), Upul Chandana (Fielding Coach), Sachith Pathirana (Spin Bowling Coach), Chamila Gamage (Fast Bowling Coach) and Dhammika Sudarshana (Batting Coach). The coaching staff if currently working with the Sri Lanka youth squad focusing on the ICC Under-19 World Cup to be held in 2022.
The coaching staff and the squad is also supported by the team physiotherapist Priyantha Wickremesinghe and trainer Buddhika Herath. The Sri Lanka youth side has been working hard during the recent weeks, building their confidence as a team and the upcoming five-match Youth ODI series will be an ideal outing to identify their strengths and weaknesses for the future assignments.
The five matches will be played on October 15, 18, 20, 23 and 25 at a venue in Colombo according to SLC sources. The venue for the series, is yet to confirm by the organisers.