I felt what fear was for real – Susanthika Jayasinghe
By Naushad Amit
Former Olympic silver medalist says her perspective on life changed after contacting COVID-19
View(s):
Fear was a mere word for Sri Lanka's most successful and decorated sprinter Susanthika Jayasinghe, until she and her entire family was tested positive for COVID-19 on September 13. During her career which spanned from 1994 to 2009, the 'Asian Black Mare' came no close of encountering fear or panic.
For Sri Lanka's most successful sprinter, with a tally of 18 international medals — nine gold, six silver and three bronze — the only occasion she ever panicked was on September 28 in 2000, moments before the crucial Women's 200m final of Sydney Olympics. She overcame the fear and claimed the bronze medal, which was eventually elevated to a silver, after gold medal winner Marian Jones was disqualified for doping.
"My heart beat like never before. I felt like I was going to be hanged or nailed alive. Yet, it was over no sooner the race took off," Jayasinghe recalled of her golden moment of 21 years ago.
Yet, 21 years after her medal feat, Jayasinghe was recharged with fear and panic, but at a different level and circumstance, when her whole family was tested positive for COVID-19 on September 13 evening.
Jayasinghe was 25 when she reached the pinnacle of her career to claim Sri Lanka's second Olympic medal, after a solid effort. She had the strong and willful mindset that could deal with any situation then.
But now, as a 46-year-old mother of two, Jayasinghe had more reasons to fear.
"I really don't know how I got contacted with the virus. I was careful for myself and my two children. My father, a cousin and niece too were living with us. When my daughter showed early symptoms, my son too fell ill, and it all spread like wildfire, to all at home," she explained on the early panic situation that came up on the evening of September 12.
Jayasinghe revealed to the Sunday Times that she was so panic-ridden that she didn't know what to do or how to act when all six at home experienced the similar symptoms. It took several hours for her to gather herself and reach out.
"I'm usually fearless and ambitious. It was a moment when it all flew off my head and panic reigned supreme," she added.
The only aid she could reach out to was Sri Lanka Army, the first institution Jayasinghe was reached out when she was a teenager to bolster her athletic career, which culminated with grand success. Jayasinghe called Major General Sanyaja Wanasinghe, the officer in-charge of sports at Sri Lanka Army for assistance, who in turn informed the situation to Army Commander, General Shavendra Silva about the former sprint star's woes.
The very next day, on September 13, PCR tests were done to Jayasinghe and her son and daughter to determine if they have contacted the deadly virus.
"The Army acted promptly and directed me and my two children to conduct PCR tests, which came positive. With that, they advised my father, cousin and niece to get tested, and all were identified positive for COVID-19. We were to be moved to a facility run by the Army, but with my two children and old father involved, I made a request to the officials to remain home and get treated," she explained.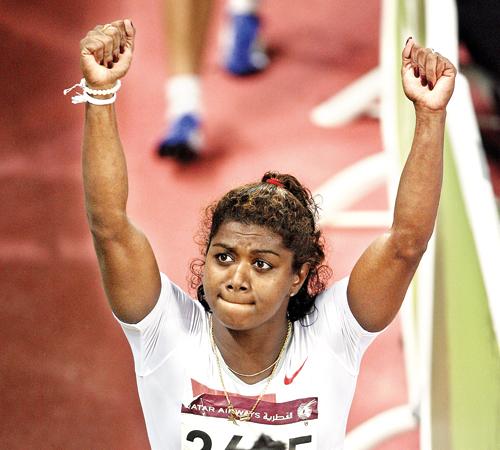 Soon after the news broke, Jayasinghe reached more support from many individuals who came forward to make sure the whole family recover without much dilemma. The six members of the affected family, as told by Jayasinghe, followed all health guidelines and instructions provided by the medical experts until all of them fully recovered.
"I was really worried about my daughter and my father, who is 81 years of age. In addition my son, who is 10, was complaining about heavy headaches. I was really stressed out through the entire process, with fear remaining, until we were treated and fully cleared after two weeks."
It has been over three weeks since Jayasinghe and her family contacted COVID-19 and around a week since they returned to their usual lives. Yet, Jayasinghe stated that it's important to be safe and disciplined, as ordinary human beings, at a time when the whole country and the world is fighting to overcame a situation that's gone out of control.
"I happen to experience how Sri Lanka Army is acting through this critical period. They are doing a wonderful, yet thankless job. The medical and army personnel are the real heroes at this current pandemic crisis, for being very efficient and committed to save lives in Sri Lanka. I can easily call them gods," the Olympic silver medalist said.
Aftermath the sudden COVID-19 strike at Jayasinghe's household, she is currently taking a break from her usual routine and other commitments to be with her two children and father. Jayasinghe explained that she is a different person now, after the scary experience, but she also advised that others too should be more 'careful' and 'disciplined' until the world has gotten rid of the distressing pandemic. "For me, it was my successes and the Olympic medal that came in line to help, as a former national athlete. Yet, I'm human and we all have a responsibility to be more careful. My lifestyle would definitely change after this experience, until we all get to breathe again freely. I urge everyone to be more responsible, follow health guidelines and be strong until such time," concluded Jayasinghe, while thanking her former institution, Sri Lanka Army, and its hierarchy for coming to aid to get back on her feet again.