Rolling Stones honour Charlie Watts, through their hits at 2021 tour kickoff
View(s):

Two songs into the launch of the Rolling Stones' No Filter Tour 2021 at the Dome at America's Center in St. Louis on Sunday, Mick Jagger and Keith Richards stepped to the front of the stage, clutched their hands together, and addressed the intense sorrow hanging over the event.

'I just want to say that it's quite emotional seeing those images of Charlie up on the screen' Jagger said, referencing a video montage of the late drummer that had kicked off the evening. 'This is our first tour that we've ever done without him'.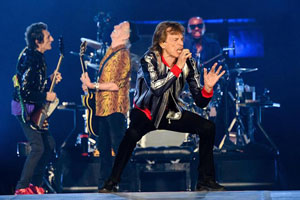 'The reaction from you guys, everything you've said and we've heard from you, has been really touching,' he continued. 'And I want to thank you very much for all your appreciation. We all miss Charlie so much, on the stage and off the stage, and we'd love to dedicate this tour to Charlie. Here's to you, Charlie!'
Discounting a private warm-up gig the Stones played for Robert Kraft and his guests six days earlier in Massachusetts, this was the first concert they've done without Watts since he joined the band in January 1963. At that time, John F. Kennedy was president, the Beatles were just beginning to make a name for themselves outside of Liverpool, and Lawrence of Arabia was in movie theaters.
In other words, this was an absurdly long time ago. And to some fans, the Stones launching a tour just a month after Watts' death felt a little callous. But the band played London's Hyde Park just two days after founding guitarist Brian Jones died in 1969, and they soldiered on past the defection of Mick Taylor in 1974, the death of Ian Stewart in 1985, and the resignation of Bill Wyman in 1993. This latest blow is particularly devastating, but Watts approved of their decision to tour with replacement drummer Steve Jordan before he bowed out of the run due to illness, and he'd be the first one to say that the band should carry on now.