Keeping yourself and your friends occupied when working from home
By Mahesh De Andrado
View(s):
Curfews and lockdowns have made keeping everyone at home occupied quite the challenge. Meeting up with friends or catching up with loved ones has also been impossible. But that doesn't mean you're going to spend the rest of your days isolated from people. With platforms such as Zoom, Google Meet and even Skype, you can chat with your loved ones via voice or video calls. But did you know that you could take it a step further? What if you could play games or even host a small concert on a Zoom or GMeet call?
Well, you can. There are a few limitations, but for the most part, you can do exactly that, almost like everyone was in the same room with you. Let's take Zoom, for example. You probably didn't know this, but Zoom has a fully stocked marketplace featuring a plethora of apps that can be used to enrich your Zoom experience. If you're a content creator, Applause by Lively Studio, allows you to create a customized landing page for your event, and see/hear your audience's reactions through hearts, virtual claps, GIFs and emojis. You can even earn tips and set fundraising goals directly within the event experience itself.
Just Say The Word by Doppio Games revamps the traditional board and parlour game for Zoom. Each session will have a "Speaker". Their goal is to make their team say as many of the words related to the theme  while taking care not to say a forbidden word. For example, can you describe cricket without saying words like "bat", "ball" or "wicket"? Or for a tougher one, can you describe a Unicorn without mentioning "horn", "mythical" or "fantasy"? If you're quick enough, you can even earn your team some bonus points.
Bingo is just like regular Bingo, but on Zoom. If you have played Bingo, then you would be familiar with the rules of the game. The concept is pretty simple. Each participant is given a game board consisting of a square grid. A participant earns a point when they learn information from a coworker that applies to the Bingo board. The objective of the game is to tick off boxes in the grid that form a line either straight or diagonally. If the participant is able to complete the entire board, then he/she is declared the winner.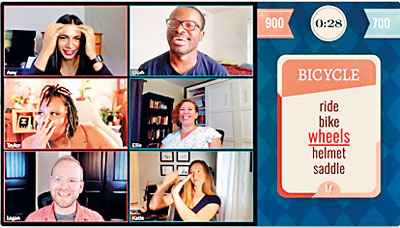 Describe a movie without saying anything. That sums up Charades (Image Credits: pinoy-henyo.fedmich)
Virtual Rock, Paper, Scissors is another seemingly simple game that can be done via Zoom. The rules are simple: scissor cuts paper, paper covers rock, rock crushes scissors. To spice things up a bit, you can make use of Zoom's reaction feature to answer rather than hand gestures. So Paper would be 👏, Rock would be 👍, and Scissor would be Teammates crossing their arms. To kickstart a game, you say "rock, paper, scissors, shoot!" Teammates will have three seconds to answer. When all players respond, count up the reactions and the majority wins.
Charades is a game that can be played on Zoom, Gmeet, Skype or basically any video conferencing app. Split up into teams, and then use a random charades generator to find a word to act out in front of the camera. Keep in mind to mute the player acting out the word as a key part of the game is that players are not allowed to use spoken words to express the prompt. After that, it's up to the teams to guess the most prompt. Whoever does so, wins the game.
Trivia is another good  example of a fun online game for everyone. It basically tests your team's knowledge on a variety of topics. These topics can be random, or if you want to up the ante, you can assign a Trivia Master, whose job would be to come up with questions from topics they choose in advance. For example, if you want to make Trivia a monthly thing, the Trivia Master can spend two or three weeks before the event preparing questions. Whichever team returns with the correct answer first earns a point.
You can also come up with your own games. What's mentioned here are just a few examples of games you can play online. But that doesn't mean that they are the only games that can be played. The beauty is that you can use these as a basis for your own game.
There are, however, a few points to keep in mind. Firstly, if you're planning to use Zoom or GMeet or any of the other apps/platforms, then you will obviously need accounts for them. Setting up a Zoom account is free and a GMeet account uses your Google account which if you're on an Android device, you already have. Another thing to bear in mind are technicalities. For example, a standard Zoom meeting can host up to 100 participants for up to 40 minutes. Anything beyond that, and your meeting will be disconnected. Gmeet, on the other hand gives you a bit more time (60 minutes). At the 50 minute mark, you will be given a warning and the call will end at 60 minutes.
Zoom meetings also require prior setting up so it's a good idea to plan ahead if you want to make Game night a weekly or bi-weekly thing. GMeet is easier to set up where meetings can be created on the fly, and you just need to share the meeting code and everyone can join in. While paid versions of these platforms give you added benefits, they may not prove useful, especially if you're not planning to make it a recurring thing. ISPs such as SLT and Dialog also offer data packages aimed at those using Zoom, so you can make use of those, the benefit being it won't cut into your regular data usage.
That's pretty much all there is to it. If you have any interesting games you've come up with, we would love to hear from you.