The maturing Madushanka's misfortune
By Pranavesh Sivakumar
cricket
View(s):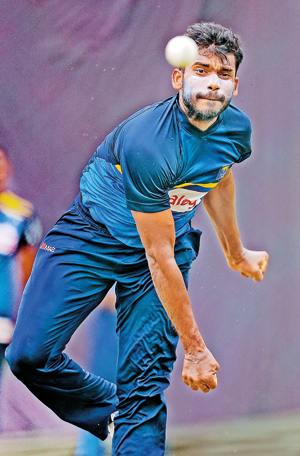 Exactly when Lahiru Dilshan Madushanka's T20 career was about to take off with the biggest and the best ticket to the T20 World Cup, an injury sidelining him for three more weeks, has distanced his dream of featuring in the showpiece tournament.
The right-arm fast-bowling all-rounder, with only three international outings in the same format, had made a successful case in earning a call to the World Cup. But in the dead rubber T20 versus the South Africans, aimed to give Madushanka match practice for the showpiece tournament, only turned things upside down, injuring his left-side collarbone.
"I'm partially fit," he said to the Sunday Times this week having a round of check-up due in Colombo, coming week (29).
"I'm still on pins and needles," he said of his situation speaking from his house in Matale, the central province of Sri Lanka.
The doctors have not prescribed any special nor specific treatment. He is spending recovery days with the affected area bandaged and has been told it would heal on its own.
However, though, he is not completely aware that the chances of returning are unrealistic and unlikely. It's the mental hit, he is still coming to terms as part of the big blow but brushed aside the financial loss.
"The slip between the cup and the lip of not getting to represent the nation is what is working in my mind," rued Madushanka, also a past captain of his alma mater's cricket team- St. Thomas' College, Matale.
Having turned 29 only mid of this month, he spent the days in recovery dealing with the hard-to-take news. As the cause is an unavoidable injury, it has not come hard on him, but he is sad.
"It's of great sorrow, because I was banking on it very much. When I found out, it wasn't to be this time, it was of sheer sadness. However, I'm personally still hoping, if I recover in time, I still would earn another call-up," said Madushanka, walking through those moments.
"Missing on the biggest stage of the format is what I consider a real bad luck," he mourned.
However, preceding that when the news broke out, it was not him the first to find out. The news that this would be his maiden world cup with the national squad had reached his kith and kin through other channels or the cricket board.
"I initially was not aware that I had made it. I was away from my phone and the first few to hear the selected news were only others. They began to wish and that is how I got to know it, myself," he recounted the calls on the call up.
"It has always been a big hope in my cricket life to feature in a World Cup. Representing the nation and through that, making the cut to the world cup, has always been a euphoric and an ecstatic feeling," he explained, adding that taking to the bat-and-ball game has been the best decision in his life.
The worst moment, however, he considers is the period he is going through now, striving to treat it as part of the past.
"The worst moment is what I'm going through now," he said with a lighthearted laugh.
Though he is armed with an Under-19 World Cup exposure, he still feels this time itself is a period to forget.
PRIMITIVE PART
It was during his schooling days, he switched to leather ball and serious cricket, partly courtesy to his heroes – Sanath Jayasuriya and Chaminda Vaas – and his own burning desire. A desire he developed watching these veteran virtuoso duo dominating with the blade and ball and his own interest propelling him through various age-based teams at school.
Madushanka's coaches had set their sights and became his mattress and motivators for him to enter the national team starting from the U-19 category. He had actually devoted the time and trouble in following the proper process and procedure of rising through the ranks of U-19, development, provincial, club, 'A' teams and eventually, the highest rank- the national side.
"When I made my debut, I was 25. I was not much experienced, neither at club level. But after rubbing shoulders with players from all walks of life, I learnt the tips, tricks and techniques of the trade. How to build pace, bat in a rapid scoring mode et al. In 2019, after only two outings I was dropped. Since then, till today, I made the most in the chances I got. The recently concluded SLC Invitational T20 gave a return to the national side," Madushanka went on.
After appearances in the domestic and against the Proteas, the maturing Madushanka was also all set for his first major national duty- the World T20. Presently, he stands at a point seeking for another window of opportunity. Waiting and wanting to prove his point and potential, subsequent to suffering an exclusion.
"I have played in three T20 internationals and as many tours. In the domestic circuit, I have played in over 50 matches (58 domestic T20's) Lanka Premier League and Mercantile T20. The Word Cup is a big challenge, but counting on the exposure I have gained, I'm waiting to make another case," he concluded.