Appreciations
View(s):

Great engineer and leader who made lasting contributions and moulded many of us

Douglas Ladduwahetty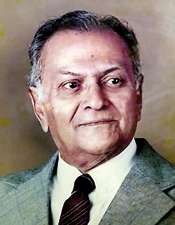 Douglas Ladduwahetty, a charismatic member of the Sri Lankan engineering fraternity, took leave of us a few days ago. He led a full life, dedicated to the engineering profession for more than five decades. His participation in the development of irrigation systems in the country made drastic improvements to the lives of many thousands of peasant families in Sri Lanka. Sri Lanka certainly has lost a great son of the country who made an enormous contribution to the irrigation sector, in particular, the Mahaweli Development Programme (MDP).
In 1977, when a new government was elected to power, the country was facing significant issues including 20% unemployment, severe shortage of housing, lack of agriculture facilities and a high demand for electricity to name a few. The new Prime Minister J.R. Jayewardene had studied the on-going MDP which was scheduled to be completed in 30 years. The PM wanted to expedite the progress of this massive project, as a means to provide much needed redress to the people.
JRJ sent a message for Mr Ladduwahetty, with whom he had had contacts before, and sought his opinion on how soon the MDP could be completed. Mr Ladduwahetty, it is said, had simply replied that it could be even done in six years provided necessary funds are made available!
This had spurred the PM to summon a special Cabinet meeting with all the irrigation sector engineers and technocrats and take a daring decision to accelerate the Mahaweli Project as the most prestigious programme of his government.
This changed the entire landscape of the country. And the rest is history!
The Mahaweli Authority was formed to implement the MDP and CECB was assigned with large-dams construction works. Mr. Ladduwahetty was made Chairman of the Mahaweli Development Board (MDB) to implement the downstream development works in Systems H, C and B.
I was privileged to begin my career in engineering under him. It commenced in 1976 in the jungles of the North Central province where I had my first posting as Project Engineer with MDB in Kalawewa where Mr. Ladduwahetty was the Resident Project Manager. As young graduates, we were inspired by his leadership.
He had his own methodology in managing people and work. He never wanted to get trapped in the prevailing highly bureaucratic rules and regulations and wanted to expedite progress of work at sites.
In those days the Malaria epidemic was rampant and this region was infested with elephants. We were accommodated in temporary housing and the hard water in the area available for drinking and bathing was not something we were used to. With such meagre facilities, many engineers and support staff left to join other departments and corporations. But Mr. Ladduwahetty who had vast experience in working in rural areas on projects such as Gal Oya and Walawe before that, gathered us around and encouraged us to remain and develop the areas taking the task as a challenge. He shared his many years of experience working in such conditions. To encourage us, he had frequent meetings with all officers and advised us of the importance of dedicating our time to develop the rural sector and in the process help the poor farmers who were struggling to survive.
Douglas Ladduwahetty held many critically important positions in the public service, where his knowledge, energy and enthusiasm assisted in policy making and implementation that made a difference to many in our society. After his Mahaweli assignment he worked as a Consultant Engineer, and many sought his advice on construction and management aspects. Later, he was appointed  Chairman of the Airport and Aviation Services Ltd where he served for five years and made important improvements to the Bandaranaike International Airport and its security.
Even though Mr Ladduwahetty lived in a busy and even tumultuous environment, he always found time to read books on various subjects. He was a living example of Francis Bacon's statement that 'Reading maketh a full man'. He acquired vast knowledge on various subjects and was filled with new information to inspire others with innovative and progressive ideas.
The eldest in a family of five, he hailed from Galle where he schooled at Richmond College. He was a great family man. He was very devoted to his wife Sita Lakshmi who stood by him like a rock for nearly 60 years and pre-deceased him. His four children, Ravi, Indira, Chandrika and Senaka have lost their loving father.
To us, he was a great engineer and leader who made lasting contributions and moulded the life of many engineers who were privileged to work with him.
May he attain Supreme Bliss of Nibbana!
D. Sarath Gunatillake
---
 To Sir Randy: Fond memories from our 11-year-old selves
Randy Ratnayake

1969. It is a memorable year. Neil Armstrong becomes the first man to walk on the moon. 400,000 people attend the Woodstock Music Festival. The Anti-Vietnam War Movement gathers steam, and a quarter of a million people stage a peaceful demonstration. The Beatles give their last public performance, on the roof of Apple Records. And an 11-year-old Michael Jackson makes his first show appearance with his brothers and sisters as The Jackson 5.
But a bunch of 11-year-olds at St. Benedict's College were facing a significant milestone of their own: we were graduating from the Primary to the Upper School! We had mixed feelings. On the one hand we were excited to be part of the 'big boys' at school: we were going to learn mathematics and science; our book list had the magical "Instrument box" on it; we were going to compete in the big Sports Meet under new Houses. On the other hand, we felt more vigorous discipline would be enforced: "you are not little boys any more". More canings probably? Tougher teachers perhaps? We approached our transition with much fear and trepidation.
That's when we met our Sir, Randy Ratnayake. We were already highly excited to be allocated the class adjoining the belfry. This meant the rare chance to ring the mighty bell that signalled the start and end of school and all the periods in between. And just seeing the smile on our teacher's face put all our apprehensions and fears to rest. For such was the appearance of Sir Randy: he exuded geniality.
A more kind-hearted soul we couldn't have asked for. 300 years before, Jean Baptiste De La Salle, the founder of the La Sallian Order who ran St. Benedict's College, defined quality education as "teaching minds and touching hearts". Our Sir Randy epitomised this revolutionary formulation of our Founder. He put our little minds at ease, for he had a calming effect on us.
We felt a sense of security. A safe space for us to learn with no intimidation. He was gentle. He was a father to all of us – he had no favourite sons! Soon we found ourselves looking forward each day to being in his classroom.
But he wanted to take us beyond the confines of the school room. And soon we were on a train to Kandy on our very first school trip. To this day we fondly recount and recollect our own memories of this pioneering adventure. He had planned a buriyani lunch – another first for a lot of us – at the landmark Muslim Hotel in the heart of the city – a feature of our trip that is recounted with much relish.
At times Sir Randy felt the need to be tough. He raised his voice and with his trademark moustache quivering tried to get all strict and shout out instructions or threats. But he just couldn't pull it off. For he was too kind a man and we could see through this hopeless façade!
He truly lived the teaching of De La Salle who urged teachers to "inspire students and not to simply instruct or punish". He inspired us with his kindness.
Our passage through the grades of the Upper School was made easy by our fortuitous initial encounter with this decent and gentle man.
Sir Randy led a very simple life. A teacher's salary was not a lot to get by on. He was of a breed that shunned the money-making enterprise of private tuition. Those of us who lived in Mattakkuliya, his hometown, saw that he lived in a small, square, box-like apartment that was perched upon concrete pillars, next to his ancestral home. His pet Boxer always sat at the doorway looking ferociously at the passers-by. Not surprisingly, quite like his master, he was as gentle as a lamb!
We stayed in touch over the years: some regularly, others intermittently. And we never lost our connection with him. Some years ago, a few of us had the good fortune of visiting him and his wife at his slightly more spacious yet simple home that he had later moved in to. Over lunch and beer, we shared fond memories of our time at school. We were amazed at the number of past students, over a span of 43 years, whose names he knew and of whom he recalled certain traits or facts. How do teachers possess such amazing memories?
De La Salle outlined 12 virtues of a good teacher. These spanned a range of qualities from patience to humility, gravity to generosity and gentleness. To expect any one teacher to possess all these qualities is a taller order—something even a saint or a monk might struggle to achieve! And yet when we think of Sir Randy, we see elements of every one of these virtues. We recall his patience, his firmness tempered with kindness, and perhaps most importantly, how he never demanded our respect, as so many teachers do, but earned it through his actions by conducting himself—and treating us—with dignity.
And so, we thank you, dear Sir Randy, for all the memories and for giving a classroom of 11-year-olds a solid and sturdy foundation for the future. May your soul be at peace.
Class of '77
---
He was far more than a mere diplomat
Dag Larsson
It was with deep, heartfelt sadness that I heard the depressing news of the passing away of one of the most illustrious characters I have had the fortune of associating with in life; Dag Larsson.  For me, it was a double whammy, because it came close upon the heels of another such much valued character, Per Prestgard. Both of them were exemplary Norwegian diplomats serving in Sri Lanka.
Dag Larsson was the Norwegian Ambassador and Head of NORAD in Sri Lanka for four years commencing 1987.  He was simple and modest, approachable by his first name to us the local staff, greeting us with his pleasant smile every morning as we entered office.
Yet it was his professionalism, his inspiring leadership and management skills that impressed all of us who served the Royal Norwegian Embassy in Colombo. His service to Sri Lanka went well above and beyond the role of a mere diplomat. He was humanist, economist, sociologist, development planner, leader, manager all in one.
As the Head of the Royal Norwegian Embassy in Sri Lanka, he discharged his diplomatic duties impartially to perfection steering clear of any politics. Beyond that he, as a person, was an ambassador of goodwill to all and sundry, earning the unstinted respect of every ethnic and religious group, in the pluralist milieu that our society is.
I remember an incident which reflected the high esteem he had for the integrity and sovereignty of our country. When the India-Sri Lanka Peace Accord was signed in the late eighties, the Indian army came and occupied the North and the East. At the time a NORAD-funded development programme was operating in the Batticaloa District and field visits by the NORAD staff had to be undertaken for inspection and progress monitoring.  The Indian High Commission in Colombo had imposed a condition that their prior permission be obtained by anyone from outside entering the District. The diplomatic staff of NORAD was privileged by a waiver, but not the local staff. As the District was still an integral part of the independent, sovereign state of Sri Lanka, Dag challenged the stance of the Indian HC and informed them that he was taking his local staff as well, with permission from the Sri Lanka Air Force and the Government Agent Batticaloa. And he kept his word.
Serving under his direction was a sublime blessing. As Senior Programme Officer of NORAD I gained invaluable experience and guidance in converting the knowledge and skills I had acquired in academic and professional institutions into practical use in the field. He was down to earth in planning and implementing development programmes aiming to institutionalise development as a sustainable process, rather than a mere activity or event. He believed in people-centred development concentrating in internal resource mobilisation along with ingrained local level institution building as against straitjacket infrastructure or output delivery. He promoted the concept of social mobilisation and the deployment of people's institutions such as the SANASA, in preference to sectoral agencies which were more regulatory, than dynamic by design.
He was a leader and manager par excellence. He selected his support staff without fear or favour, solely on merit.  In introducing the concept of integrated development to the rehabilitation programme of Batticaloa District he obtained the services of the ideal man for the job, W.M. Leelasena, who had done a splendid  job as Project Director of the Hambantota Integrated Rural Development Programme.
Dag loved Sri Lanka and its people. Even after he had completed his term and left Sri Lanka, he was a frequent visitor, holidaying and reminiscing with his friends here.
We miss you a lot, Dag. May the gentle turf lie soft over you.
Ranjit Weerasinghe
---