Gears of economy set to grind into action from next week
By Kasun Warakapitiya
View(s):
Following a 40-day lockdown, the government is preparing to gradually reopen the country next week under new health guidelines amidst high expectations that vaccination programmes will help to bring down COVID-19 cases.
State Ministry of Primary Health Care, Epidemics and COVID Disease Control Dr. Sudaharhani Fernandopulle said the Health Ministry has already issued guidelines on how to open schools and that discussions are being held with the Transport Ministry on a safe resumption of public transport.
The Director-General of Health will issue specific guidelines for essential state sectors and industries to resume economic activities.
Dr. Fernandopulle said the vaccination programme will be expedited in parallel with the relaxation of lockdown rules.
She said guidelines on weddings, funerals and other forms of gatherings would remain unchanged to continue social distancing practices.
At a meeting on Friday, Finance Minister Basil Rajapaksa and the Special Committee on COVID Eradication decided that general economic activity would be resumed under new guidelines that would make systems work safely against a background of COVID risk.
The Chief Medical Officer of the Colombo Municipal Council, Dr. Ruwan Wijeyamuni, said great attention should be given to managing public transport and controlling gatherings in Colombo.
He pointed out that statistics show that in normal times 500,000 people travel into Colombo for work and other activities and stressed the need to continue mask-wearing and use of sanitiser.
Dr. Wijayamuni urged youth in particular to take any vaccine available without seeking particular varieties because unvaccinated people could harbour the virus and spread it, creating more COVID waves.
Public Health Inspector's Union secretary, N. Balasooriya urged the public to restrict movements to essential matters. He recommended that only one person from a household represents the family at funerals or weddings when restrictions on such ceremonies are eased.
Commenting on the government's efforts to revive the beleaguered tourist industry, Mr. Balasooriya urged caution with countries that have high COVID rates.
"We also urge the government to carry out more testing and screening of tourists and not allow tourists from COVID-stricken countries into this country," he said.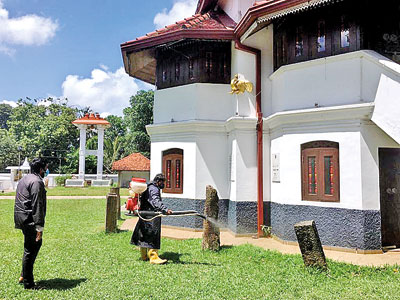 The Consumer Affairs Authority cautioned that short-term shortages of goods might occur when relaxed rules allowed greater freedom for shopping. Supplies would also be low due to import restrictions and the depreciation of the rupee.
The Sunday Times observed that small shops, boutiques and cafés are being refurbished to prepare for customers when the lockdown is lifted. Some are displaying banners saying they would soon be open.
Owners of private bus fleets warned their services would be limited initially because most conductors and drivers had gone into other employment during the lockdown.
Private Bus Owners Association President Gemunu Wijeratne added that as buses had not run for weeks, fleets had to be put into running order, with time being taken to carry out engine repairs and checking and changing of batteries and tyres as required.
School van operators have set up a website to connect with parents and children and provide assurance that the students who commute in their vehicles remain in a safety bubble. They are attempting to gain endorsement from schools and the education authorities for their initiative.
All-Island Inter-District Schoolchildren Transport Association President Harischandra Padmasiri said the website would allow school van drivers, parents and students to notify each other of the health situation of children travelling in the vehices.
"The parents have to register with Vanuncle.lk and provide information about the student's health and whether he or she is vaccinated so the school van operator can ensure the safety of that student and others travelling in our vehicles," he said.