Cost of living set to soar in next few weeks
Prices of domestic gas, wheat flour, milk powder and other items likely to be increased due to dollar crisis
View(s):
Trade Minister Bandula Gunawardena yesterday warned the cost of living was expected to rise in the next few weeks as traders were faced with a crisis finding US dollars to pay import bills.
Minister Gunawardena told the Sunday Times world market prices had also increased and the prices of milk food, domestic gas, wheat flour and cement, among other items, were set to increase locally.
"We cannot hide the fact we are facing a crisis over US dollars while the world market prices are rising. We cannot afford any more concessions," the Minister said.
The subject of price increases is set to be taken up at next week's cabinet meeting before announcing a decision.
Importers who were called for a virtual meeting with Prime Minister Mahinda Rajapaksa and Finance Minister Basil Rajapaksa on Friday were told that they would be informed by Tuesday on measures relating to price increases.
Importers had pointed out that due to the insufficient US dollars in local banks, they were unable to clear their goods held up at the Colombo Port. The importers were told to submit a list of banks they were dealing with, enabling the government to intervene to resolve the issues, a leading importer said.
Traders have warned that prices of essential items could also increase due to the short supply of goods.
The Central Bank is also expected to work out and announce concessions for importers within the next two weeks to prevent a continuous increase in prices of goods, Minister Gunawardena said.
The Sunday Times learns that a proposal to increase the price of domestic cooking gas is on the cards . A proposal has been made to increase the price of a cylinder of 12.5 kg domestic cooking gas by as much as Rs. 550.
The State Minister of Cooperative Services, Marketing Development and Consumer Protection, Lasantha Alagiyawanna, told the Sunday Times a proposal to increase the price of cooking gas had been submitted to the Government's Cost of Living Committee and a decision would be taken whether to increase the price or grant them a subsidy in the form of tax concessions.
Meanwhile, the shortage of Laugfs gas still continues despite the Government allowing a price increase of Rs. 383 on a 12.5 kg cylinder last month.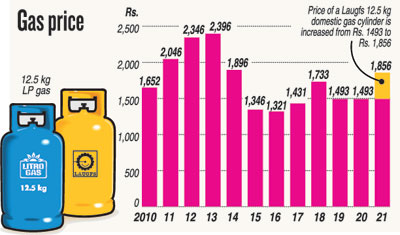 Laugfs Gas Chief Executive Officer W.H.K. Wegapitiya said availability had been compromised due to the shortage of US dollars in local banks.
However, Laugfs is continuing to lobby for the price hike it had requested earlier citing that it was not profitable to supply gas at  the Government stipulated price.
A price increase of Rs 700 was sought by the company, citing increases in freight charges and the depreciation of the rupee.
Meanwhile, Laugfs duopoly partner Litro Gas which continues to sell at Rs. 1,493 a 12.5 kg cylinder is now lobbying for a price hike of Rs. 800.
With the price hike on Laugfs gas, many of its customers have turned to Litro for their gas supply. Sales and marketing manager Janaka Pathiratne said Litro has a 80% market share in the supply chain and is losing Rs. 847 on a cylinder amounting to Rs 800 million a day .